The impact of the deadly coronavirus has struck fear across the globe. Investors are taking a sell now, ask questions later attitude—as global markets experience the first major market sell-off of the year.
Brace yourself for the volatility… It should be a wild week.
I know I sure am, especially coming off a monster Weekly Windfalls win last week.
I mean… $7,000 in under 24 hours ain't too shabby, if I do say so myself.
With option volatility set to surge, it should open up some opportunities to sell options with juicy premiums.
But how should we be positioned now that stocks are selling off hard?
If there's been one recurring theme on Wall Street recently, it's that investors have been in BTFD Mode.
For those of you not in the know, BTFD stands for Buy The F'in' Dip.
In other words, bulls have been using market pullbacks to scoop up stocks before the next leg higher.
But how do you know when it's time?
Well, there is one special tool that I rely on, and while it's not 100% accurate, it works often enough to be reliable. 
Similar to the Relative Strength Index (RSI), the Stochastic oscillator helps identify stocks that are overbought or oversold.
Most "oversold" stocks have suffered quick & dirty drops, indicating some traders could jump in while the shares are "on sale" (in other words, they could BTFD) and push the stock higher.
On the flip side, a stock is usually considered "overbought" when it rallies too far, too fast — suggesting a lot of buyers could take profits, sending the shares lower or sideways.
However, when you've been in a crazy rally like we've seen over the past few weeks, "overbought" loses some of its value.
Not to mention stocks can remain overbought for long periods of time when you're in an uptrend, and vice versa with oversold stocks in a downtrend.
But when you spot a stock BUCKING THE TREND (an oversold stock during a broad-market rally, or an overbought stock during a sell-off) — that's often where you can find opportunities to play the equity's next leg higher or lower.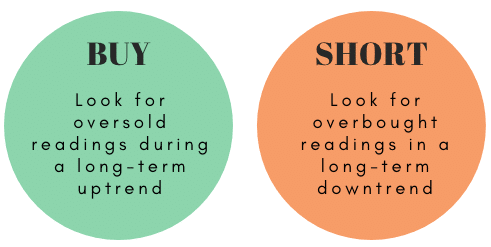 Stochastic: By the Numbers
The Stochastic oscillator is a momentum indicator.
Like the RSI, the oscillator ranges from 0 to 100, with a reading above 80 generally pointing to overbought conditions, and a reading below 20 pointing to an oversold stock.
More specifically, readings above 80 suggest the shares have been trading near the top of their high/low range over a defined period of time. Readings south of 20 imply the stock has been trading near the bottom of that high/low range.
This is the broadest, most general way to utilize this oscillator.
When the indicator crosses above 50, it means the stock has been trading in the upper half of its high/low range during that period, and vice versa when it moves below 50.
I'm not going to get into the nitty-gritty on how this thing is calculated, but the Stochastic oscillator is made up of two lines:
%K

, which measures the shares' current price against its highs/lows over a certain timeframe (typically defaulted at 14 periods)

%D

, which is a simple moving average of %K (typically defaulted at 3 periods)

The sensitivity of this indicator can be increased by shortening the high/low range (to, say, 5 periods instead of 14), or decreased by widening the range.
Most trading platforms allow you to look at either a Fast Stochastic (more sensitive) or a Slow Stochastic (which gives truer signals).
For the purposes of this article, we're going to look at the Slow Stochastic (with a 14, 3 setting).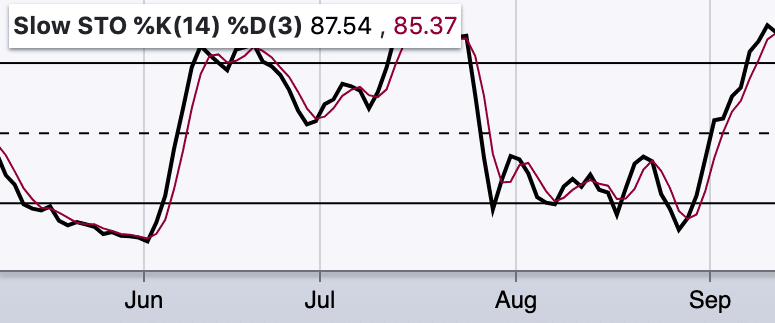 When Crossovers Could Be BTFD Alarms
Aside from trying to gauge overbought/oversold conditions, there are several other ways in which this indicator can be interpreted.
Some traders look at Divergence — when the stock price goes one way and the Stochastic goes another.
In this article, though, we're going to look at Stochastic crossovers — specifically, when the %K line crosses above the %D line, which can often act as BTFD alarms.
Here are the parameters I used in a recent TD Ameritrade screen: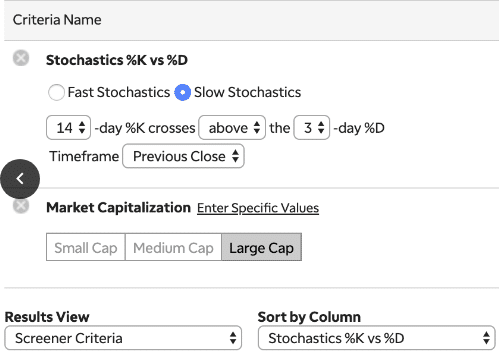 Now, while I'm not saying I'm going to officially trade Bank of America (BAC) in any of my services, the stock appeared on my filter, so we're going to take a look.
If you look closely at the bottom of the chart below, you'll see that there have been several crosses of the black line (%K) moving above the red line (%D) since early 2019.
However, take a look at what happened when these crossovers occurred when both lines were about to move back above 20 (the oversold parameter):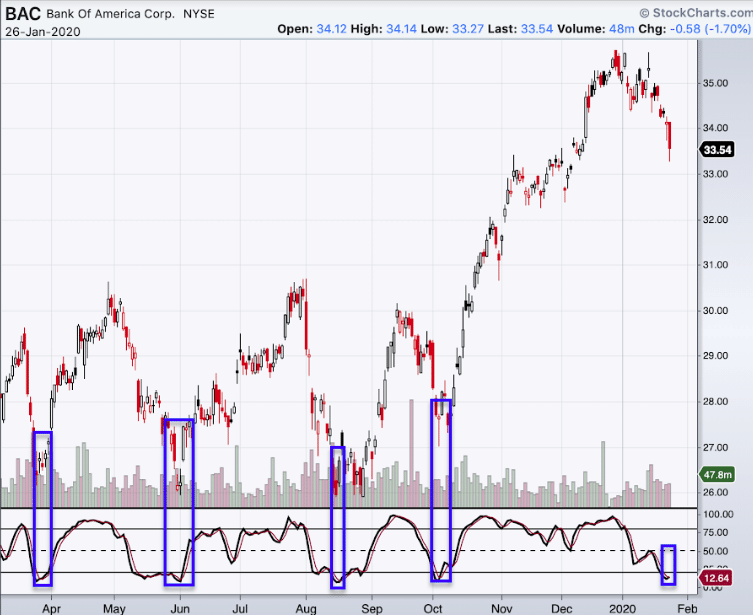 Had you BTFD around any of the crossovers in purple above — though the last one, which just happened, has yet to play out — your BAC shares would've appreciated in the short term!
Especially if you'd gone long back at the October lows, before the bank stock skyrocketed.
Just remember, though — a cross of the Stochastic lines alone is often not enough to justify a BTFD signal, because stocks can remain overbought or oversold for a while.
Look when we zoom in on Okta (OKTA)…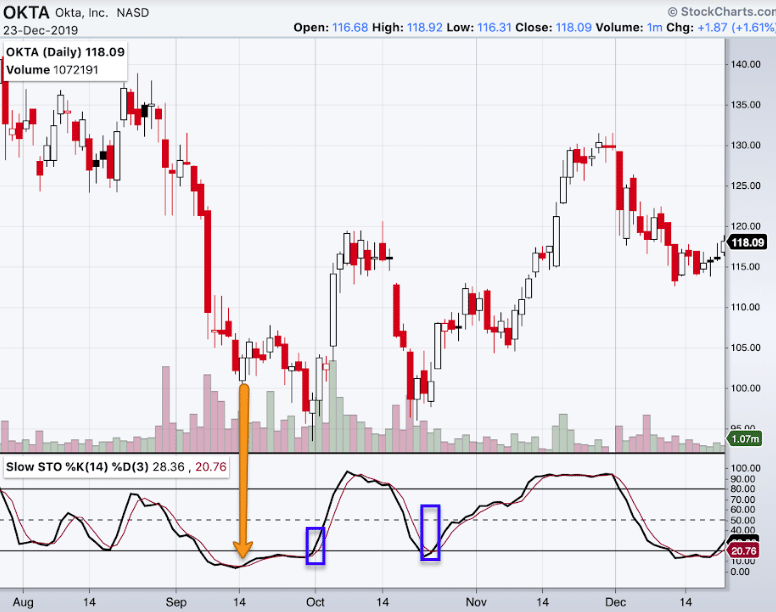 Had you put on a bullish trade around the first cross when both lines were below 20, back in mid-September (orange line above), you'd have got in just in time to see OKTA drop more into October.
But had you paid attention to the cross that happened right as the lines were moving above the 20 line in mid-October, you'd have enjoyed a rally into December.
Takeaways
I'll be honest, guys and gals — I don't use the Stochastic indicator too much in my personal trading.
But other RagingBull gurus, like my good friend and fellow former teacher (not to mention our resident small-account whisperer!) Jeff Williams utilize this indicator on occasion.
And while I may have become a millionaire trading stocks and options, my heart remains a teacher.
That's why I want my subscribers — of Weekly Windfalls or my other services, Jackpot Trades, Smoke Signals, and Jason Bond Picks — to be the most well-informed out there.
Because when they look good, I look good.
Like these guys here:

Want to make quick profits like this? Upgrade to the premium version of Weekly Windfalls now! My next winner could come tomorrow…
That said, some things you should remember about this trading tool:
The Stochastic oscillator — like any other indicator — should

never be used as a solo signal

. You should always incorporate other technical analysis, like support/resistance levels, before trading shares.

The indicator can be adjusted to be more or less sensitive.

There are several ways traders utilize the Stochastic, including:

Overbought (above 80) and Oversold (below 20)

Divergence of stock price and Stochastics

Crossovers of %K and %D lines

Beware of "fake-out" overbought or oversold readings; stocks that are assailing new heights can remain overbought for a lengthy period, while stocks that are in a steep downtrend can remain oversold.

If you trade only the crossovers, consider looking when the lines are about to move below or above 80 or 20, respectively.

It's not always wise to fight the trend. But if you see a stock

BUCKING THE TREND

(in this market, that would be oversold stocks), pay attention.

And finally, don't forget that I'm teaching my next MasterClass — on MY FAVORITE STRATEGY, no less — TONIGHT!
It's not too late to register, but hurry — seats are going fast…
Here's what some guys and gals said about my first class: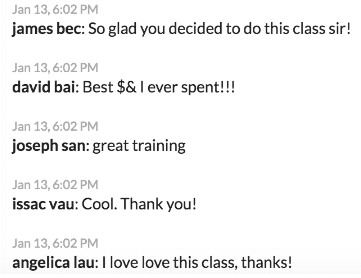 I PROMISE — you don't want to miss this lesson. (Not to mention if you sign up now, you'll have access to the entire 12-week education series!)