Man what a wild market it's been… many traders are in a daze after all the news headlines that hit this week.
Heck, some traders have been shook from this price action — causing them to react like a deer in headlights, just waiting to get run over.
With so many stocks to potentially trade… and different strategies to pick and choose from… I don't really blame them.
You see, when we're faced with so many different choices, it can consume our brain's processing power… until we hit a wall — and have decision fatigue.
Now if you've ever been there before, I actually have a technique to potentially prevent that… at least it has for me.
I can tell you I've dealt with decision fatigue at one point in my trading career before… and that's when I actually realized I didn't always need to be watching everything in the market.
You see, by constantly watching stocks and the options market… I think it can actually hurt a trader's psyche more than it can help.
So what's my fix to this problem?
Well, with what I like to call my "casino strategy", I just focus on a handful of stocks. That way, I understand where the key levels are and what indicators move the stocks.
My whole theory is if I'm able to narrow my focus, my brain won't have to use a lot of power to try to find the right setup.
But I get it… not everyone knows where to start. So I'm going to walk you through a technique that I believe can help to eliminate decision fatigue.
I believe if you have access to a scanner, trading can become easier.
Why?
Well, think about it like this… every day, there are stocks moving all over the place. If you try to just sift through that on your own, you'll get tired and be bombarded with potential trading opportunities.
Ultimately, you may have trouble finding your bread-and-butter setups.
Scanning And Filtering For Stocks Can Prevent Decision Fatigue
Now, for me personally, over with my Jason Bond Unchained… I actually use a screener to help me find trading opportunities. It lets me know what stocks are moving and which ones I should keep an eye on.
How does it work?
Well, with my momentum trading strategy, I want to look for stocks trading under $30 that are liquid.
So on my scanner, I'll look for those stocks with a $ volume of at least $2M that day. Thereafter, I'll sort by percentage gainers.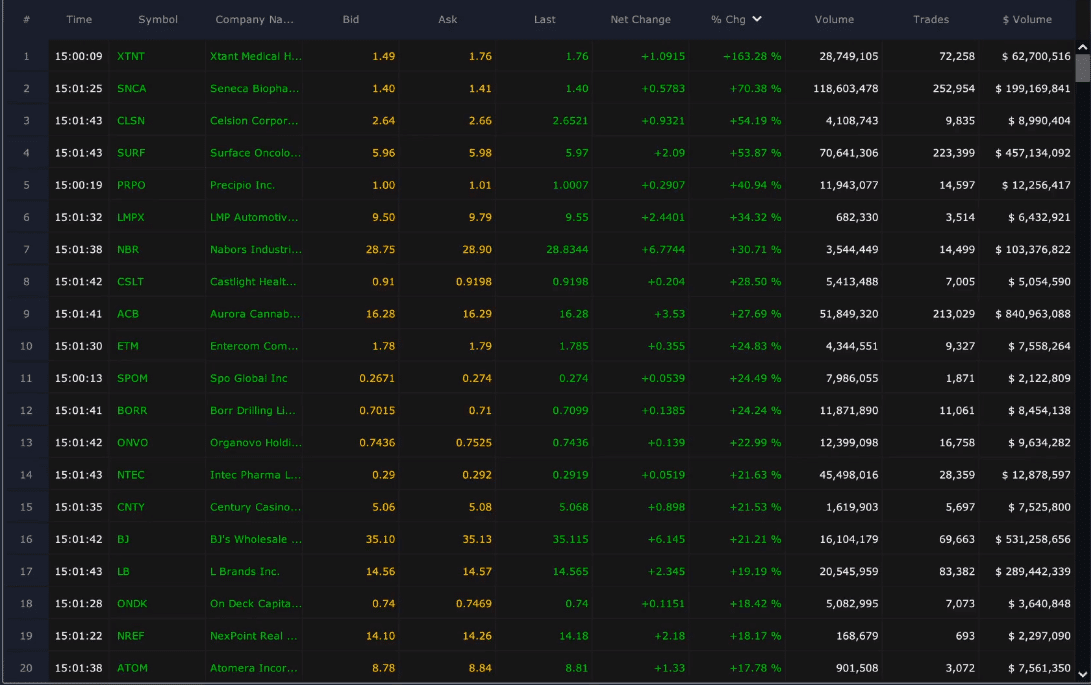 Source: Scanz Technologies
Once I've done that, I'll look at the top 20 or so names on the scanner.
Depending on what's going on with momentum stocks, I may also filter for percentage losers (to try to find oversold stocks to potentially trade).
Thereafter, I'll just look at the charts and try to find my bread-and-butter setups.
Now, you can actually use any filter you want… just do what works best for you… and I believe that can help with decision fatigue.
With a scanner, I actually think it can help you save time… at least it does for me. I don't have to constantly do research, I can just look at my scanner twice a day and just look at the charts to come up with a quick trading plan.
Now, if you want to learn more about how I scan for stocks to potentially trade, and receive my part-time trading blueprint… then register for this exclusive training session.