Unless you were hiding under a rock over the past week, you probably heard about a little old company named Tesla (TSLA).
The electric automaker went on an absolute TEAR to start the week, and on Monday saw its biggest single-session gain since 2013, surging 20%.
TSLA followed that up on Tuesday with another massive surge, gaining nearly 14% more and hitting a record high of $968.99!
At one point the stock was up over 100% already in 2020.
However, experienced traders could've told you that one helluva pullback was in the cards, as the stock spent Wednesday's session swimming in red ink.
In fact, just two days after their best session in years, the shares suffered their second-worst day on record.
But while most TSLA traders started panicking, I alerted my paid Weekly Windfalls subscribers to a GOLDEN OPPORTUNITY.
The Wild TSLA Ride
Tesla stock gapped higher on Thursday, Jan. 30, after the company reported stronger-than-expected earnings and said it plans to handily exceed vehicle production targets this year.
As if that weren't enough, the stock jumped again on Monday, Feb. 3, enjoying the aforementioned HUGE gain, after Argus Research hiked its price target to $808 from $556.
Yet ANOTHER bull gap ensued on Tuesday, after billionaire investor Ron Baron told CNBC's "Squawk Box" that Tesla could hit $1 TRILLION in revenue in the next 10 years.
TSLA was the most purchased stock on SoFi for six days straight, and as of Thursday, Feb. 6, was the No. 1 holding on the stock-trading platform, edging past FAANG giant Apple (AAPL).
Fidelity Investments also said TSLA was hands-down the most sought-after stock last week, per Reuters.
As such, just about every overbought alarm in the books was sounding, including a 14-day Relative Strength Index (RSI) well above 90 at Tuesday's high.
For reference, a 14-day RSI above 70 is considered overbought.
And then, as expected, TSLA took a nosedive.
Here's a five-minute chart of the shares: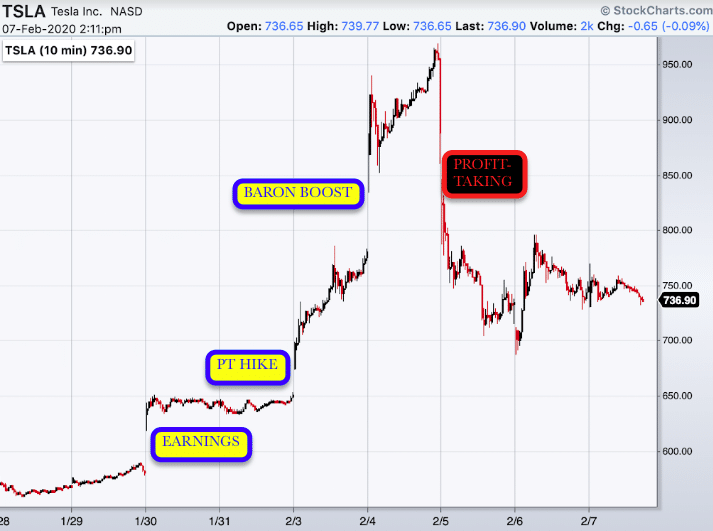 When They Go Low, We Go High
Right as TSLA bulls were hitting the panic button, though, I smelled an OPPORTUNITY.
See, after stocks make a drastic move higher, there's usually a "rest and retest" pattern that emerges.
Specifically, often times you'll see securities rally, only to give up a portion of those gains amid profit-taking, sending the shares to a key Fibonacci retracement level.
The stock will usually bounce from this level, pointing to a prime time to ENTER A BULLISH TRADE.
And for TSLA shares, the key level proved to be $730, which was about a 61.8% Fibonacci retracement of the post-earnings rally.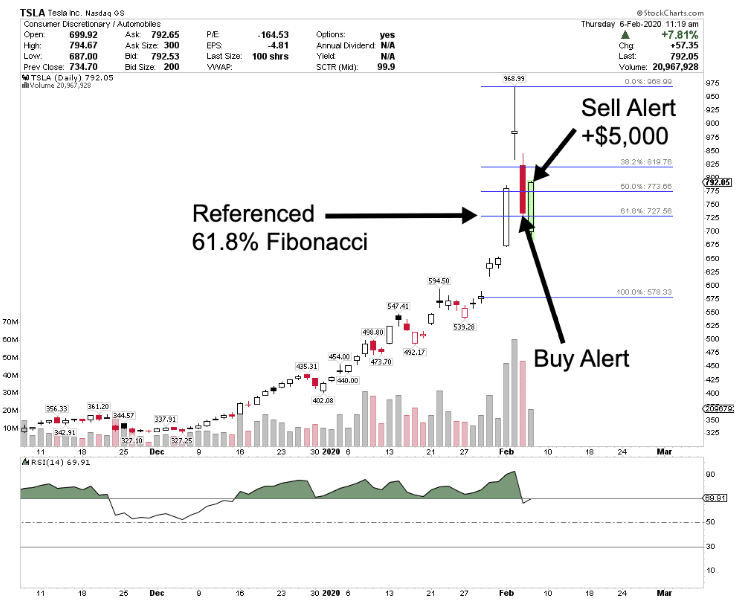 Breaking Down the TSLA Spread
Because TSLA had been so volatile, option prices were running steeper than usual — which is GREAT for premium sellers like me.
Obviously anytime you're a seller of something, you WANT to fetch a fat price for your goods.
Then, when implied volatility (IV) erodes, sending those same option prices lower, you can close out your spread for a profit.
That said, I initiated my Tesla trade by selling the weekly 2/14 725-strike put, which roughly coincided with that $730 Fibonacci retracement area where I expected the stock to find support and bounce.
I also insured my position by simultaneously buying the 2/14 720-strike put, which protected me from SERIOUS losses in the event TSLA kept selling off and broke $720 by options expiration on Friday, Feb. 14. The credit I received for the spread was $2.61, and since each option controls 100 shares of stock, and I traded 50 contracts, it was a little over $13,000.

That means my risk on the trade was $2.39 (5-point difference between strikes minus $2.61 net credit), or just under $12,000 ($2.39 x 100 shares per contract x 50 contracts).
Now, fast-forward not even 24 hours…TSLA did, in fact, make a bounce on Thursday, right around my $730 Fibonacci zone, and around midday, I issued this alert to my paid Weekly Windfalls subscribers:

I closed out my spread for $1.61, for a total profit of $5,000! 
In fact, TSLA was one of my last trades of the week, and made for a homerun in Weekly Windfalls trades — over $30,000 in realized profits from this service after a perfect week.
And I didn't do too shabby in my other services, Jason Bond Picks and Jackpot Trades, either…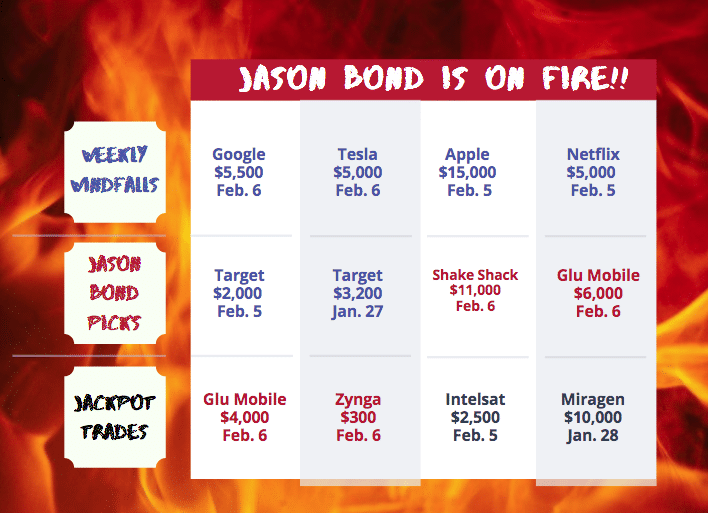 In closing, guys and gals, the lesson here is once again — don't be afraid to RUN TOWARD THE DUMPSTER FIRE.
Just as the recent panic about the coronavirus translated into big gains on my bull put spreads recently, TSLA once again proved that sometimes jumping in as others are jumping out is the right way to go. 
If you want to learn more about the ins and outs of options, make sure you're all signed up for Monday's Masterclass! I'm practically giving it away, and this week I plan to talk about the best instruments for trading…
Related Articles: