Tesla Inc (TSLA) just reported earnings after the bell, and I'm sure this will dominate the headlines tomorrow…
With earnings, it's such a volatile event that we'll have to wait to see how things shake out tomorrow morning.
By the looks of it, traders want in on the action. More than 8,500 Robinhood traders added TSLA to their accounts AHEAD of the earnings announcement over the last 24 hours.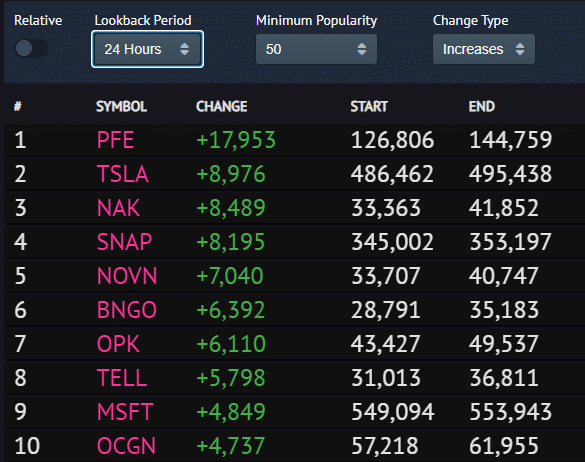 I believe there are some "suckers" placing random and low-odd bets there.
It's not just Robinhood traders placing these low-odd bets, there are plenty of "sucker bets" out there.
The thing is, traders can actually take this information and potentially gain off it.
How?
Let me show you with the sucker bet my scanner detected the other day…
And why the odds say the traders who bought these specific options contracts were "bound" to lose.
How Traders Could've Taken Advantage Of This TSLA Sucker Bet
Check out this options activity my scanner picked up on Tuesday.


Someone bought the $3,500 calls expiring on Friday!
You heard that right… they think TSLA will more than double in just a matter of days, and this trade went off when the stock was at $1,611.50.
I'm surprised those options still have value.
The open interest as of yesterday's close at 17.9K, and that means many traders may be stuck with the bag.
You see, come tomorrow morning, the level of implied volatility will drop because the news is out.
Not only that, but there will only be 1 day left until expiration so the time value will accelerate.
Can TSLA get to $3,500?
It's not impossible, but by tomorrow's close is a long shot.
I don't know about you, but whoever threw down bets on that seems like a gambler to me.
Why?
Well, the odds of them actually winning on that trade was LESS THAN 1% when they placed the trade.
Whoever sold those options to that trader had more than a 99% chance of collecting all that premium.
Now, these "sucker bets" actually come across my screen every trading day.
Take a look at all the low-odds bets my scanner picked up today…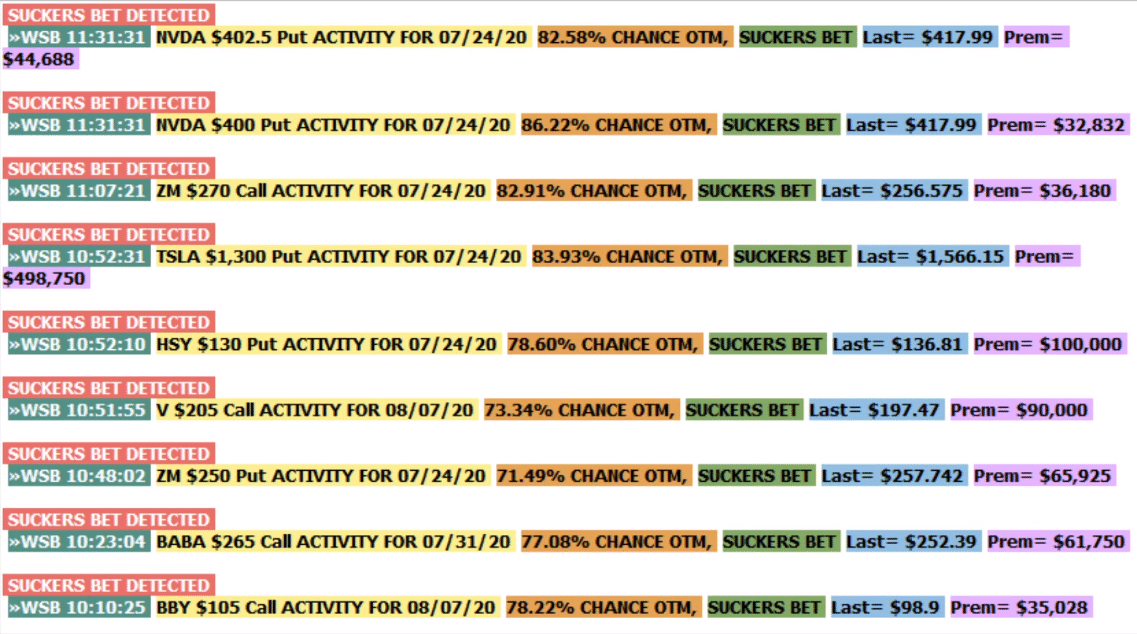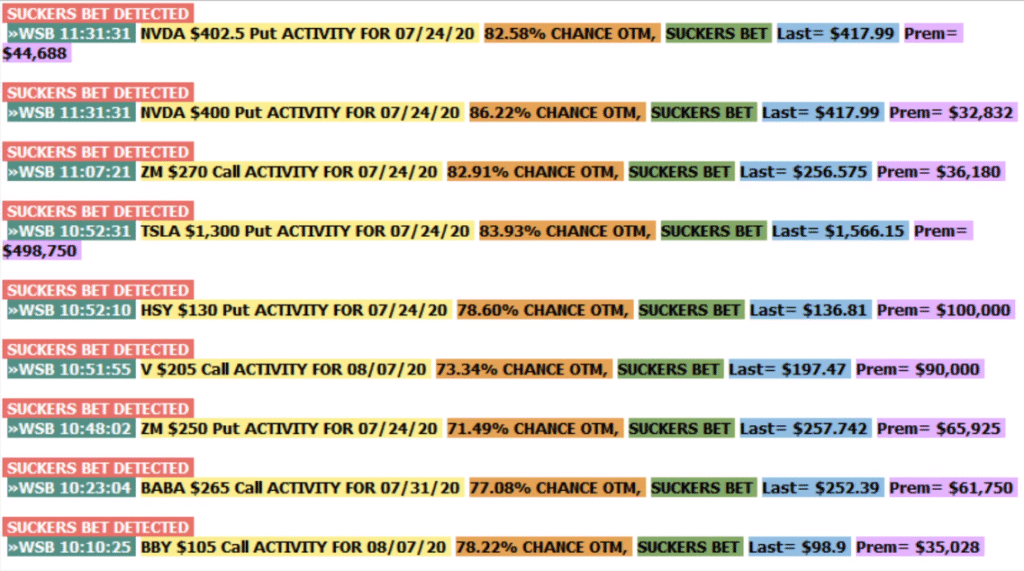 Sure the odds of winning on these trades may not be as high as the one I showed you in TSLA…
But they're still pretty high in my opinion.
The thing is, I don't think it's safe to just take the other side of these "sucker bets".
You see, selling call options outright can be dangerous, and the same goes for selling puts.
However, there is a risk-defined strategy that allows me to take advantage of sucker bets just like the one in TSLA.
How does it all work?
You can get the details about this strategy here.
I wrote Wall Street Bookie to show traders how I'm able to stack the odds to my favor and take advantage of the sucker bets… while defining my risk-reward.
You'll learn what I believe to be the number 1 options trading strategy out there…
And how I use it through real-money case studies.
Related Articles: