It's been a busy week on Wall Street already, with several big banks reporting earnings, and a "phase one" trade deal between the U.S. and China in focus.
What's more, the action isn't likely to slow down anytime soon.
The Commerce Department is set to release the final retail sales data for 2019 tomorrow, and traders will be locked in to hear those December numbers.
The last month of the year is massive for retailers—if they didn't make bread during the holiday season it could be a sign that the economy is getting weaker.
Economists are expecting core retail sales to grow 0.4% in December, so a number stronger or weaker than that could move the sector for better or worse.
Ahead of the data, I decided to take a look at a few retail stocks that are overbought or oversold, and today I'm going to teach what indicators I used and how you can apply them to your trading for better results. 
What is overbought?
In a nutshell, it means that a lot of people have bought into the stock lately — usually reflected in a quick-and-dirty rally — and some profit-taking could be on the horizon.
And as I said in this week's debut MasterClass, an oversold reading means errrrybody is jumping off the boat because they think it's sinking.
And when people think the boat is sinking, sometimes there's an overreaction, because sometimes the boat's not sinking.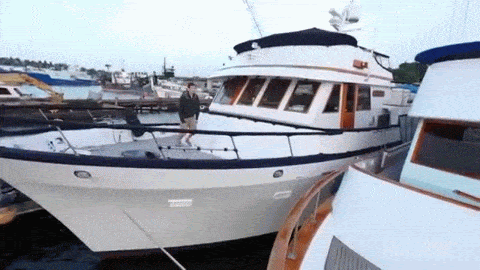 So, in simpler terms, it makes sense to short stocks that are overbought, ahead of a possible pullback, and to buy or go long stocks that are oversold, ahead of a possible bounce.
That said, there are multiple ways to tell when a stock is overheated or undercooked, so to speak.
But one of the indicators I use the most is the 14-day Relative Strength Index (RSI).
The indicator measures how fast and how far a stock moves, and is based on calculations of a security's average gains and losses over the previous 14 sessions (in a nutshell).
The RSI is expressed on a scale of zero to 100, so an RSI of 100 (virtually unheard of) would mean the underlying stock hasn't had a losing session in at least 14 days.
When an RSI is above 70, it's generally considered an overbought indicator. When it's below 30, that typically points to an oversold stock.
Another way I like to tell if an equity is overbought or oversold is through Bollinger Bands (BBs).
Bollinger Bands consist of three lines — a moving average (the middle band), an upper band, and a lower band.
Now, I'm not gonna bore you to tears with how these are calculated, but per John Bollinger's own website, they "answer the question as to whether prices are high or low on a relative basis."
When an equity moves above its upper Bollinger Band, it's considered overbought, suggesting it's moved too high too fast.
A move below the lower BB is thought to indicate a stock is oversold — meaning it's undervalued and could be set to rebound.
To identify these stocks in your own trading, FinViz has Overbought and Oversold screens on their stock scanner.
2 Overbought Retail Stocks
Weak holiday sales figures from Kohl's (KSS) and JC Penney (JCP) weighed on the retail sector late last week.
However, Ulta Beauty (ULTA) bucked the sector trend lower.
In fact, the makeup retailer chugged higher on an upbeat analyst note from Oppenheimer, which hiked its price target to $310 and waxed optimistic on ULTA in the wake of planned Macy's (M) closures.
The stock's 14-day RSI is now at 75, well into overbought territory.
ULTA stock has been in a channel of higher highs since a massive earnings-fueled bear gap in late August, which actually sent the shares deep into oversold territory.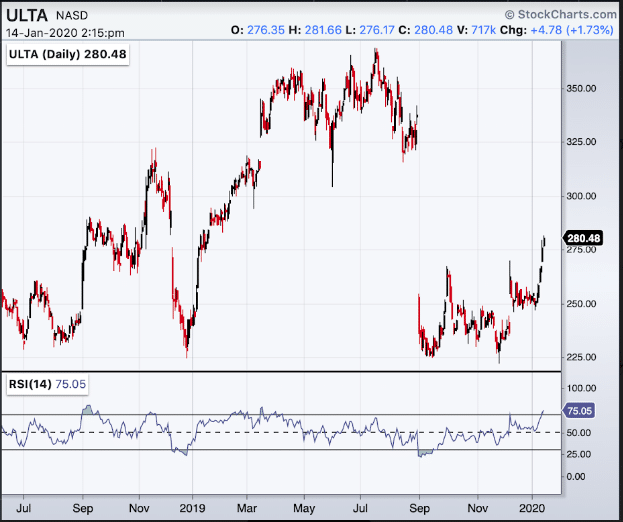 Meanwhile, Victoria's Secret parent L Brands (LB) last week cut its fiscal fourth-quarter earnings guidance, and said holiday sales fell 3% from the year-ago period.
Still, LB stock moved higher, as apparently traders expect weak numbers to spark some C-Suite changes for the retailer.
The shares are now trading north of their upper Bollinger Band, indicating they could cool off soon.
As you can see on the chart below, previous moves above the upper BB have preceded notable drops for LB, including the most recent instance in mid-2019.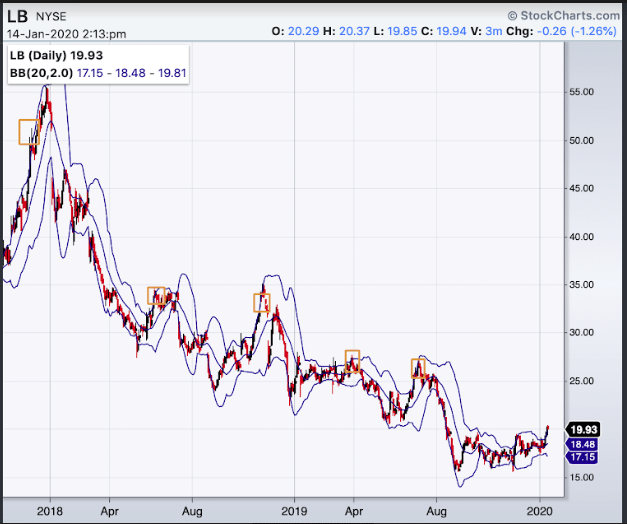 2 Oversold Retail Stocks
Moving on, Tilly's (TLYS) gapped lower earlier this week, after the retailer reported disappointing holiday sales.
The stock's 14-day RSI is now at a super-low 20.10, in oversold territory not seen since after its June bear gap.
However, after that signal, TLYS went on to stair-step higher, ultimately touching an annual high above $12 in December.
Plus, the stock's early fourth-quarter pullback was contained in the $9 region, which could once again act as support.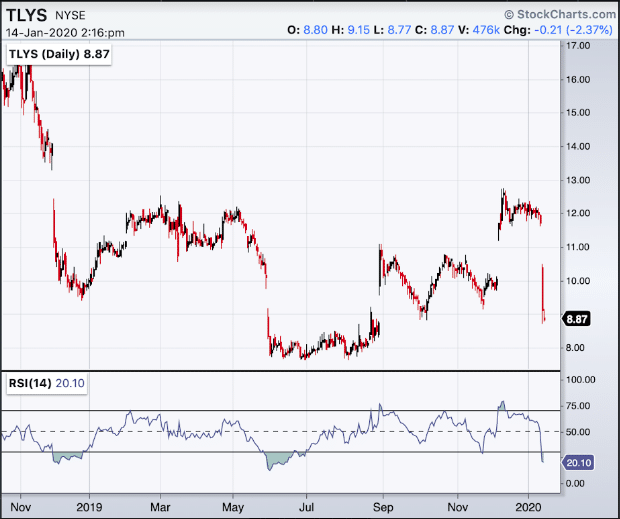 Finally, Urban Outfitters (URBN) also suffered a bear gap recently, plummeting after reporting its own holiday sales figures.
The Anthropologie parent's increased promotional activity is also expected to put pressure on its gross margins in the fiscal fourth quarter.
The shares are now beneath their lower BB. The last time that happened was following a bear gap in late 2019, after which URBN stock went on a tear.
In fact, the stock also breached its lower Bollinger Band at the mid-2019 bottom, which preceded a massive rally into the November highs.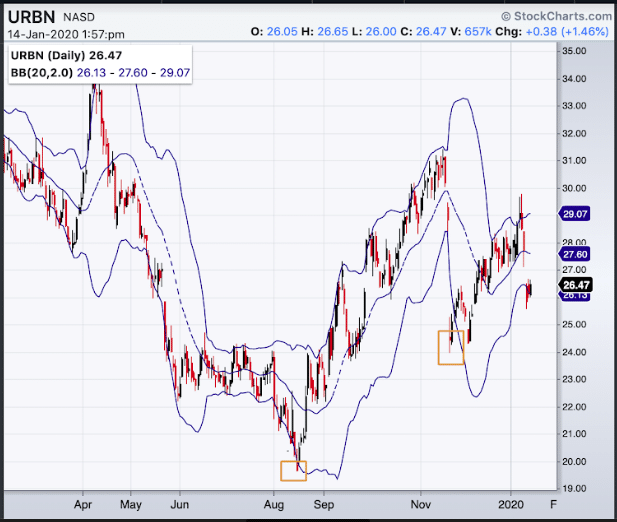 How to Put on Bearish and Bullish Option Trades
But Jay, you ask — what do I do with this information?
Excellent question!
While I'm not putting any of these trades on officially in Weekly Windfalls, my "casino strategy" allows you to make both bullish and bearish trades — without putting a ton of capital on the line!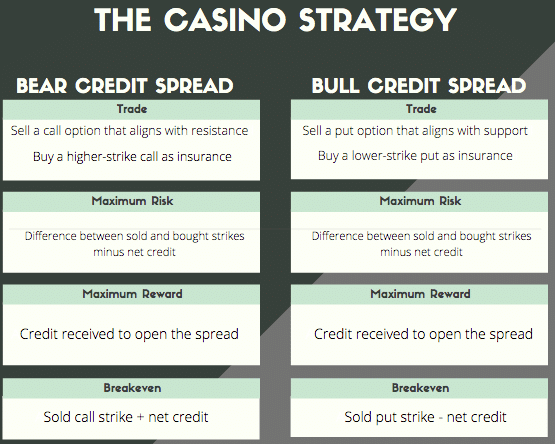 That's because options offer the power of LEVERAGE
More specifically:
Options give you the power to speculate on a stock's direction, just like people who buy or sell short a stock, BUT they require a much lower investment out of the gate.

Option traders often see a greater return on investment compared to stock buyers.

And vertical option spreads offer the benefit of MINIMAL RISK.
Even better, while stock buyers need the shares to go higher, and short sellers need the shares to go lower, the vertical credit spread allows traders to make money THREE WAYS:
If the stock moves in the right direction

If the stock moves slightly against you

If the stock stays stagnant
That's why they call it "the casino strategy" — because it's essentially like being "the house."
I mean, just look at what some of my subscribers are making in A SINGLE WEEK!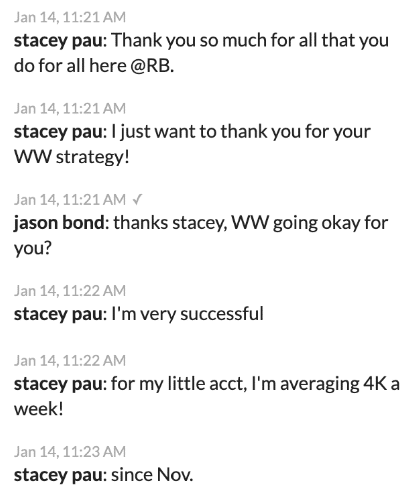 So, guys and gals — what are you waiting for? Upgrade to the premium version of Weekly Windfalls TODAY.