There's a lot of uncertainty in the market after the POTUS and FLOTUS tested positive for COVID-19.
There are specific stocks I have on my radar as a potential buying opportunity.
You see, if there are stocks that got dragged down by that overnight volatility, and there are specific catalysts in those names…
I want to be a buyer of that dip.
Of course, it can get scary when you're staring in the face of volatility and a potential market crash…
That's why I want to show you specific rules I've already started to implement, risk-defined strategies to play the dip, as well as the one hot trade idea I sent out to subscribers today.
Volatility Is Picking Up, But It Doesn't Really Affect Me
Here are the specific rules I set up for myself, and I believe it's useful in any market environment… not just volatile ones.
Under-trade, or trade one or two solid setups each day or each week.

Use too wide stops, staying outside of the market noise.

Trade with appropriate leverage, which is why they're able to use wider stops.

Never have big losing trade; it really can be that simple.
One of the first questions I want to ask myself before I get into any trades is if I can place one trade for the week, which one would it be?
This helps me hone in on my focus and only trade my best ideas.
You see, there's something known as "diversifying" in the market, and for some reason, many traders believe the more trades they have on, either the more money they'll make… or they'll be hedged against risk.
To me, those who are diversifying their trading portfolio are suckers.
I mean imagine if you were long a bunch of stocks using the "diversification" approach, how much pain would you have been in this morning, or any gap down?
Diversifying is for saving wealth.
Concentration is for creating wealth. I trade to create wealth.
The key is to understand the game, and then work continually to put the odds in your favor. Trading is a skill set. It's not the person who knows the most who wins.
On that note, I stuck with that thought process for Rooster Report today.
Here's a snippet of what I sent out this morning…
Absolutely my top trade idea here is AAPL on this dip. I was looking to sell puts in AAPL
I don't know if the market will panic lower today or crash Monday but I do know AAPL has the iPhone 12 coming and if I go 2-weeks out, selling into this gap lower due to Trump's virus news, I think I'll collect that premium.
I plan to take action early just in case the market buys this dip, which is a possibility but I really don't care what the market does, I like this trade a lot and was upset I didn't hang onto all my positions recently, taking $30K in profit versus what would have been about $160,000 windfall.*
I will look to sell the $110 (unlikely) to $113 (more likely) bull put spread $5 wide for 50% of the premium. I do believe this could be viewed as a risky move given the news, but I was hopeful for a dip on AAPL for one more entry before the iPhone 12, rumored to be coming soon, and I got the dip so I'm starting in. By going 2-weeks out I buy time for this market panic on the Trump news to fade. Stimulus hopes are still alive too which could boost this market again.
The reason I was looking at those specific strike prices is because there's a key support level right there, which just so happens to be at the 55-day exponential moving average (EMA).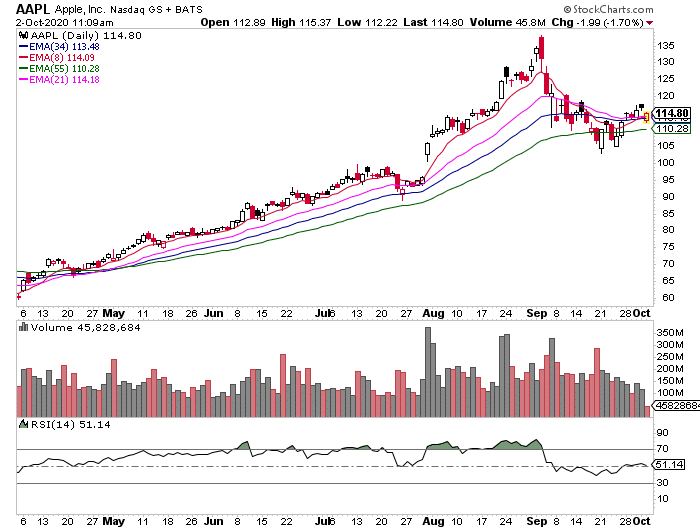 That's what I'm referring to when I want to buy the dip. I want to keep an eye on specific names that have pulled into an area of value in order to establish a risk-defined position.
With volatility picking up, I think the bull puts will allow me to extract more premium if there are positive developments in the market.