With the start of Q4, I think it's important to take a step back and talk about my plans to attack the market from now until the end of the year, as well as 2021.
That's why I conducted a special live training session yesterday to set the stage. If you missed out, click here to watch it.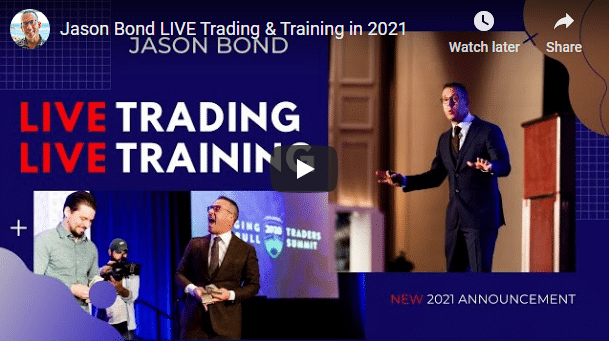 For the most part, I want to hone in on my strategies and look for money-making opportunities in which I have a definable trading edge.
I want to go over what my focuses will be and provide you with some options trade ideas I'll be keeping my eye on.
Here's What I Plan To Do To Evolve As A Trader
For the most part, I'm going to stick with small-cap momentum stocks with my Jason Bond Picks Stocks strategy. I'll be looking for my favorite chart patterns and utilizing shares to take action.
When it comes to large-cap stocks, I'll have to be a bit more creative. You see, these stocks are pretty expensive and it makes sense to use options.
Take a look at DraftKings (DKNG), which I mentioned to traders in this live training session from earlier today.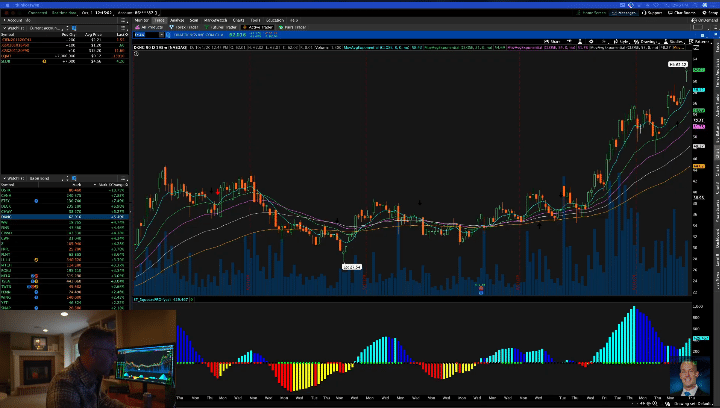 With this setup, I mentioned how I was watching the 8-, 21-, 34-, 55-, 89-period exponential moving averages (EMAs). It's really transformed my trading game when it comes to trading large-cap options.
The reason why those specific moving averages are so crucial to understanding how they is that they can actually identify support levels, in my opinion.
Take a look at how there are pullbacks into key moving average levels.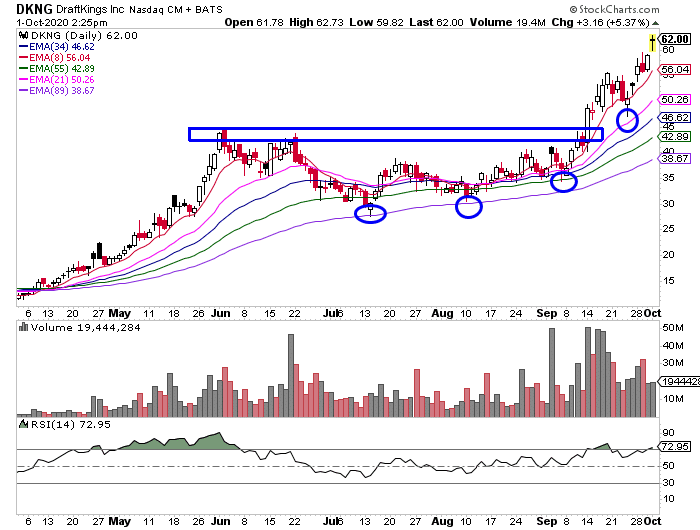 For large-cap momentum stocks, that's key. You see, if I can find a key support level, I can structure my options trades around that.
I can identify the strike price more easily if I know where I want to be long, then I just have to identify which expiration date I want to go with.
Depending on how confident I am with a specific setup, I may look to buy calls or puts outright (depending on whether I'm bullish or bearish)…
Or I can look to sell spreads.
What I mean by that is collecting premium in order to establish a bullish or bearish opinion.
For example, let's say I'm bullish on DKNG and don't believe it can break below $50 (where the 21-day EMA is).
So what I can do is sell the $50 strike price puts, while simultaneously purchasing the $45 strike price puts both expiring two weeks from now.
Over time, I'll be able to collect premium and just as long DKNG stays above $50, I'm in the clear. Of course, the upside is limited with this strategy. However, I can improve my odds of winning with it.
Here are some trades I'm keeping an eye on:
Beyond Meat (BYND) $155 puts were active (I want to see how the stock trades, and if there's heavy demand I might look to establish a bull put spread).

I'm also looking at AAPL, NVDA, CRM, LULU, and ZM for potential bull puts. Most are above all EMAs.
If you haven't done so already, make sure to check out my training session from earlier this morning.
WE MAY HOLD SECURITIES DISCUSSED. RagingBull has not been paid directly or indirectly by the issuer of any security mentioned in the Services. However, Ragingbull.com, LLC, its owners, and its employees may purchase, sell, or hold long or short positions in securities of the companies mentioned in this communication.