If you've been following the financial media, you've probably heard of the "January effect." (I know my premium Weekly Windfalls subscribers certainly have, because I've cited it in a few trade alerts lately.)
The January effect is the seasonal trend of stock buying at the start of the year, thought to be caused by investors picking up stocks that were beat up at the end of the year.
But what if I told you we might not have to wait until 2020 for higher stocks?
And you know why?
Because SANTA CLAUS IS COMIN' TO TOWN (if Trump tariffs don't shoot down his sleigh, that is).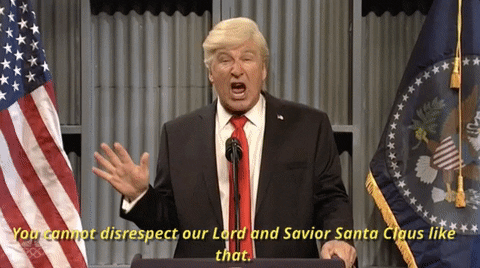 At the end of the year, some investors dump underperforming stocks for tax purposes. This has often resulted in a notable stock market increase in January, as investors purchase oversold stocks. Hence, the January effect.

In recent years, though, the second half of December has also been a prime time to be bullish, and this trend has been dubbed a "Santa Claus rally."
This phenomenon has been attributed to everything from holiday bonuses to good old-fashioned Christmas spirit.
Using ThinkorSwim's Seasonal Trading and Monthly Seasonality studies, the S&P 500 Index (SPX) chart below reveals seasonal patterns over the previous five years.
In a nutshell, the chart shows that December has had the most consistently high frequency of positive returns compared to other months.
In simpler terms, recent history suggests this could be the most wonderful time of the yeaaar…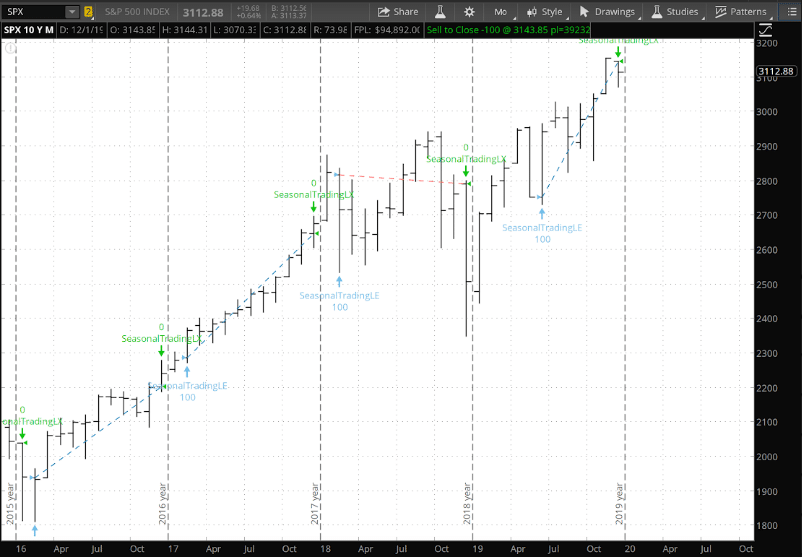 Plus, as I told my Weekly Windfalls premium subscribers earlier this week, there are a few stocks I think could benefit from other factors this month, including Apple (AAPL)…

To see my full list of stocks set for Weekly Windfalls this December, join my premium service.
Of course, another round of U.S. tariffs on Chinese goods could also be coming later this month.
However, if President Trump decides to rain on Santa's parade, sending stocks lower, the beauty of my options strategy is limited risk.
Not to mention it WORKS IN ANY MARKET ENVIRONMENT, guys and gals.
Should things turn bearish on U.S.-China trade fodder heading into the new year, I can switch my strategy at the drop of a hat, especially since I'm trading options with a limited shelf life.
More specifically, I could start putting on bearish call spreads with weekly options.
To do that, I'd sell a call option on a stock I think might fall. And guess what? That position could profit two additional ways — if the stock moves slightly higher, or if it stays range-bound.
The odds are in the option seller's favor — that's why the vertical credit spread is called the "casino strategy."
I would then buy a call as a form of options insurance. This protects my position from a massive loss, if the stock moves against me.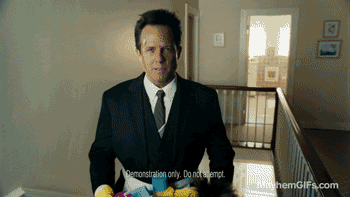 For example, earlier this week, I alerted my premium subscribers to a bearish trade I was putting on yoga apparel maker Lululemon (LULU).
I sold 225-strike calls, expecting the stock to stay at or below $225 in the near term.
Then, to insure my position against an unexpected move higher, I bought 227.50-strike calls.
The spread was established for a net premium of $1.20, or $120, since each option controls 100 shares of LULU.
And since I put on 100 spreads at a time, it was sold for $12,000 — that was the most I could win.
The NEXT DAY my LULU spread was looking rosier than Santa's cheeks, and I got to collect a nice $5,500 on the spread — nearly 50% of the possible $12K.
Had LULU shares skyrocketed to, say, $230, my losses were capped at $1.30 a spread, or $13,000 ([difference between sold and bought strikes] x 100 shares per option x 100 spreads).
What could you do with another $5,500 in the bank by tomorrow? Join my premium Weekly Windfalls team
Related Articles: