Editor's note: If you know me, you know I love to read. And with my Economics background, understanding trends and anticipating future impacts gives me an enormous edge as an investor.  Here is an intriguing article from our friends at Katusa Research about everyone's favorite, Elon Musk, and battery storage!  Although I did not author this article, I encourage you to think about the longer-term Market implications as to what they're proposing!
---
The Virtual Powerwall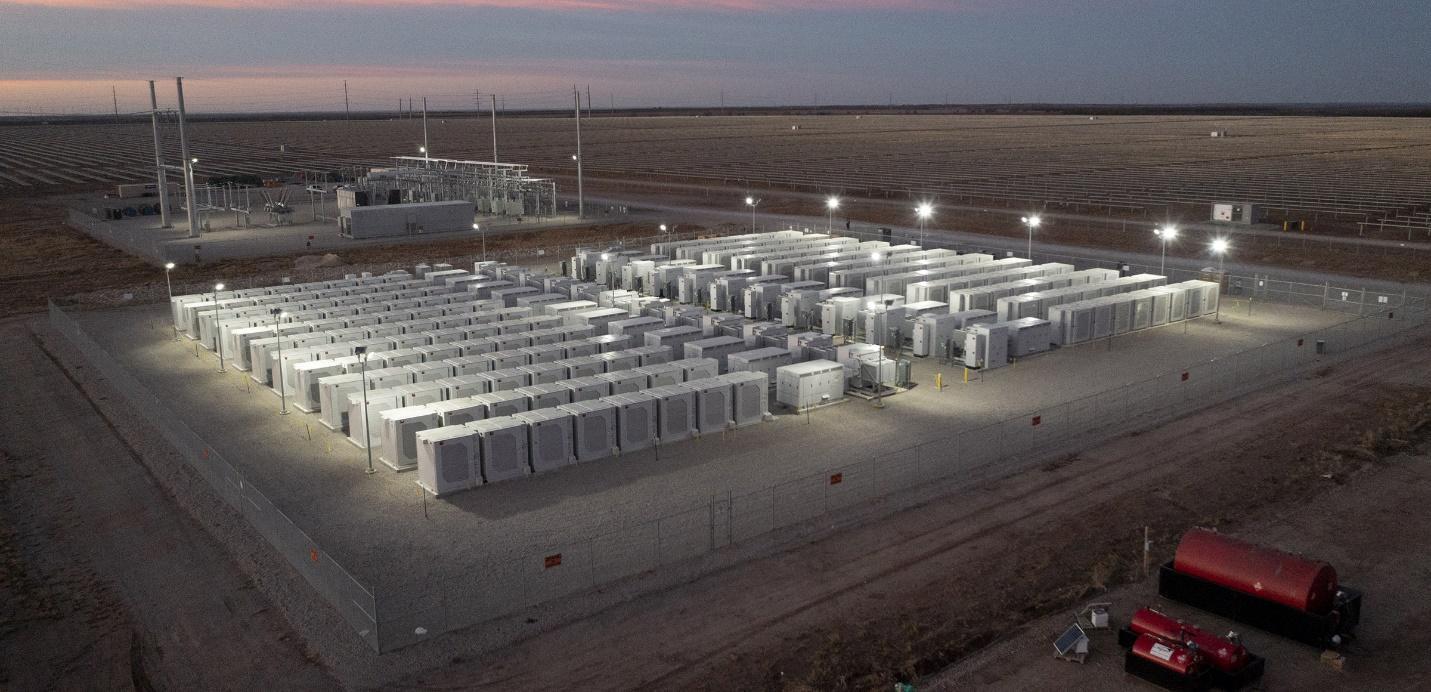 In 2017, Elon Musk made a radical bet he couldn't possibly win—for $50 million.
He'd build the largest battery system in the world, in South Australia, in 100 days. And if he failed, the battery would be free.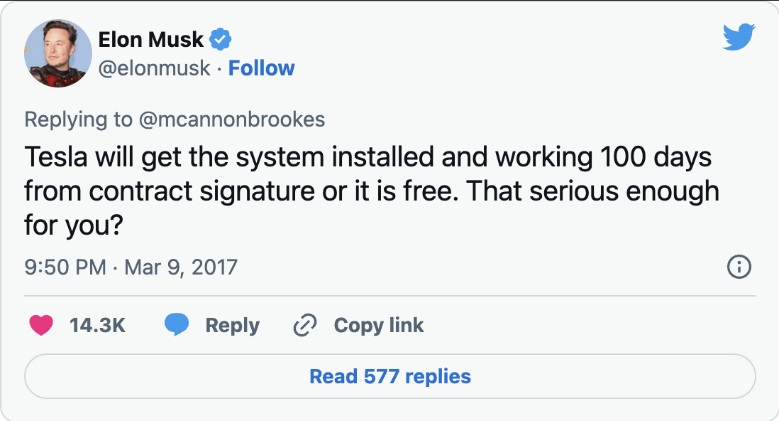 Imagine a battery boasting the strength of 2,600 Tesla car batteries, capable of powering 30,000 homes.
But it wasn't just about that colossal battery or a minor wager. It was about igniting the 21st-century Space Race: crafting the most massive battery in history.
You see, countries that are using renewables to hit net zero are just now discovering an inconvenient truth.
The only way renewables are viable to achieving Net Zero is via lithium batteries.
Every solar panel and every wind turbine on earth depends on a lithium-ion battery. There's no way around it.
When it's sunny

, solar panel farms have too much energy—and it goes to waste.
When it's cloudy or nighttime

 or windless or demand is high, there's not enough energy—and the grid has to run "peaker" plants to provide electricity.
"Peaker plants" are inefficient, polluting monstrosities. They're the most expensive and highest-emitting electricity sources on the grid. They can cost up to 300x normal electricity.
Which has led to the development of the BESS (Battery Energy Storage System). It can store energy when it is abundantly available from renewables, and discharge it to customers when it is not.
A BESS releases zero CO2. It is much cheaper to operate than gas peaker plants. And it provides instantly-available, always-on energy, wherever it's needed.
Already, in September 2022, a new BESS in Hawaii completely ended coal-powered electricity in the state.
That's why countries are racing to construct huge batteries all over the world.
Installing BESSs is the only way to meet net zero goals—and to achieve complete energy independence.
BESS Is Transforming the Balance of Power
Progress in the Storage Wars has been astounding:
In August 2020, California opens the Gateway Storage Project, with

230 MW

 of capacity.

In December 2021 – South Australia fires back with the Victorian Big Battery—a mammoth

300 MW

 battery.

In late December 2021 – Florida finishes the Manatee, a

409 MW

 battery completed in

nine months.

In January 2022 – California approves an expansion at Moss Landing to a

750 MW

 battery.
In just three years, the max capacity of a utility-scale battery has tripled. And Tesla says its Megapacks are "infinitely scalable."
So it's likely that by 2024, we will see the world's first 1 GW battery. For reference, that was the total storage capacity of all 163 utility-scale batteries in the U.S. in 2019.
Now, it's estimated that the U.S. will add 63 GW in battery storage capacity

in just the next three years.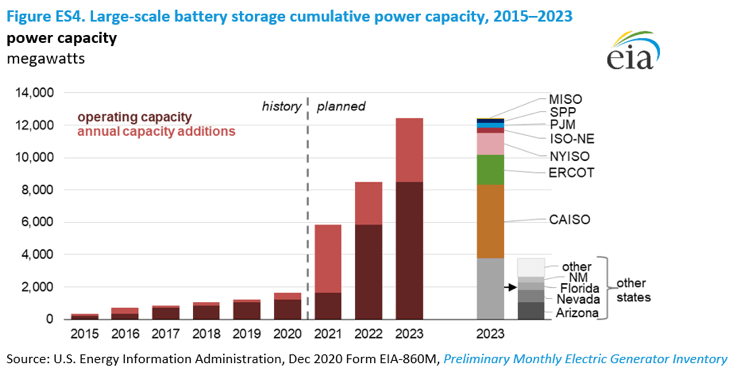 And global BESS deployment is expected to grow 100x by 2040.
The development of utility-scale storage is going to completely transform how electricity is used:
"Batteries are going to do to the electric grid what the P.C. did to the
mainframe computer." – Sunrun Founder Ed Fenster
Instead of huge power stations, batteries will be scattered across the landscape, enabling energy to be stored close to where it is used.
But that's not where the transformation of power ends…
Because very soon, there will be a wall-sized battery sitting in every garage. It'll be as normal as buying a refrigerator when you get a new home.
Tesla's version, the Powerwall, holds enough electricity to power a home for half a day. And those simple batteries could make power plants obsolete.
Tesla is already running a "virtual" power plant in California using customers' Powerwalls. Instead of peaker power plants turning on, Tesla pays customers for power from their batteries—then redistributes it around the grid.
This is a sea change in how the world is powered.
It's inevitable, because it's the only way renewable energy will work in the long-term and at a large scale.
And it's going to unfold much, much faster—and in a much bigger way—than you could ever believe.
The White Gold Rush
Remember that 100-day, $50 million bet Elon made?
Sixty-three days

 after the contract was signed, the massive 100 MW battery was connected to the grid.

 
Tesla hasn't looked back since, preparing to build batteries on a war-time scale.
It deployed only 6.5 GWh of storage across all cars and Megapacks and Powerwalls in 2022. Its megafactory in California is being ramped up to deliver 40 GWh every year—from a single factory.
All for BESSs.
The exciting part? A mere 582 Moss Landing sized BESSs could power every U.S. home simultaneously. But there's a catch: each BESS demands a significant amount of one key ingredient, lithium.
Powerwalls, Megapacks, and BESSs fundamentally rely on lithium-ion batteries.
We're talking hundreds, thousands, or, as with Moss Landing, nearly 70 million lithium-ion batteries.
Everyone's looking at EVs as the demand for lithium. But the real, well-hidden lithium demand is from BESS.
Right now, utility-scale storage is only where EVs were a decade ago. Every solar panel and wind turbine and house you see requires a mega-sized high-lithium battery.
As the industry begins to take off, the demand for lithium will be greater than anyone is predicting.
This new race has much higher stakes than a $50 million bet or landing on the moon.
The winner will hold the power to energize the world.
Just as it once was with oil—where countries were invaded for access—soon, nations will vie for dominance over the world in pursuit of lithium.
Which means that a lithium mine with the right metallurgy, size and in the right jurisdiction will be able to command premium prices for stable long-term supply to the battery makers.
And investors in those mines…
They might just make off like Elon Musk.
Regards,
Marin Katusa