It feels like we're venturing through Antarctica's south pole right now, with regards to IPO registration. 
The coronavirus pandemic has triggered a freeze in the number of companies that are willing to attempt a public debut in these uncertain market conditions. 
That doesn't mean that we can't take profits on IPOs that already hit the market within the past year.
[I scored a nice $4K win on pet food delivery company, Chewy (CHWY) even as more jobless claims were pouring in].
It just means that brand new IPOs are slim pickings. 
So what rookies can we potentially put into play this week?
Well, have a look…

Last week, we saw two companies —WiMi Hologram Cloud (WIMI) and Zentalis Pharmaceuticals (ZNTL)— test themselves against the elements.
We covered WIMI here last week, and it's been a bit of a fun one to track.
But today, I want to take a look at ZNTL, as well as Keros Therapeutics (KROS) that just went public this week, as they both fall in the healthcare/ life sciences sector. 
Both of them could easily perform well during the current pandemic, thanks to sympathy plays from related companies staging coronavirus relief efforts. 
Healthcare companies, in general, have been one of the few bright spots for the market lately.
Zentalis Pharmaceuticals (ZNTL)
The coronavirus may be on the top of everyone's mind right now, but the demand for a cancer cure is still far greater. 
In 2019, over 600,000 people died from cancer, whereas the number of coronavirus deaths so far is 15,000. 
Zentalis Pharmaceuticals aims to alleviate the heavy burden caused by cancer each year by discovering and developing treatments. 
According to the company website: "We are focused on the creation of differentiated small molecule treatments targeting fundamental biological pathways of cancer."
The company currently has four products in the pipeline, and three of these products are in phase 1 or 2. 
These products target breast cancer, solid tumors, hematologic malignancies, and non-small-cell lung carcinoma. 
Since the company's inception in 2014, they have raised $147 million — including $85 million in series C financing to cap off last year, thanks to investors like Matrix Capital,  Redmile Group, and Viking Global Investors.
The company offered 9.18 million shares at $18 apiece, the top of their price range, in its public debut. 
Zentalis also has strong partnerships right now, which include Pfizer. And Pfizer, interestingly enough, is collaborating with BioNTech, a company developing a potential CONVID-19 vaccine. 
So it's unsurprising that the company rose 29% in its initial trading debut, after having raised $165 million through the IPO.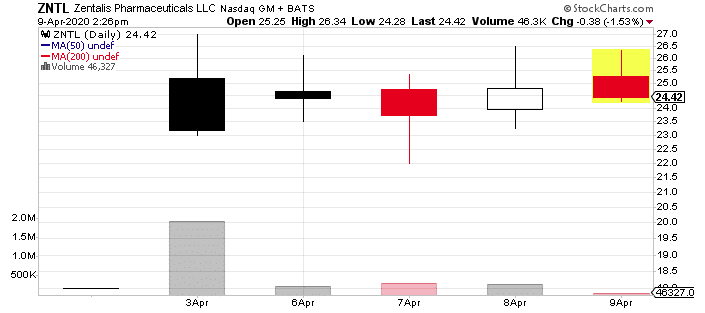 Keros Therapeutics (KROS) 
Much like Zentalis (ZNTL), Keros Therapeutics (KROS) is currently riding the strong trend in biotech, one of the few sectors that have been able to stay afloat during this coronavirus pandemic. 
30 to 35 biotech companies will go public this year and raise about $3.5 billion according to Jordan Saxe, head of healthcare listings at Nasdaq. That's if the pandemic successfully levels out by June. 
This number is down only somewhat from last year, in which 46 biotech companies completed their IPOs and generated $5.46 billion overall, according to Bloomberg data.
But right now, Keros is very much leading the charge.
The company develops new treatments for patients that suffer from hematologic and musculoskeletal disorders. 
The company has 7 products in the pipeline, and two of their hematology products have completed phase 1. 
Thanks to the IPO, the company now has an additional $96 million that they can devote to their research and development. 
Even despite all this volatility in the markets, Keros managed to raise even more money than it initially anticipated.
Whereas it had planned to offer 5 million shares at $14 to $16 each, the company was able to offer 6 million shares at the high end of their price range, $16. 
Though the company has only been trading for just under a week now, it's already come strong out of the gate.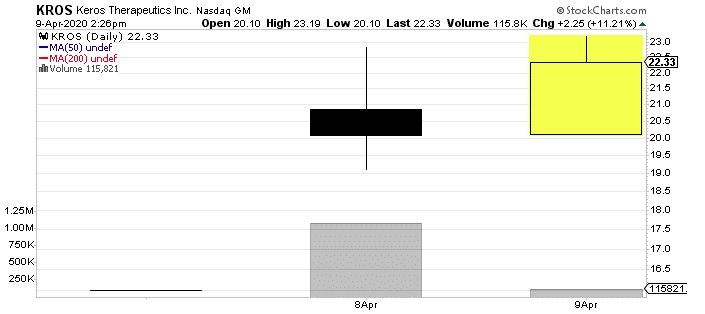 Watch Me Put ZNTL and KROS Into Play
While I can't guarantee I'll be trading ZNTL or KROS this week or next, I'm really loving their fundamentals and the strength of the biotech sector overall right now. 
But one thing is for sure. 
I'm putting on IPO trades just like this every week for my exclusive subscribers to show them how to get a piece of the exciting IPO market. 
The overall market may be volatile right now, but I'm putting out a watchlist each and every week to help folks learn to take profits on the IPOs showing great market divergence.