Yesterday it was announced that Bill Gates's investment firm increased its stake in Four Seasons from 47.5% to 71.25% for $2.2 billion in cash.
Clearly, through this transaction, Mr. Gates is betting that luxury travel will rebound from disastrous results during the pandemic and lockdowns. Bill has been on a roll with some great investments in biotechs that have run on Covid-19 vaccine rollouts.
One such investment was in BioNTech (BNTX) that ran from $13 in October 2019 to over $300 as I write this. When smart money makes big investments, that gets my attention, so the first thing I do next is look at some other stocks in the sector to see if there are any great setups.
Four Seasons shareholders took the company private in 2007 with Gates and Prince Alwaleed leading the deal. Then it managed 74 hotels. Now, the chain manages 121 hotels and resorts, and 46 residential properties, and has more than 50 projects under development, according to a statement released by the company.
Vaccinations and the end of lockdowns around the world have led to a rebound in holiday travelers, but luxury hotels are lagging behind lower-quality properties, according to data from STR.  
In July, a survey of members by the Global Business Travel Association found 68% said they planned to begin business travel sometime in the next three months. By August, that had dropped 35%. "It's a pretty dramatic change of plans," said Adam Sacks, president of Tourism Economics. "We expected to see some traction from business travel in the fall. Now we're not certain when it will happen."
Other airlines have also pushed back some of their forecasts for a revenue rebound. Southwest Airlines (LUV) warned investors that a drop in bookings and a rise in cancellations means it now doesn't expect to remain profitable for the third quarter, despite a profitable July.
However, despite these concerns, Bill Gates clearly believes that luxury travel that is usually associated with business clients is due for a pickup. Given his immense knowledge of vaccines and experience with the Covid virus, clearly, Mr. Gates believes the worst is behind us, and now is a good time to buy the luxury travel sector.
Personally, I agree with this sentiment. People are tired of being locked down and are ready to resume traveling. They will take vaccines and will move on with their lives. They are no longer as fearful of the virus as they might have been previously. This should filter into the business community as well. One upcoming event is Expo 2020 in Dubai, which was delayed a year due to the virus but is set to begin October 2021, attracting business leaders and start-ups from all over the world.
Now let's look at some charts and businesses in the sector that might benefit.
Based in Virginia, one of the world's largest hotel firms manages, franchises, owns, and leases hotels and resorts, as well as licenses its trademarks and intellectual property. Hilton opened 414 new hotels totaling 55,600 rooms in 2020, representing a net unit increase of 47,400 rooms.
The company has a market cap of $35 billion and full-year revenue of $4.3 billion in 2020, down from $9.4 billion in 2019.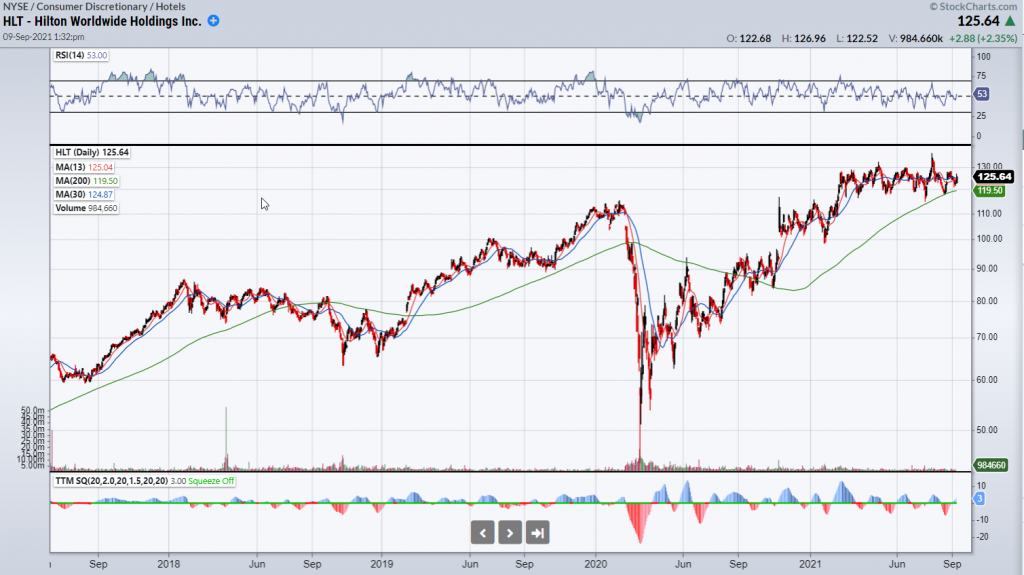 Right now, HLT is consolidating at all-time highs near $137. Given that it is trading at approximately 8 times revenue at the moment, if it were to regain its 2019 revenue, it would only be trading at a multiple of 4. Given the increase of new hotels, over the long term, despite being near its highs, HLT may still be cheap at these levels despite the tremendous run it has had since the March lows.
Hyatt Hotels Corporation (H) is one of the world's leading luxury hotel and resort operators, with a portfolio of 1,000 properties worldwide. The company has a market cap of $8.5 billion and total revenue of $2.06 billion in 2020. Shares of Hyatt increased 55.89% over the past twelve months. Given that it is trading at only 4 times the revenue that is expected to grow in the near future, H also appears quite cheap fundamentally despite its run.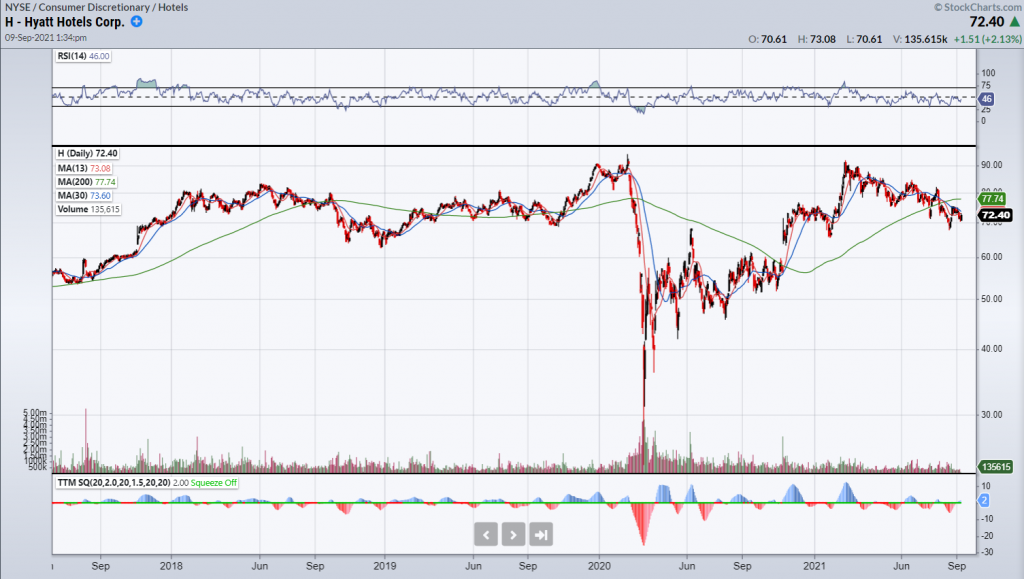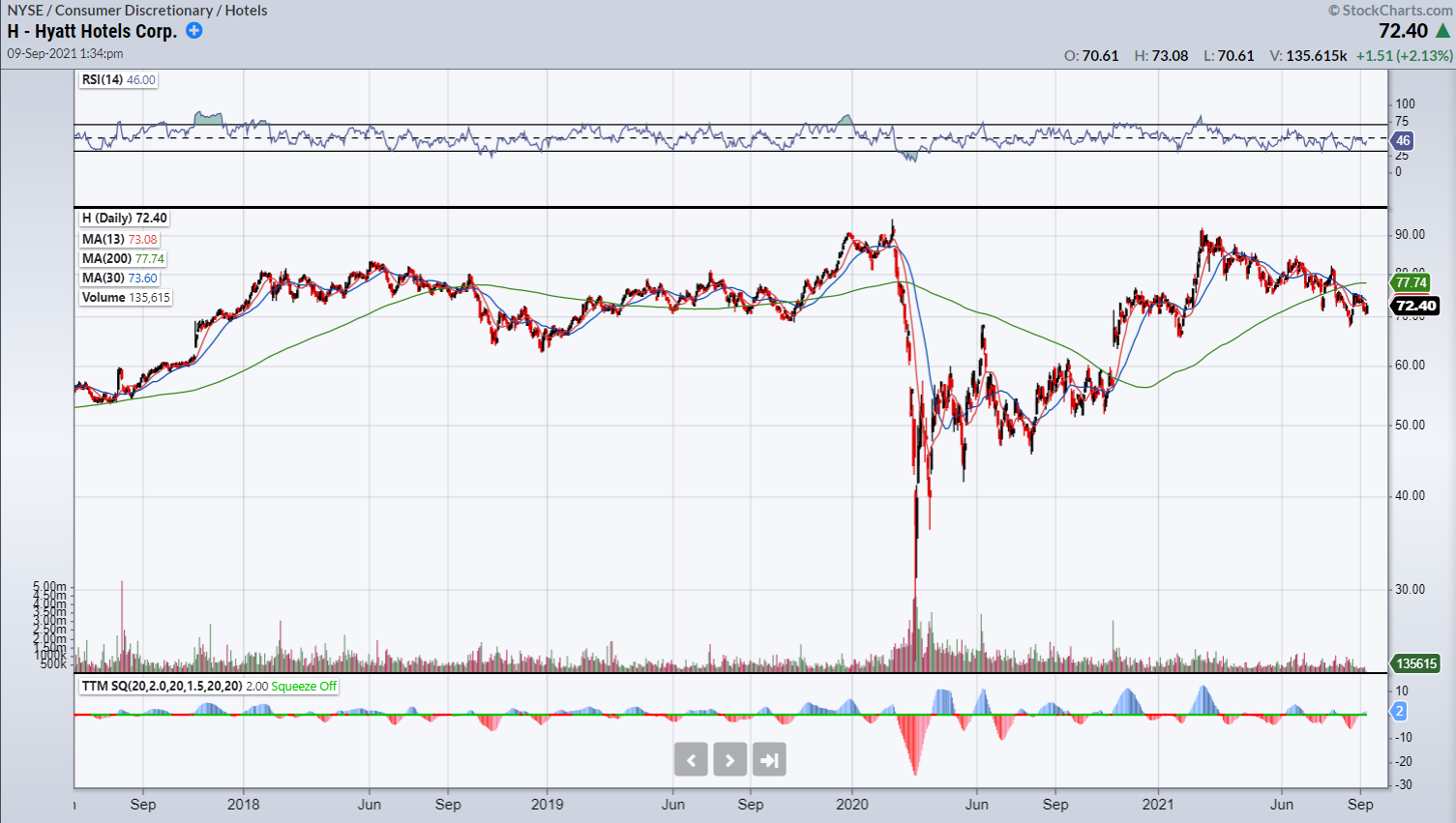 Marriott International, Inc. (MAR) is one of the leading hoteliers in the world with a portfolio of 30 brands, including Ritz-Carlton, The Luxury Collection, and Marriott Hotels & Resorts. The company owns approximately 7,600 properties with nearly 1.4 million rooms in 131 countries.
The company has a market cap of $48.7 billion. The company's revenue in full-year 2020 came in at $10.6 billion, down 50% from 2019. The stock has gained 86% in the last twelve months.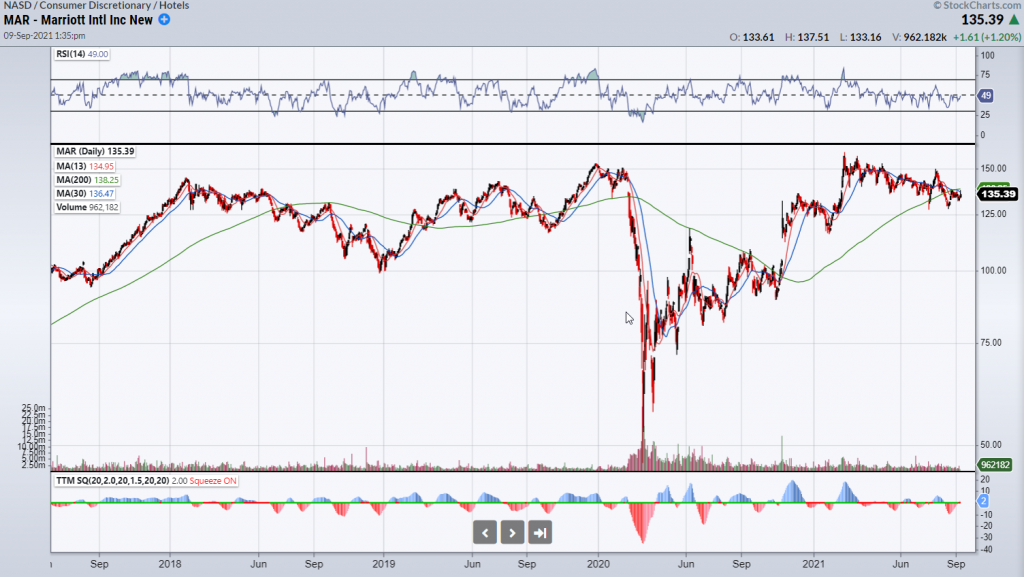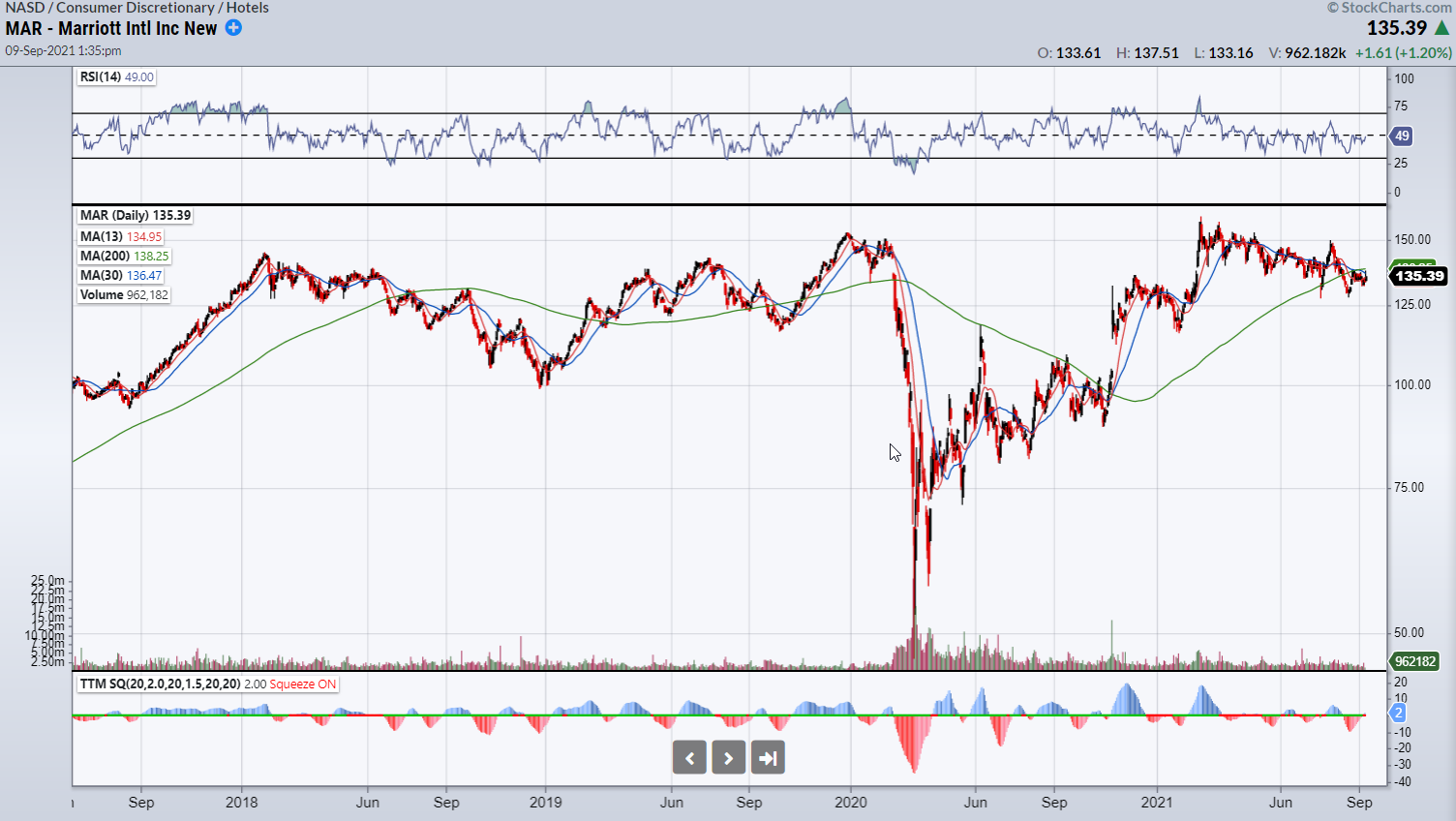 Right now, it is only trading at 5 times revenue which could double over the next year or two as travel resumes to normal levels. It is consolidating at the highs and could break out, as it is at the same levels from 3 years ago.
Bottom Line
When there is a big merger or acquisition and the smart money talks, I listen. Bill Gates has had a great track record recently with his investments. His foray into taking control of Four Seasons hotel is a bet on value in the luxury hotel space as the world reopens and business travel increases.
I agree with this sentiment, and running through the fundamentals, these stocks still look quite cheap, especially if travel returns to its previous levels. Technically, these stocks look like they could also make a significant, sustained breakout over the longer term.