Yesterday the biotech sector led the way in relative strength after the overall market traded lower on Tuesday. Shares of the IBB closed at $166.81 after opening the day at $163.34. IBB was up 2.81%, while SPY was down 0.04%

The biotech sector closed above short-term resistance, as you can see in the above chart. Another sign of the bulls being in firm control is the reversal candle from Tuesday. As I mentioned in a previous post, the Biotech sector is quickly becoming a favorite of mine.
The overall strength seen in the sector has trickled down into smaller names within the industry. We continue to see small-cap and low float biotech names gap up and trade abnormal volume daily.
Yesterday's flavor of the day was Infinity Pharmaceuticals (NASD: INFI). INFI closed up 61% yesterday and traded 172.5m shares. For a stock that has an average volume of 4.89m shares, that sure is impressive!
Per Yahoo Finance, Infinity is a biopharmaceutical company that focuses on developing novel medicines for cancer patients. The company's lead candidate is IPI-549, which is an orally administered clinical-stage immuno-oncology product candidate. It is in Phase 1/1b clinical trials to treat triple-negative breast cancer, solid tumors, and ovarian cancer.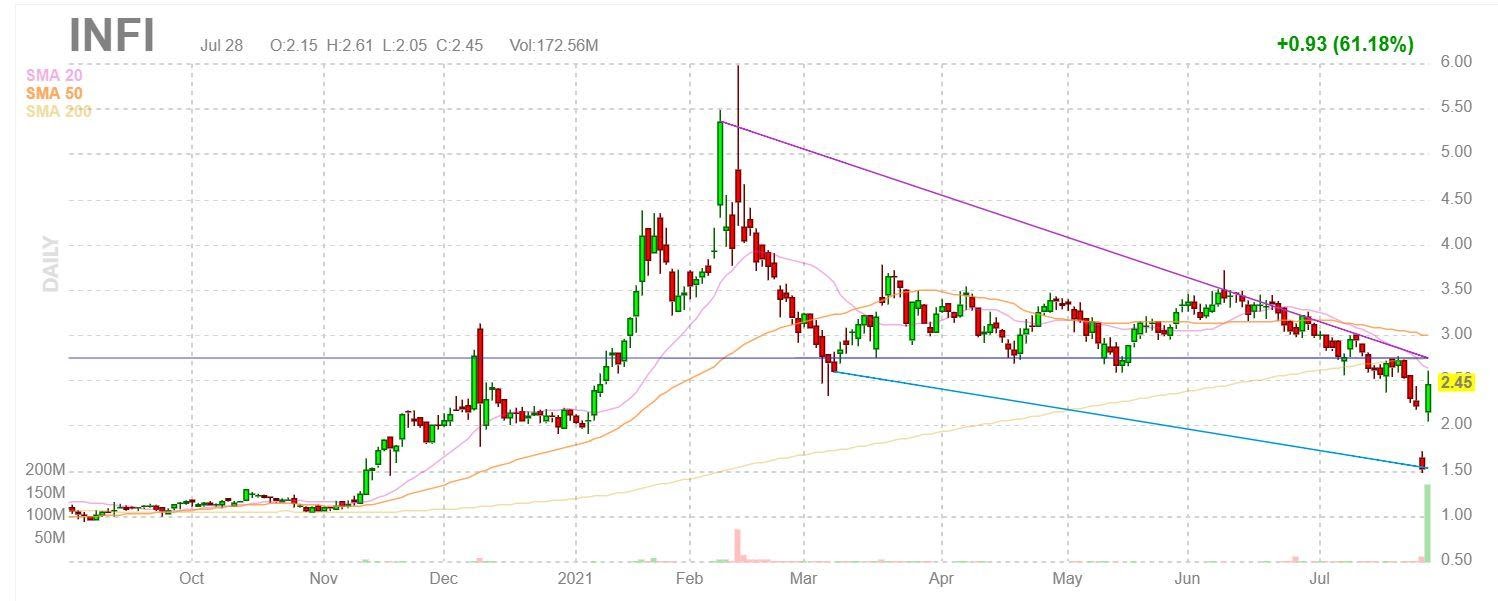 INFI is up 15.57% year to date and 195.18% over a year. 
Market Cap: 238.92m
Float: 71.76m
ATR: 0.31
Short Interest: 6.18%
Average Volume: 4.89m
What has caused the recent volatility in INFI?
On July 27th, shares of INFI gapped down after reporting updated data from Bladder and Breast Cancer Trials and Q2 corporate earnings.
The company reported that its cash balance stood at $93.7m. INFI estimated their full-year 2021 net loss to be $40m – $50m, which indicates an increase of 11% Year over Year.
So what caused the sharp reversal and gap up yesterday?
Yesterday Wells Fargo upgraded INFI from equal-weight to overweight and raised the price target from $4 to $14! The company also topped revenue estimates. INFI posted revenues of $0.51m for the quarter ending June 2021, compared to revenues a year ago of $0.36m.
Key Levels: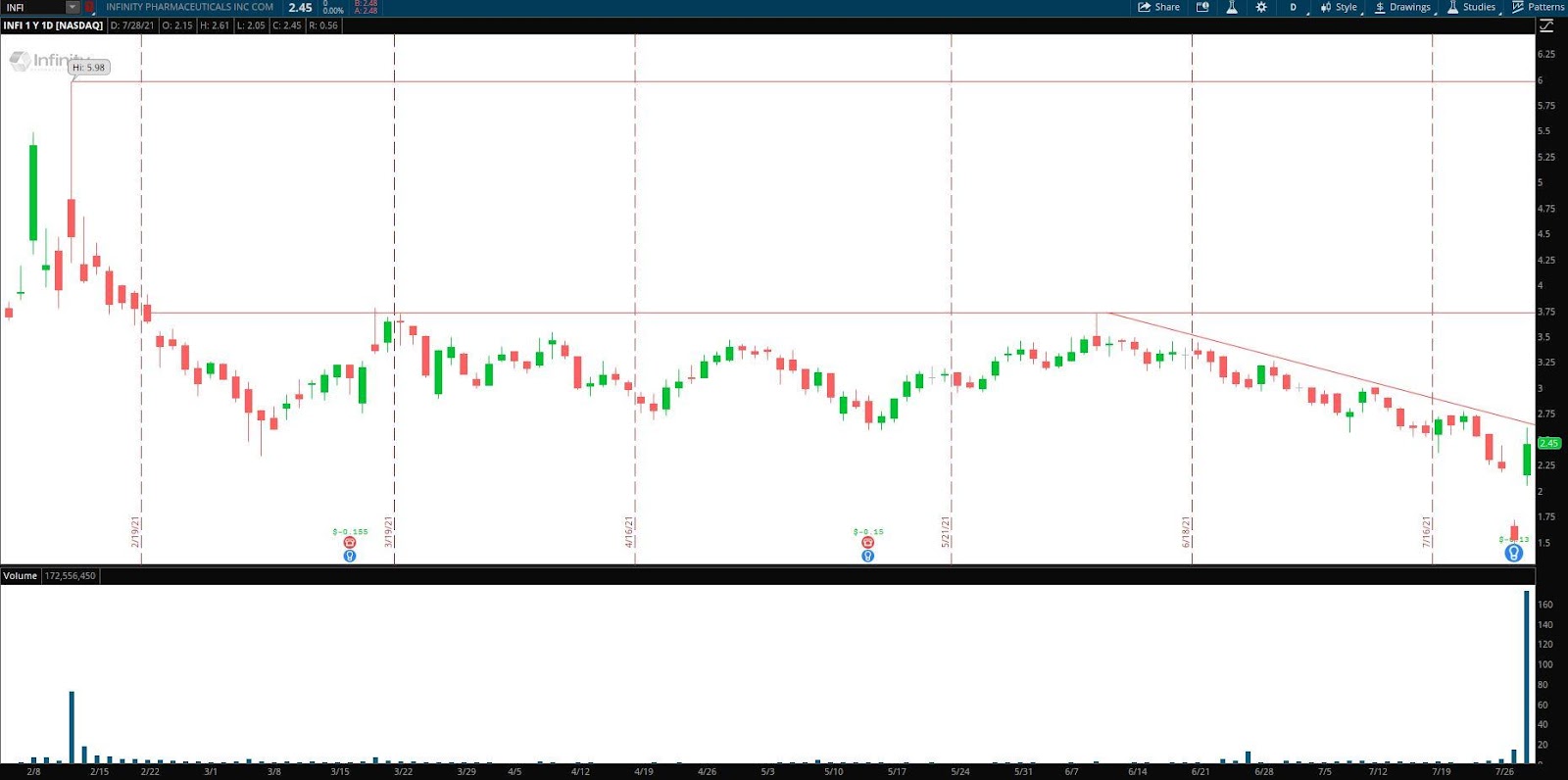 Shares of INFI closed near the resistance of the downward trendline on the daily yesterday. For further upside in the stock, shares would need to break above $2.60 and hold firmly higher.
The next level of resistance would be around $3.50, which has stood firm as resistance for most of the year. Above those levels and the high of $5.98 would be the next area. 
The company does not have a micro float, and therefore you shouldn't expect to see explosive moves to the upside occur sharply unless the volume of yesterday is sustained or even surpassed. 
Ideally, what you would want to see is the stock begin to base above $2.60 resistance and then trade higher and base over $3. This will signal that buyers are taking control, and the stock could soon reach other critical levels, as pointed out above.
Let's Take A Closer Look: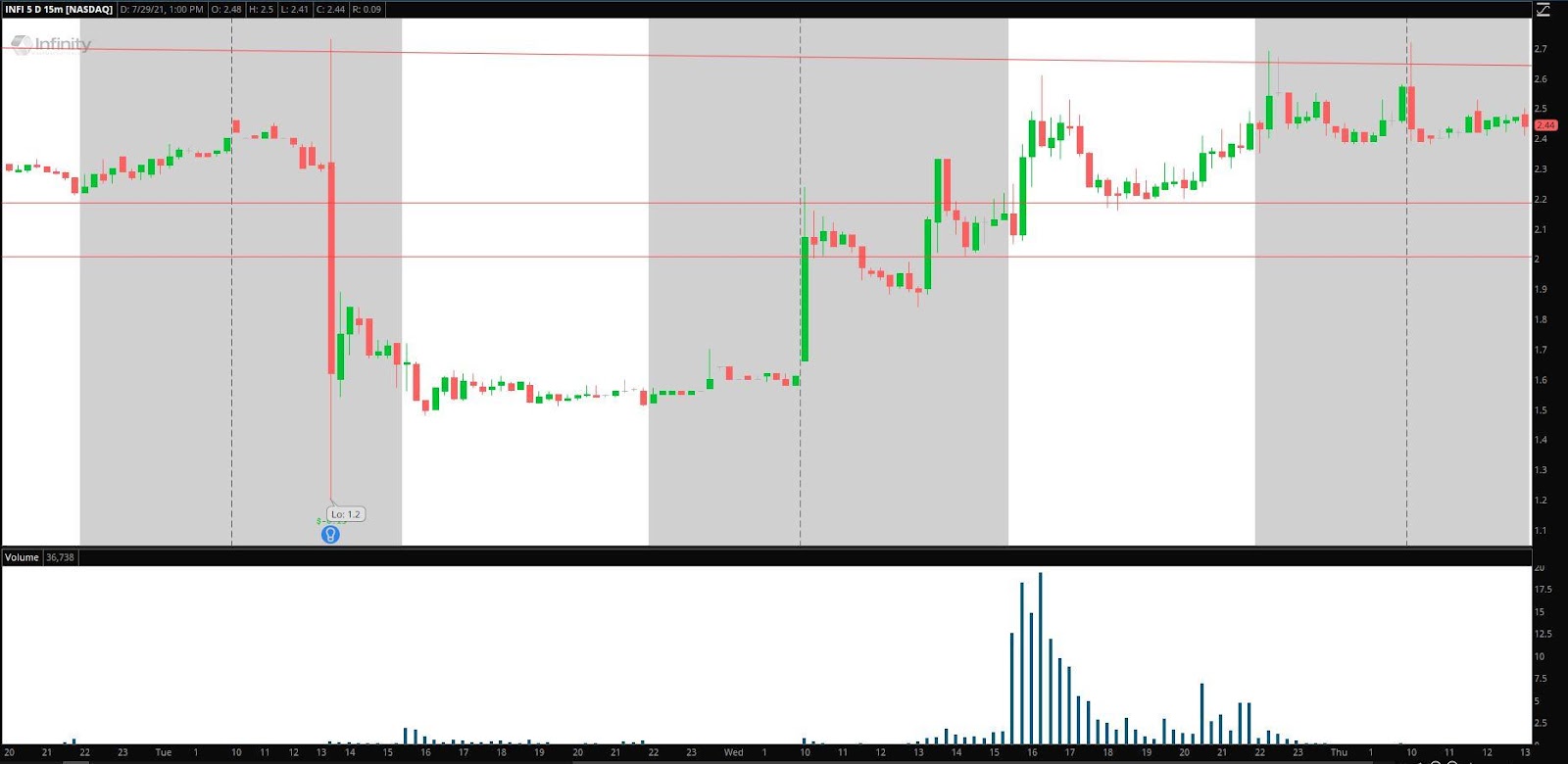 In the short term and for today, you would not want the stock to spend time below yesterday's low of $2.05. Specifically, you do not want the stock to close below the low and $2. 
It is usual for a stock to digest such a significant move and consolidate for a couple of days before breaking out again. If this happens, you would want the stock to digest the move and trade between support and resistance. Support from yesterday is $2, and resistance is $2.60.
Another critical level of support from yesterday is $2.20 because you can see that the stock spent midday consolidating at this level. Therefore, this will be another key area that needs to be supported.
If the stock manages to find support at these critical levels and then breakout above $2.60 on volume, $3 would be the next target.