December 17, 2021
Good morning traders,
Welcome back to The Daily Setup. Markets were red yesterday, with the Nasdaq suffering a 2.47% drop. Here's what's on the docket today:
Adobe falls over 10%

Reddit is eyeing an IPO

The former First Lady is getting into NFT
Drink some coffee, send some emails, and let's clock out early for the weekend.
Jeff

Adobe, Reddit IPO, and McDonalds Biggest Mover
BIGGEST MOVER
Much Adobe About Nothing
Shares fell 10.19% on Thursday by markets' close. That's the third serious dip for the stock this month, making December 2021 ADBE's worst month since June 2010.
While Adobe faces strong competition, like Microsoft Paint, they've also got strong fundamentals. 2021 was a pretty good year, with Adobe stock rising 26% to narrowly outpace the S&P500's 25.4% swell. Their terrible Thursday has less to do with anything they're doing wrong and more to do with how market sentiment is finally, inevitably contracting. (See also the extra week that was added to Q1 2021, which added $267M to Adobe's revenue figures). Inflation's got investors shying away-from high-risk high-reward options like software and opting instead for safer industries like infrastructure and raw materials.
Y'all not Reddy for this 
Reddit right before they get shut down by the SEC
According to their recent confidential IPO filing, Reddit may soon be a memestock on its own r/WallStreetBets. That's if the SEC okays it first– which is not a sure thing given General Gensler's current attitude towards Wall Street. Thanks to the pre-IPO quiet period, Reddit hasn't released any more information about share price or target valuation yet. But I'm sure if you ask Reddit you'll get a nice, straight answer. 
We can take some good guesses, though. As of August of this year the website was valued at $10B, but word on the street is it's praying to the memestock gods to be blessed with a $15B evaluation.

That's not as crazy as it sounds though. Stupid? Yes. Crazy, no. As of October 2020 Reddit had over 52M active users in over 100,000 subreddits, and just one of those was able to single-handedly make GameStop believe it was relevant again.
A record number of IPOs were launched in 2021, and they raised a record amount of money. If that trend continues into the New Year it's easy to see Reddit hitting their $15B target no matter how ridiculous it sounds. The real question is whether or not the SEC will allow something like this to happen. At least they're not going SPAC.
Gimme those McBucks back
Hell hath no fury like a clown scorned. McDonald's (MCD) has settled a lawsuit against former CEO Steve Easterbrook to get the cash and stock back it paid to fire him, which amounted to $105M. The McBoard found that Easterbrook had an inappropriate relationship with another employee, hid it from them, and committed fraud in the process. They still paid him a massive severance because apparently Lionel Hutz is the general counsel.
MCD fired Easterbrook back in November of 2019, then later found further evidence of several additional inappropriate relationships. (Trying to refrain from making a drive thru joke)

The severance package was originally valued at $42M when granted, but MCD has since run up 37% to current levels of about $265 per share, making Easterbrook the real life Hamburgler.

Shareholders questioned the company's internal investigation, which was conducted quickly and did not bother to check internal servers for damning emails.
MCD now has an additional $105M in capital for the balance sheet, which it could use to test new menu items, invest in software, or settle lawsuits with franchisees. Here's a crazy thought, maybe throw a couple bucks at fixing the ice cream machines?

Non-Fungible FLOTUS
Token Talk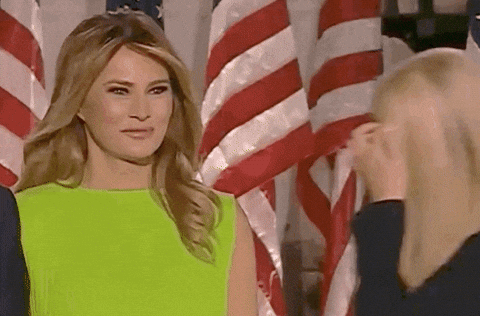 Former First Lady and model Melania Trump is jumping into the NFT market and launching a collection of digital artwork that will be sold via auction. The first NFT is a watercolor style image of her eyes and is titled "Melania's Vision". The former President may not be on board the digital revolution train, but Melania is embracing the blockchain and will be dropping a preview of the collection on January 4 on her site.
The NFT collection will run on the Solana blockchain, which is an Ethereum competitor and features fast transaction processing and lower fees.

A portion of the sale of the collection will benefit youths who age out of the Foster Care program.

The former FLOTUS announced the venture via Twitter, so apparently the whole family isn't banned.
A former First Lady releasing NFTs via the blockchain is proof that we are living in a simulation, and if anyone was looking for the top of the NFT market, this is probably it. The New York Times and CNN are probably hard at work writing up scathing reviews of the collection similar to how they clutched their proverbial pearls over her White House Christmas decorations. The auction is scheduled for January 11 for any interested bidders.

Private Equity → Public Company
Rumor has it
Private equity firm TPG looks to be gearing up for an IPO as it filed confidentially back in September. The company made the prospectus public on Thursday and plans to raise $100M in the deal. A booming stock market and low bond yields to fund buyouts have had the barbarians partying at the gate with competitors Blackstone (BX) up about 100% YTD and Carlyle Group (CG) up about 67%.
The prospectus named 23 investment banks as taking part in the deal, so send out some thoughts and prayers for all those analysts dealing with version control for the pitchbook.

TPG had $109B under management as of Q3 2021 and will trade under the symbol TPG. How imaginative of them.

The company's investment portfolio includes McAfee (the antivirus software, not the punter turned podcaster), Uber, Airbnb, Petco, and talent agency CAA.
Asset managers have been on a hot streak, so TPG may be able to ride the lightning if market conditions hold. With Blackstone, KKR, Carlyle, and Apollo all publicly traded, it's only a matter of time before a buyout firm launches a leveraged buyout of another buyout firm which may cause a tear in the space time continuum.

Link Roundup 📿
Other News