No, that's not a typo…I am talking about SPY, the S&P 500 ETF.
As my Trading Floor members know very well, I like to trade SPY options when the overall market experiences range expansion and volatility. 
In a way, options trading reminds me of penny stocks.
That's because trading options require less capital than stocks, and if I take advantage of the right options set up and trade, the results might be similar to that of a big penny stock mover.
Just like this 92% gain on SPY
How do I do this?
When I trade options in the SPY, I look for areas where the stock might be short-term oversold or overbought.
I find those areas by doing live market analysis in the chatroom and analyzing the intraday charts.
To decide whether to go long and buy calls or go short and buy puts, I will use Bollinger bands, Fibonacci retracement, and volume analysis.
Here's a screenshot from my trading journal, showing my entries and exits on the SPY chart: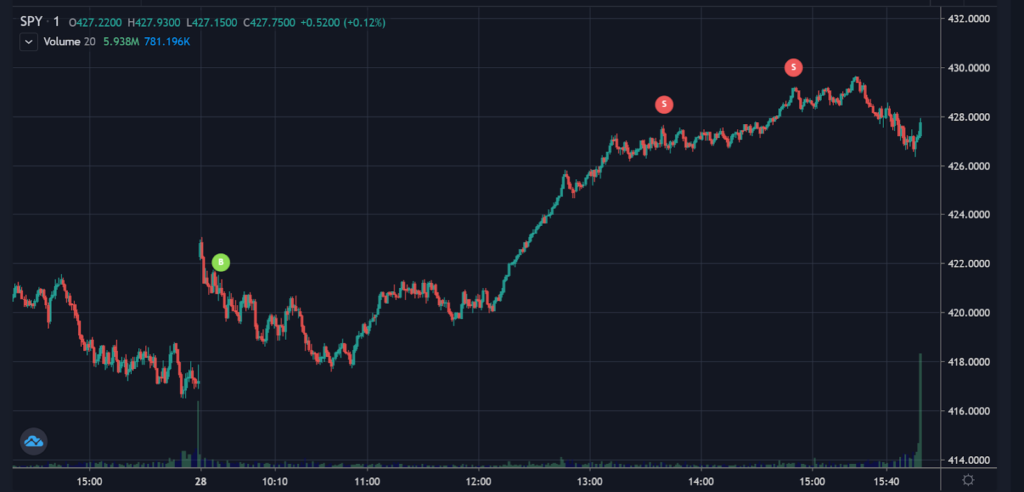 The best part: I did it live, as I always do, in front of my members in the Trading Floor chatroom, and posted my entries and exits in the chat in real-time:


The Bottom Line
While I'm known for being a penny stock guru, I don't only trade penny stocks.
I love to expose my members to different strategies relevant to other market conditions.
So if an options trade in SPY presents a better risk: reward opportunity than a penny stock trade, I will certainly go for the SPY trade.
Do you ever trade SPY or options?
Let me know. I'd love to hear from you.