Ever since I started trading, many years ago, I've always focused on penny stocks.
In fact, Penny stocks are, without a doubt, my bread and butter, and for several good reasons.
I'm on the mic, trading live in front of The Trading Floor members every day, and constantly post my thoughts, and game plans in The Trading Floor Chatroom.
You see, I love trading penny stocks, but I also love to teach and help people.
If I have to choose between trading a large-cap that's moving or a penny stock, I'll choose the penny stock every day of the week!
That's because it takes less capital to trade penny stocks, and penny stocks might experience far more significant volatility.
As my members know, I'm not on the lookout for home runs, or for penny stocks to go to the moon.
Instead, I'm on the lookout for stocks that are experiencing volatility and offer a setup and opportunity to make 5 – 20% gains.
Let me show you what I'm talking about: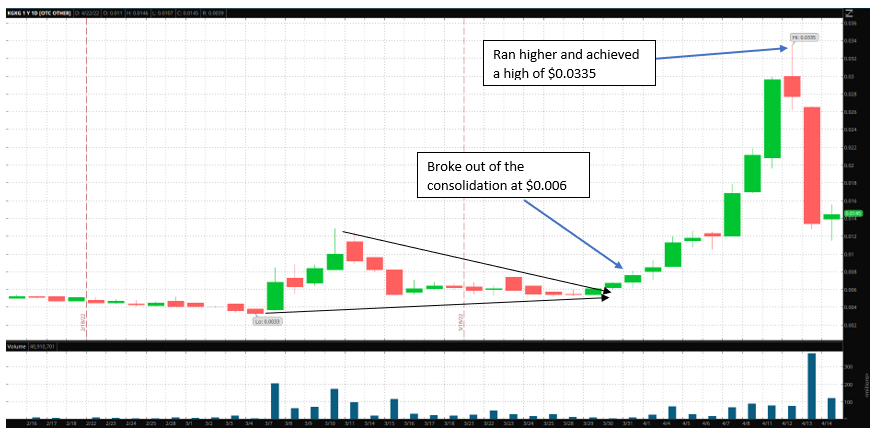 Last month KGKG broke out of a triangle consolidation on the daily chart.
Two weeks later and the stock had run from $0.006 to $0.0335 or 458% higher.
So, I had a penny stock mover on my hands, however now I needed a setup.
That setup came on the 4th of April.
Volume in KGKG increased significantly on the 4th of April as the company reported strong revenues and commented on the Walmart Rollout.
The breaking news, together with the upward momentum on the daily chart and strong intraday action was enough for me to pull the trigger and look for a move higher towards the previous resistance of $0.011.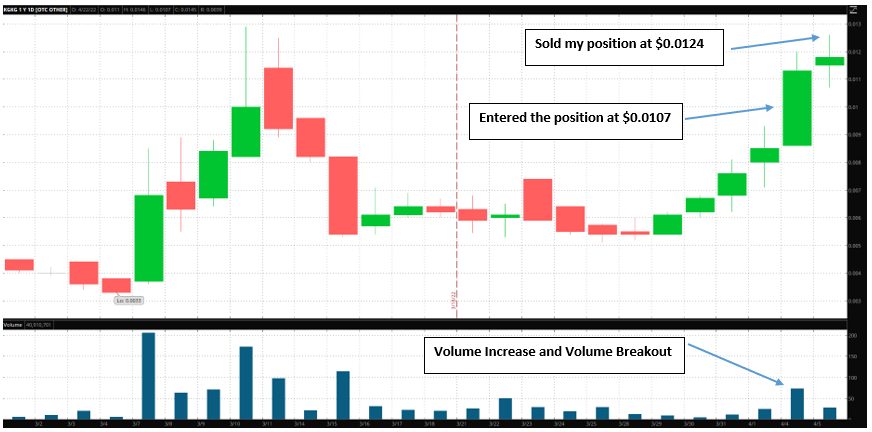 As shown in the above chart, I sold my long position the day after entering, at $0.0124 for a 15.89% gain.
You see, I don't need to, nor do I try to catch the full move in a stock.
Rather, I look to identify and alert my members to a clean trending penny stock that might offer a good setup and risk: reward opportunity.
Because like I said, as much as I love trading penny stocks, I love sharing my knowledge about them and helping my members.