I am going to keep today's alert short and sweet.
I want to introduce you to BIMI International (BIMI) 
Sometimes, I think a stock is worth looking at because of some news the market has missed, a fundamental story that isn't getting enough attention, or maybe I think there is a deeper story if we do some research and connect the dots.
Today, forget all of that.  This is simply a technical alert that I think has the opportunity to make a big move.
Here are the facts:  BIMI has a very high level of insider ownership, a very small float, and a good amount of short interest, as you can see in these stats from Finviz…
On top of all of that, right now, I think BIMI is setting up perfectly on a technical level.
When I overlay my custom trade scanners, you can see that over the last few weeks, BIMI has quietly been building momentum.
See the red dots I circled in the chart below?  That signals a potential "squeeze pattern" forming.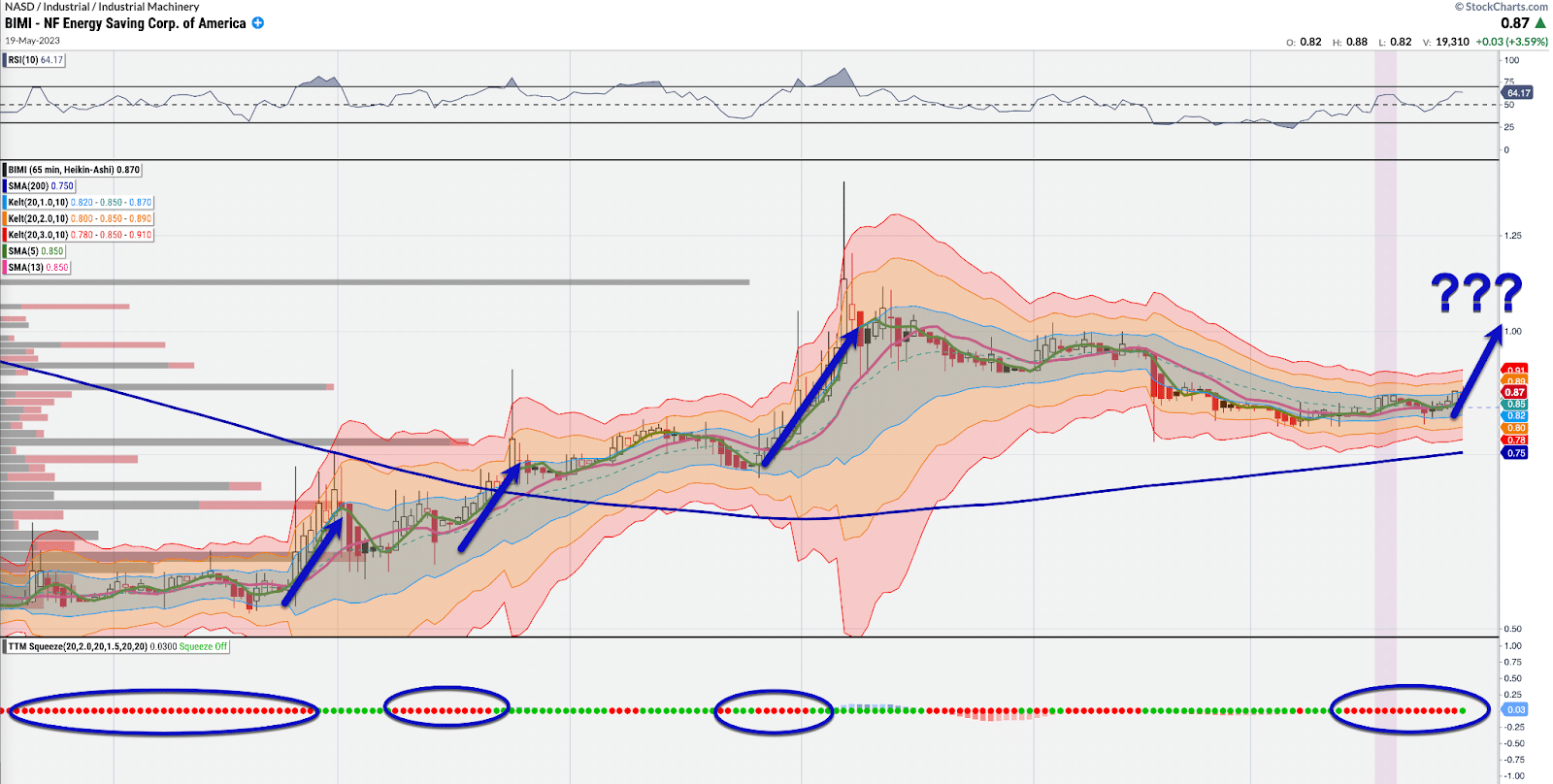 When this happens, a stock is usually going to make a big move (one way or another) in a short period of time.
In the last few days, BIMI has once again been consolidating in an incredibly narrow range, and I think it has all the makings of a stock that could make a big move higher from here.
When a stock is as small and low-priced as BIMI, you can see some absolutely explosive moves if you happen to catch it at just the right time.
I really like the odds of this one, and I wanted to share it with you as we start a new week.
As of the market open today, I haven't bought any shares yet, but I plan to make a move soon.
Because BIMI can be such a fast-mover, I don't have a price target on it for the upside, though it has traded much, much higher than current levels recently.
If I can make 10-20% on BIMI, I would be thrilled with that!
On the downside, I will be looking to see if the $.75 level holds up, which has been the recent support, and is also the 200-hour moving average, as you can see on the blue line in the chart above.
I always enter a trade with my stop loss in place first, just in case I am wrong.  I don't want to risk more than I can afford to lose, and I hope you never do either!
Which brings me to another point. Make sure you understand the risks and rewards of any stock you decide to trade. Just because I like this one, doesn't mean it is right for you.
I have my own trade parameters and a plan for BIMI, and you should do the same. A great place to get started is by visiting the company website and learn about what they are doing.
By the way…  👉 Text "RAGE" to (888) 404-5747 to get all of my latest HOT STOCK ideas!