Given their highly liquid options and the potential for big payouts, I know it's hard not to always want to jump right back in and buy the dips in big tech stocks like NVIDIA (NVDA) and Apple (AAPL).
But you need to be careful if that's your plan, since the recent resurgence in interest rates is helping to fuel an ongoing period of underperformance by many big tech stocks vs. the rest of the market.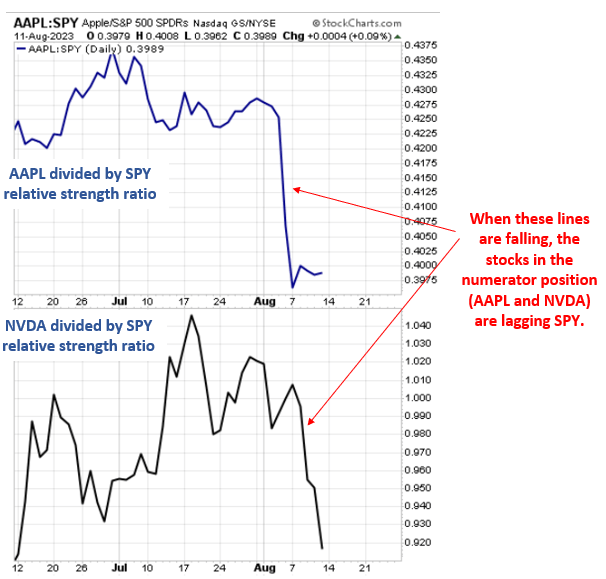 Don't worry about missing the boat, because you can be sure that I'll be keeping a close eye out for the next bottom in big-cap tech stocks for you.
But in the meantime, this week, all eyes will be on some of the best gauges available for learning about the health of the economy. 
I am talking about big retail names like Walmart (WMT) and Home Depot (HD) that will lead a host of other key retail players on the earnings calendar this week.
Perhaps more than anything, it's going to take a seasoned veteran trader to pay CLOSE attention to the comments about forward-looking guidance that are made during the follow-up earnings calls.  
On top of that, tomorrow's Retail Sales report that is scheduled to be announced before the market open is going to be more important than it has been in recent months, based on how far the market has risen this year.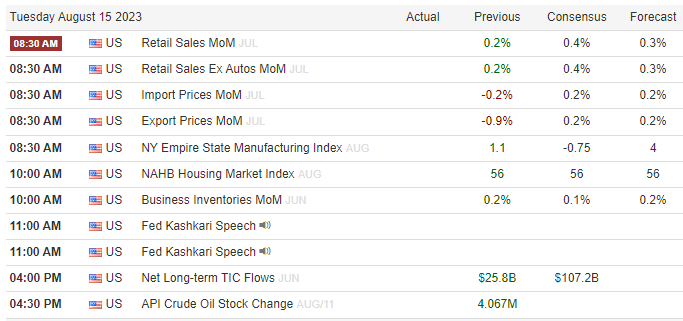 Remember, even before the markets opened last week, Uncle Jeff warned you about how the price action was going to be plain-out "SLOPPY."
Now I am about to show you a way to avoid looking at the screens all day and getting caught up in most of this slop?
I found it interesting that while last week's core inflation data (CPI) came in on the "soft" side, SPY still ended the week near the lows. 
Between the buffoons on CNBC and the so-called "experts" on FinTwit, one thing you have to train yourself to do is ignore all the noise that is now in your face EVERY moment of EVERY day.
You have to learn to trade what the market gives you. 
If most Wall Street economists see last week's inflation data as a sign that the Fed will hold interest rates steady at its next meeting in September, SPY closing near the lows of the week may be an indication that it still needs the correction that began with the massive "bearish engulfing" day on July 27th to last a little longer.
So, again, I tell you…this week's earnings will provide more key details on how Americans are spending.
And, more importantly, upcoming conference calls will indicate whether executive's at this country's largest retailers see a second half consumer slowdown coming.
This is the kind of environment that put my friend and fellow RagingBull master trader, Jeff Williams (JW), on the map.
You see, because of the bevy of earning releases that are due from some of the largest publicly traded companies this week, the odds that opening price action will be volatile across the major indices are higher than usual. 
We're talking about the kind of chop that can do a lot of damage to unprepared traders that try to enter positions when cash markets open at 9:30am ET in New York. 
But did you know that there's a very simple, yet EXTREMELY effective way to better time the market open?
Folks, JW is a master at trading SPY options, currently the most liquid ETF options in existence. 
High liquidity means tight spreads to make entering these trades more cost efficient.
After 20+ years of real-money trading experience and educating tens of thousands of traders just like you, JW has taken his past career as a New York State school teacher and created an easy-to-follow trading education service. 
Every Monday through Friday morning (holiday schedule permitting), JW's students are treated to some of the most valuable insights imaginable as he walks his student members through the WHY and the HOW of his upcoming morning trade plan.
At the core of this service is the very same strategy that he has used to rack up an incredible 85% win rate in the days since the market topped on 07/28 (*Trading is hard, results not guaranteed). 
And what could possibly be better than the 11 wins and 2 losses that Jeff has registered in the days following the 07/27 top in SPY?
JW teaches his students how focusing on this one security just frees up so much time in your day.
Look, trading is hard and results like this are not guaranteed. 
But those 2 losses turned into some of the most valuable trading lessons available in the industry. 
Listen, a deal like the one I am about to offer you is RARE.
Right now, only 23 openings remain for traders that want to take advantage of an incredible LIMITED-TIME offer of 69% off Jeff's red-hot Market Navigator service.
With the market nearing its next big rally point, the timing of this event could not be any better. 
(Extended) Doors close at Midnight, TOMORROW.