For almost my entire adult life, I've lived near the water.
Maybe that's why, every July, I can't get enough of Shark Week on the Discovery Channel.
Since I've been so darn busy of late, I haven't had much time to chat about this year's event that just ended on 07/29.
I've gotta tell ya, Jason Mamoa, who you may know better as Aqua Man, did a great job as this year's host.
Now, the reason I bring this up is because, as I warned late last month, "the sharks are circling" this market. 🦈
And just like in real life, it's been the complacent traders who have gotten bitten.
As we'll discuss in a moment, investors in massively important stocks like AAPL have learned this the hard way.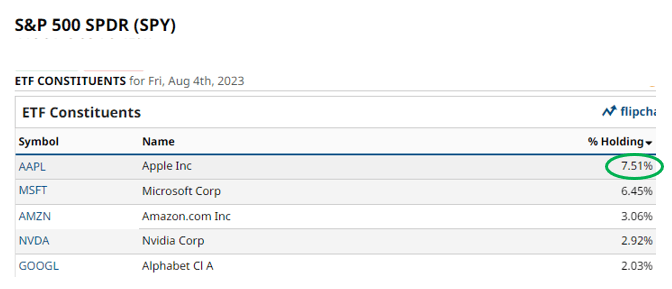 Source: Barchart.com
Folks, financial instruments, no matter what market you like to look at, are mean reverting creatures.
That means that, at multiple points in their life cycle, they always move back to the major averages.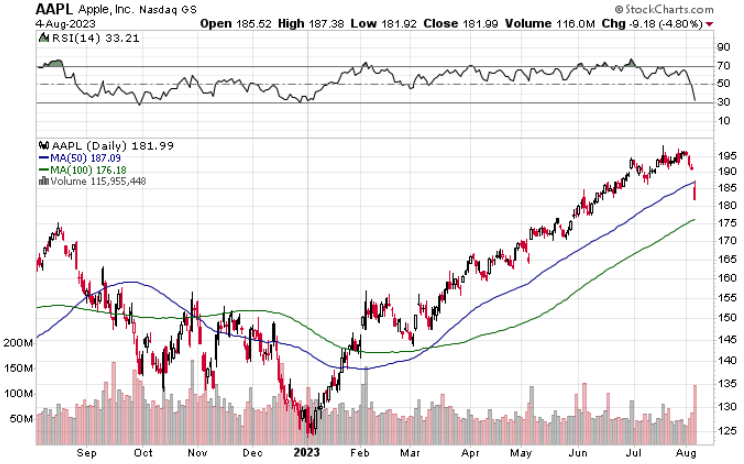 So with the largest holding in SPY – AAPL – now crashing below its 50-DMA and screaming closer to its 100-DMA, what does that mean for the rest of the market?
And, what is the best strategy to use right now?
After expectations started leaning very optimistically in late July, the market has begun to do what it does best in recent days…it has begun to go against what most investors are thinking.
The market loves to confound, and it also loves to follow seasonal patterns, just like it is doing now.
You can't say I haven't been warning you of this, because I showed you this exact same seasonal chart just a few days ago, so I hope you've been following along with me: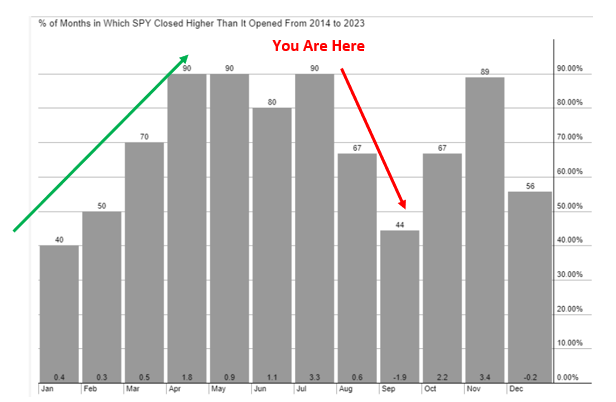 When you see a company as big and as important as APPL get clobbered like it did on Friday after reporting 8% sales growth and 5.5% services sales growth, that, my friends, is structural.
Oh, and by the way, this wasn't an isolated incident, since popular stocks like MSFT and NFLX have also been bloodied following recent earnings beats. 
That's the market telling you that A LOT of good news was baked into the market in late July, and now it's time for a reset.
Or put another way, some of the big fish are bleeding, and that sends a signal to the sharks that are circling for opportunities.
As a veteran trader, my friend and co-founder of RagingBull, Jason Bond, has been right there in this feeding frenzy.
Jason knows that the key to survival in a market like this is staying nimble and looking for any opportunities that present themselves.
That's why, like a sniper, Jason grabbed big gains QUICKLY using UVXY options late last week.
Jason has been bringing all of his services together under one Elite roof recently, and here's how it went down:
As he always does, Jason sent an immediate app alert to members, notifying them that the market's sell-off had gone too far, too fast, ad it was time to bet on a pullback in volatility using UVXY puts.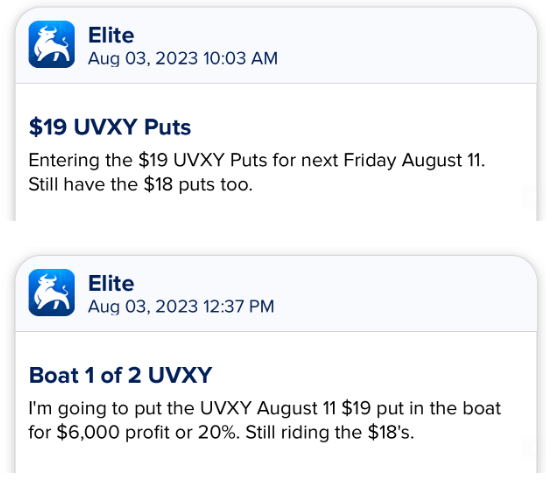 Folks, specialized trade alerts like this UVXY trade are only seen by ELITE members.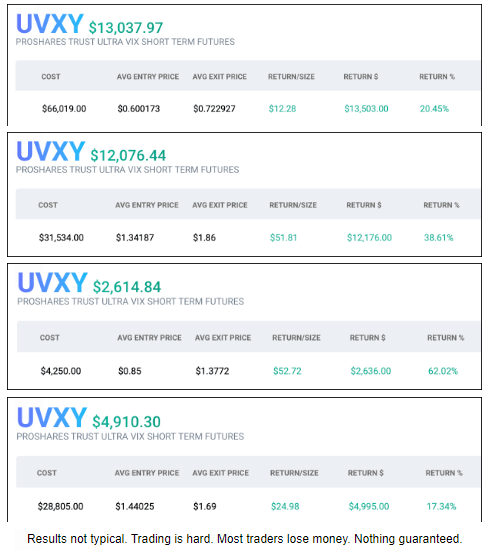 Think of these trades like a gun hidden somewhere deep inside a Navy Seal's tactical gear.
These trades are alway there when you need them, and the results are deadly when used by someone with special training.
That, folks, is EXACTLY what Jason's doing in the ELITE Chatroom, where everything RagingBull is included under one roof. 
And let me tell you, the need for this all-encompassing ELITE member service could not be better right now, because, come Thursday, the next bout of big volatility could arrive with the next read on Core CPI (inflation).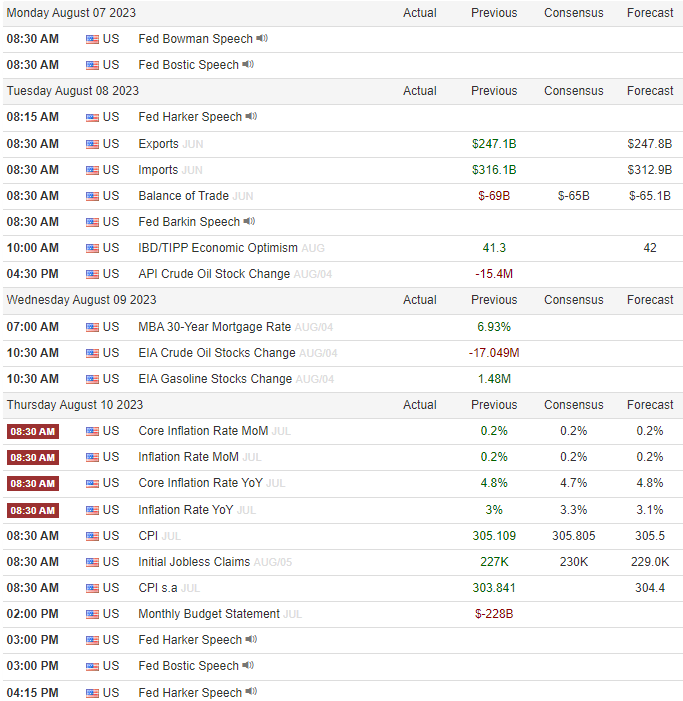 Source: Tradingeconomics
For a LIMITED time, all of Raginbull's services – every strategy and every master trader – are being made available for an incredible 50% off!!!
Use Coupon Code: ELITE50
Or contact our main man Jeff Brown at 800 585-4488 or jbrown@ragingbull.com to see if you might have any other existing credits to apply!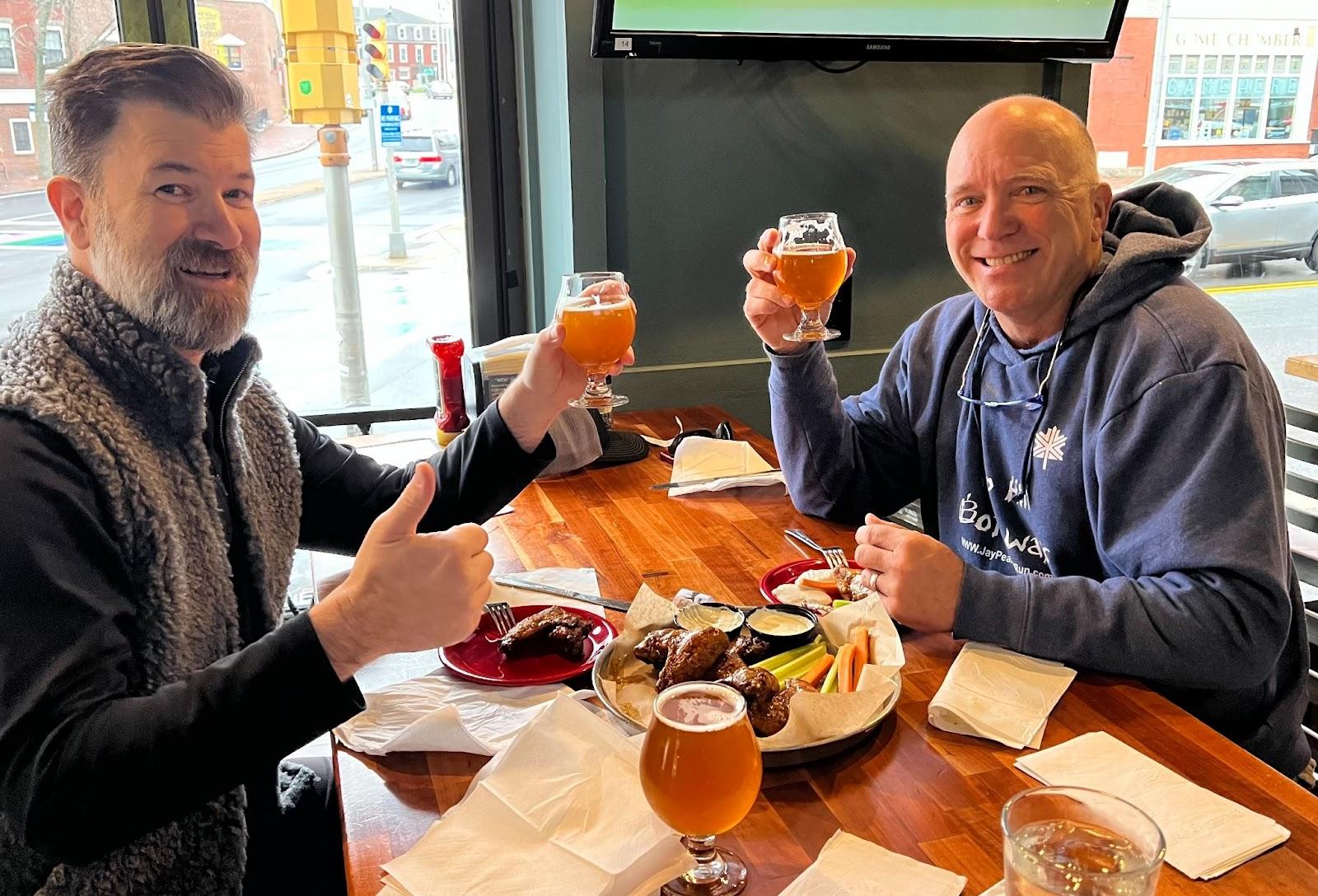 I dare say that you simply will not see specialty trades like leveraged UVXY trade anywhere else. 
Jason and I have been in DEEP conversation about how we are going to trade around this week's inflation data, and I am so excited for what we have planned.