I often mention the importance of trading patterns when I talk about momentum stocks.
I've explained that history may repeat itself in the past few letters – you won't find two identical charts, but stocks with similar characteristics may have similar moves.
Some setups repeat…
…over and over…
And below you can see a few of my favorites when it comes to continuation patterns:


So, why do I like them so much? And why seeing one gets me so excited?
The reasons are quite simple: they let me define my risk and wait for confirmation – two most important components of my trading.
If we're talking about defining risk, it's not hard to see the appeal of the charts above – the consolidation areas give you clean levels to trade against.
Confirmation is a trickier concept though…
In simple terms, confirmation is a price action that validates my thesis.
Confirmation means different things for each setup, but if we're talking about long momentum uptrends, I like to see no hard failures and continuous gradual grind higher – indicators of strong underlying demand.
The setups I mentioned earlier allow just that: they demonstrate whether a stock establishes itself higher and can get supported at new price levels.
They then provide clean risk levels I can place a trade against for the next leg higher.
Below are three names I'm actively watching, given how well they're shaping up:
Vertex Energy – VTNR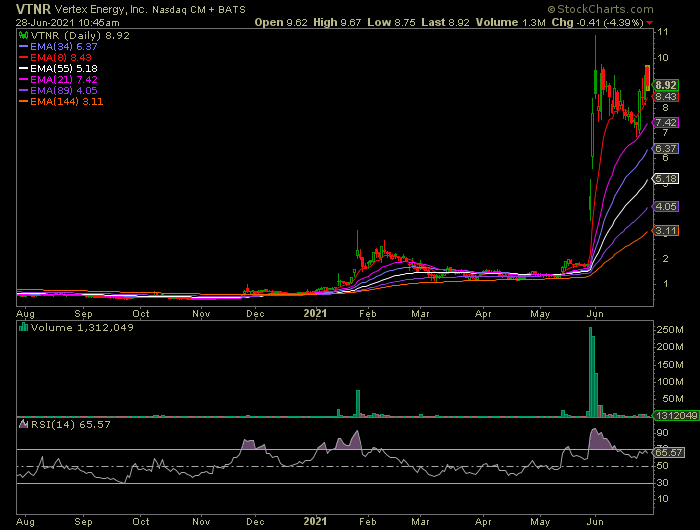 Market Cap:

436M

Free Floating Shares:

36.53M

Short Interest:

6.40%

ATR:

1.00
Vertex is involved with many things: from waste management to production of oil-based products.
The price reaction to their $75M purchase of a refinery in Alabama is… impressive!
I really like the volume it did, and how well it's been holding up since – talk about confirmation!
It seems like the next leg higher might have commenced, thus I'm interested if the stock can hold above $8 for a move to $14.
ContextLogic – WISH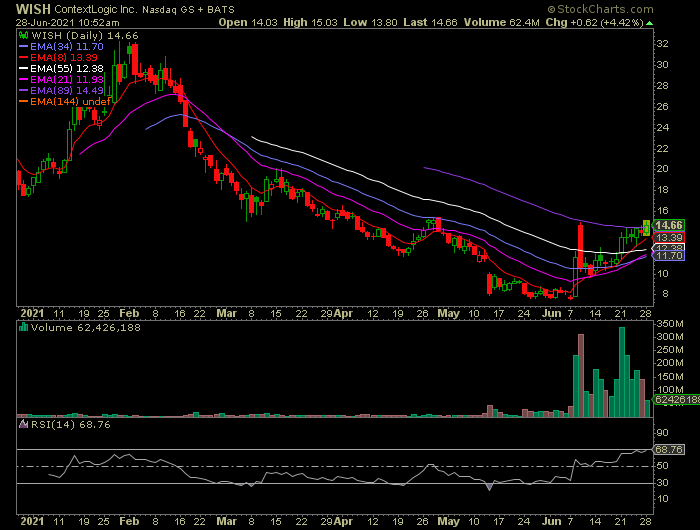 Market Cap:

8.9B

Free Floating Shares:

366.3M

Short Interest:

5.01%

ATR:

1.35
I've mentioned WISH a number of times over the past week as the strength so far has been just incredible – the demand is clearly there.
The question is – will it sustain a breakout or "pop and drop"?
The stock has had a lot of trouble at $15, so I'm not looking to get involved until that resistance clears.
If it does – I'm interested on the long side for a momentum ride higher into $20+.
Progenity – PROG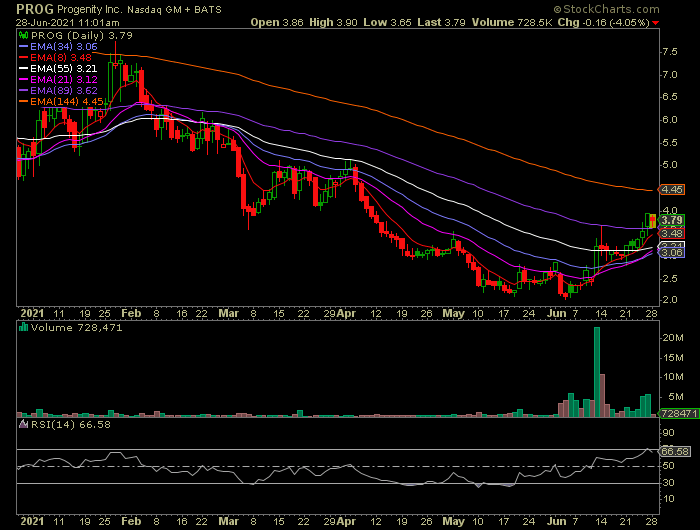 Market Cap:

215M

Free Floating Shares:

45.18M

Short Interest:

9.18%

ATR:

0.35
Much like WISH, PROG is no newcomer – I shared with you the recap of my trade in it on the day it first popped.
The action since has been nothing short of spectacular – the stock held well, few dips proved very short-lived and there's been clear underlying support along the way.
The stock has already given confirmation and started the next leg – if it holds up, I'm hoping this can develop into a full-scale momentum uptrend.
To consider a long, I really want to see a clean hold above $3.30, a breakout above $4 and a move to a next resistance level at $5.
If that clears – we might be off to the races here.