After a short-lived hiccup early last week, the market is back to doing what this market seems to do best – making new highs.
And don't just take my word or the SPY's new record – a real indicator of greed and excitement are popping small caps.
And popping they were – SCKT, NAOV, IGC and a few others pulled off some of the wildest moves in a while.
Buyers are clearly plenty, but buyers alone don't do the trick – it's the forced covering by short traders that can really take a move to another level.
As I often point out, for a short squeeze trade my goal is to find an area where short traders would be red – at that point, any move forces them to cover.
Today, I want to show you 3 names I'm watching where the price is nearing these dangerous levels: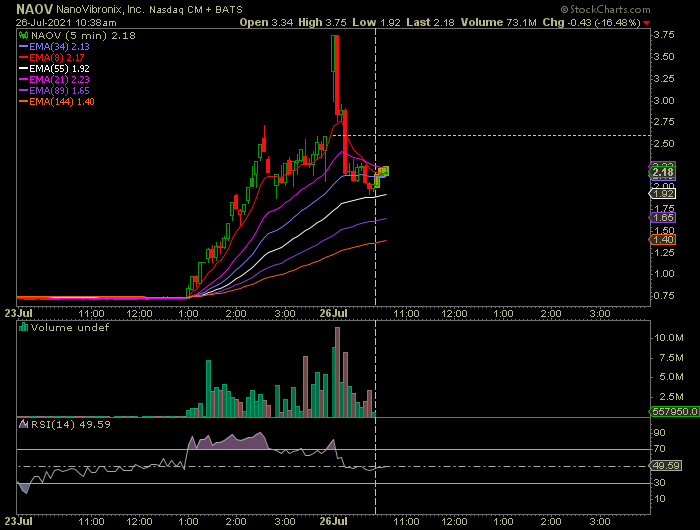 Market Cap:

~50M

Free Floating Shares:

21.18M

ATR:

0.19
This one surely is for the history books – shares went from ~70c to $3.30s in a matter of hours, following Australian approval of the company's portable therapeutic device.
Talk about not looking back – this was just a one-way rocket.
Even at current levels, almost anybody who shorted on Friday is likely red or near red – any swipe higher will get these traders uncomfortable.
I'm not chasing here, though, I do need to see a setup first – ideally some kind of protracted hold above $2.50.
Xenetic Biosciences – XBIO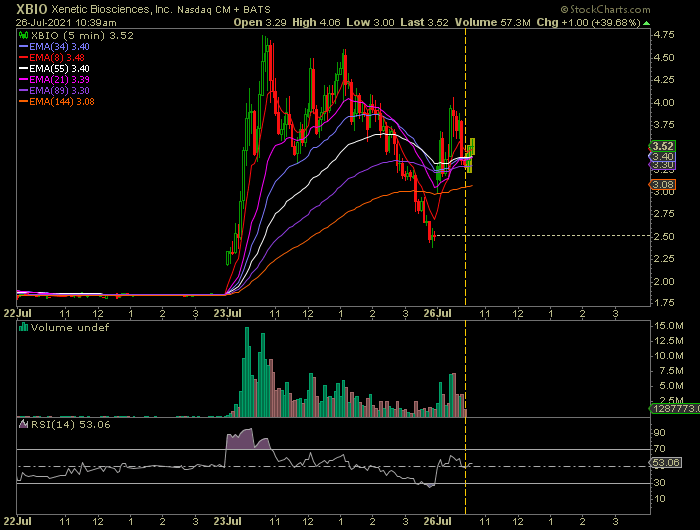 Market Cap:

~25M

Free Floating Shares:

8.02M

ATR:

0.40
Similar idea, totally different reason – the company announced a $12.5M private placement at a premium to free-market price.
Such announcements are understandably great – somebody wants the shares so bad they're willing to pay more than what the company currently trades for.
The stock battled through Friday, and slipped into close, but is beginning to shape up again today.
Down the road, in my personal view $3.90 is the real area to focus on – that's where most of Friday's action took place.
For now, though, I want to see shares settle and firm up at $3.50 for a swipe up later.
Medigus – MDGS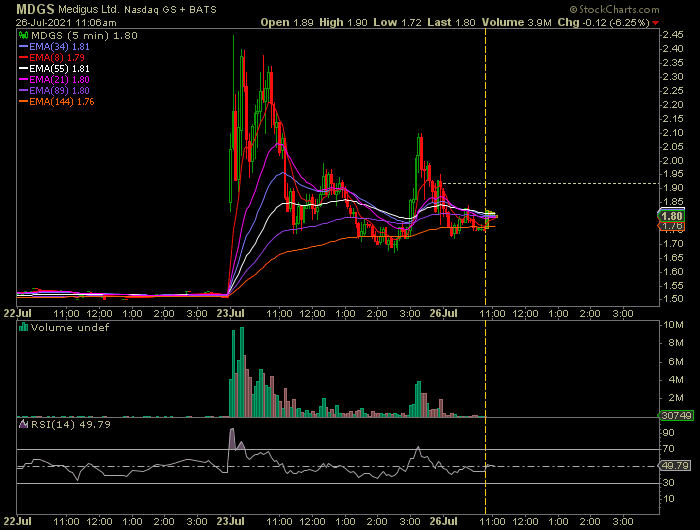 Market Cap:

~45.65M

ATR:

0.14
The chart says it all: through the second half of day on Friday the stock looked completely dead, but then squeezed up and put the short traders in a bend.
It's holding fairly well today, although I do want it to be higher before I can get involved.
I want to be above $2 and for now this is the key level I'm watching. Above that, any further up move will mean short traders now have to cover.