I've been focusing a lot on momentum trades over the past few weeks and for a good reason – they've worked well. 
I'm always excited when momentum gets hot: such names are capable of moving fast, moving far and, if you're patient with your setups – your risk is well-defined, which is my key focus in trading. 
And if there's one thing I love even more than momentum trades in and of itself, it's when they work to a tee. 
My one recent momentum trade turned out as textbook as they come and I'd like to teach you a detailed account of what exactly happened…
The key driving factor of any momentum trade is explosive demand for shares – this is exactly what makes the stock go up, and then higher up, and then some more on top. 
Demand can be broken down into two components:
Natural demand:

investors actually buying up shares for appreciation.

Supplemental demand:

forced covering by short traders; long traders buying breakouts; rookie traders chasing a hot stock at any price point. 
As you can imagine, an ideal momentum trade is a mix of the two: without the natural demand a stock would just "pop-and-drop", and without supplemental demand shares would never move as fast and as far. 
So how exactly does this workout in practice?
RAPT Setup Background:
Up until this Monday, RAPT Therapeutics (RAPT) stock has lived a pretty boring and obscure life: it has spent the past 8 month in $16-$24 range trading very lightly. 

And then, news hit the wires: the company's drug candidate for treatment of Atopic Dermatitis has delivered promising results in a Phase 1b Trial. 
Is that news enough to get people running for the shares? You tell me:

Some market participants were clearly excited: the stock jumped right out of its 8 month range and what's more important – it advanced some more and held higher.
Natural Demand? Check!
But as I mentioned, natural demand isn't enough: 

I'd like to see some supplemental demand, to help sustain momentum

I need an actual trading setup where I can control my risk; I'm not buying for a leap of faith
My Trade Explained
Here's what the 1-minute intraday chart looked like following the announcement:

What you see above is a very classic example of a trading setup called a "Bull Flag".
A Bull Flag consists of two things:

The Pole:

the initial upmove in the pre-market from $17 to a high of $42

The Flag

: a series of higher lows against clean resistance (at $40) and with clean support – right at VWAP.

The Flag consolidation serves as confirmation of demand

. 
The idea here is simple: the pole takes the stock to a new area and the flag proves that the new area – how-ever high it might be – still has plenty of demand for the stock. 
Seeing all of this was a no-brainer: I knew there was plenty of natural demand in the $35-$40 range, and I knew a move above resistance at $40 would bring in many long breakout buyers and chasers. 
Supplemental demand? Check!
Plus, as promised, a patient entry gave me a clean risk to trade against – I saw support at VWAP and would've been out below $36.
So, long I went, right around the last pullback in the $38.50 area: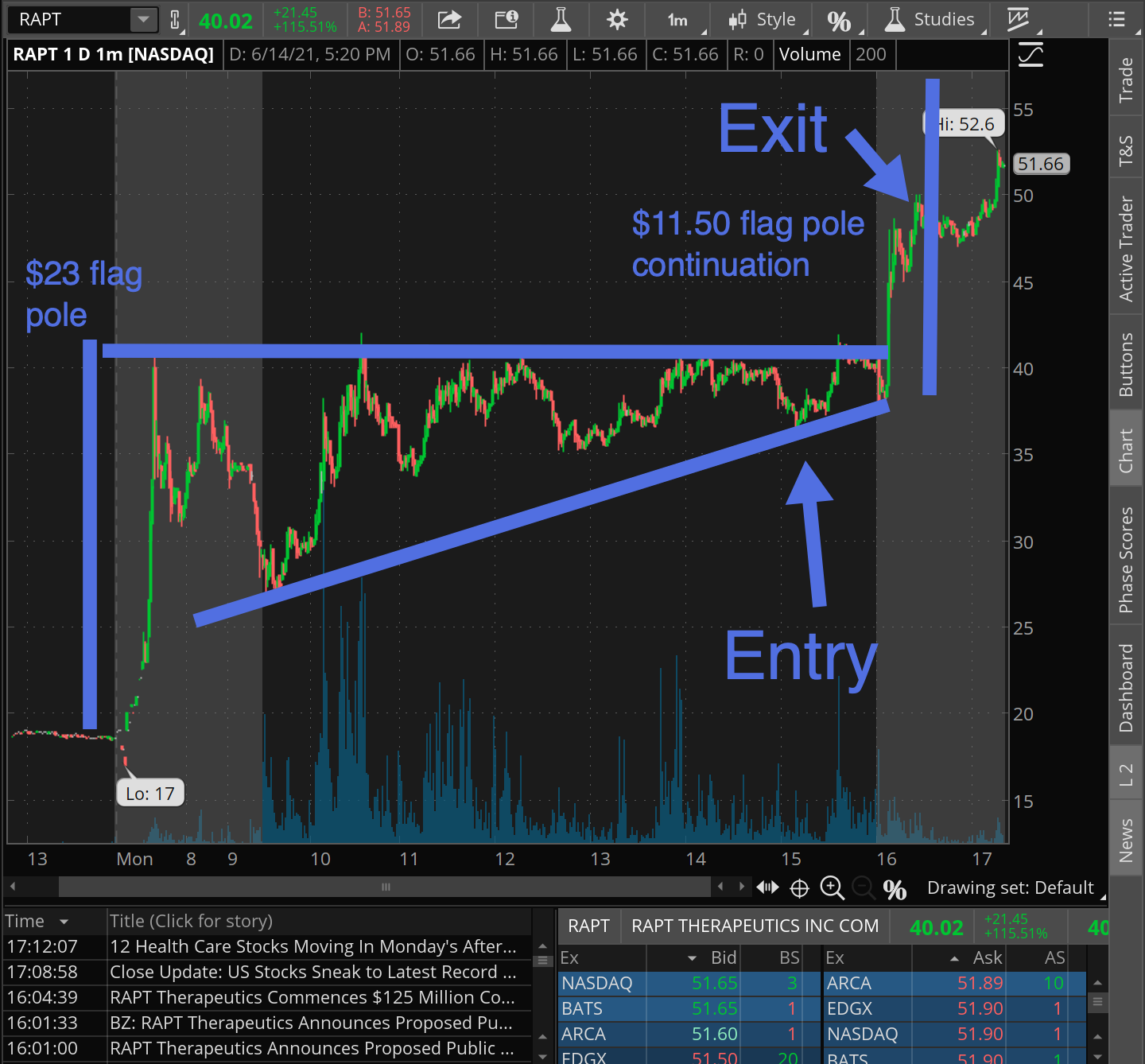 "Textbook" Bull Flags aim at a move of ~50% the Pole.
In my case it meant:
($40 – $17) / 2 = $11.50
This trade gave me a risk/reward of about 1 / 4.5 and a target in the $50 area. 
The rest was history – history made in about 15 minutes of after-market session. 
RAPT broke above $40 nearly immediately and played out exactly how I planned it to. 
This trade was worth a detailed walk-through. 
Not all your trades will work like this, but the good news is – they don't have to!
There's no need to aim for perfection: just stick to setups you know well and employ strict risk management, and your odds may get a good boost.