Those of you who've followed me for a while will know that I preach looking for confirmation in momentum names. 
Seeing (and trading) incredible short-term strength is a good thing, but it's spotting the confirmation of my thesis that really imparts me with confidence. 
Whenever I consider long momentum trades, there's one particular setup I love, that I use to validate my bullish idea…
It's seeing a stock "refuse to go down." Let me show you exactly what it is and why it matters so much…
Now look, I know this doesn't sound very scientific or very sophisticated. 
But bear with me for a moment, I'll show you exactly what I mean here. 
See, the key component of every strong momentum move higher is… the actual strength!
We define momentum as the rate of acceleration – in other words, momentum occurs when a stock that's already up a lot starts going even higher and even faster.
Here's a nearly textbook example of NIO's ascend, from last year:

The stock went from $3 to $6, held up there well, then advanced to $12-$13, and held well yet again… now near the $20s, NIO again refused to break down and advanced higher to under $30.
That's when hell finally broke loose and shares moved from over $25 to above $55 in a matter of 3 short weeks – momentum, at its finest.
Understandably, such action is also the key reason why traders are always on the hunt for the next big mover. 
But do you see what's happening there? A very strong stock to begin with… just keeps getting stronger! It gives back nothing, it establishes higher at every new push, the grind just never stops. 
This is exactly what I mean when I say "A stock refuses to go down" – such failures to give anything back are always noteworthy to me. 
I view it as one of the key confirmation points that more upside is about to happen. 
Well, this has been exactly the case with NAOV over the past few weeks…
NAOV Story
It's a safe bet that virtually no trader knew what NanoVibronix (NAOV) was, until about 1 pm on July 23rd. 
That's when news broke out that the Australian regulators approved the company's UroShield system for marketing in the country. 
A previously obscure and boring name had a slight change of character:

Shares went from ~70c to above $3.5 in a matter of… 4 hours! Talk about wild action!
But look, this is a tough trade to pull off! 
You have to be there when the news hits, be among the first to see it, and then put a "leap of faith" position on – not a great trade from a risk management standpoint. 
Well, the good news is, you still had your shot at making it with NAOV…
NAOV Refused to Go Lower
Let's now have a look at the NAOV chart a few days later, after the dust has settled:

The stock sure gave back some of its insane gains, but the dip got rebought and the name has consolidated very cleanly above $2, slowly grinding towards $2.5.
It sure didn't want to go down, right?
The daily chart paints an even better picture:

This is virtually textbook support! I'd trade such a name every day of the week and here's how…
How To Trade It?
The best part of many such stocks? There's a clear support level you may trade against. 
We have a name that stubbornly refuses to break lower, and shows solid support above $2. 
What can you do?
Accumulate dips against $2 and wait for this to happen: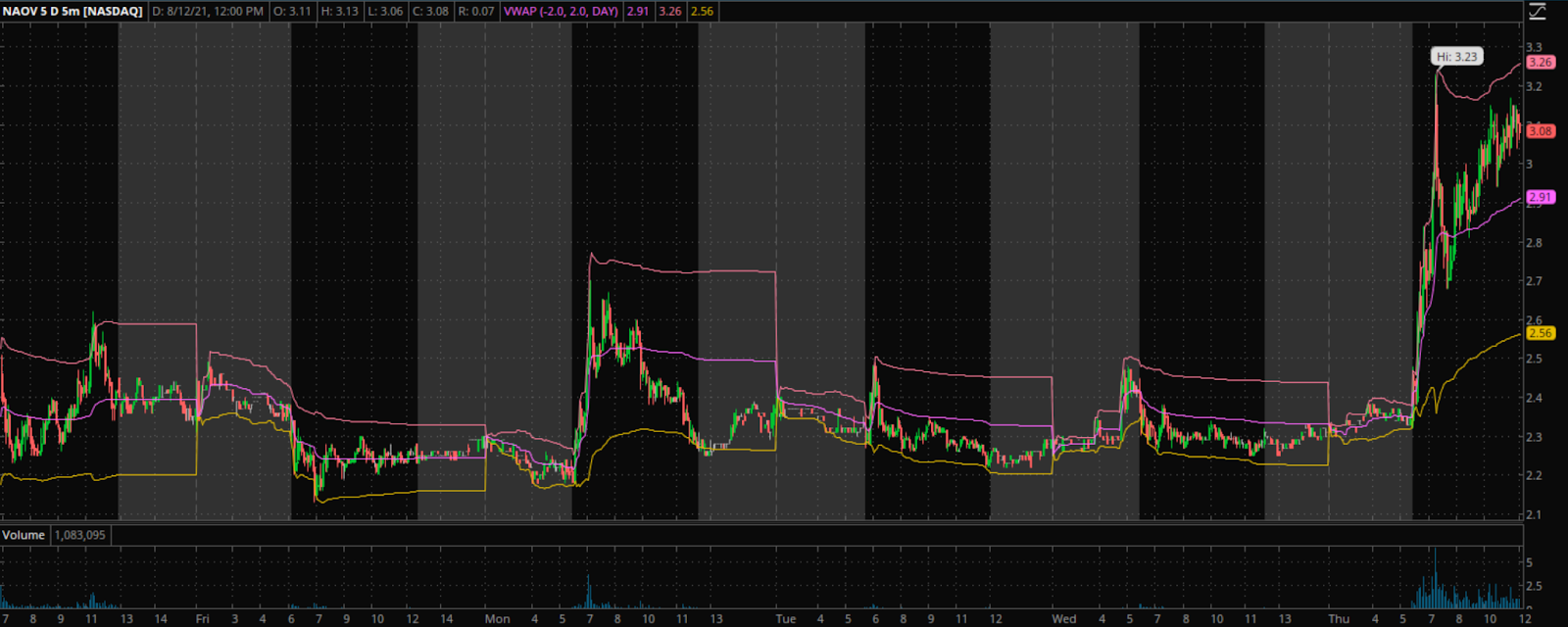 Following days of clean refusal to go lower and strong support at a new price point, the stock shot nearly 40% higher in a matter of hours. 
Not every stock that refuses to go lower will shoot up like that, but there's clearly a pattern here and I hope you can use it to your advantage.