I'll keep today's article short and to the point. 
There's a lot of volatility in the market, mostly due to what's going on in eastern Europe. 
My March watchlist is mostly a combination of Biotechnology, Energy, and some Beverage stocks that I'm looking to swing trade. 
Let's jump in;
Swing Trades
As you know, I'm a big fan of swing trading.
My goal here is to enter positions on these stocks that I believe have the potential to gap up over a short period of time.
Here are some stocks I have on my radar for swings;
Like I said, the markets are volatile, but there are always a handful of penny stocks that just don't care. I've already seen good results with some of these stocks, and I'm still watching (and trading) them closely.
Energy Stocks
You've seen the news…
I'm not going all political right now, but the Russian invasion into Ukraine also has some serious and very global economic implications. 
But for traders, the bright side is the performance of some sectors, specifically Energy stocks. 
…these are the big gap winners so far, as I continue to keep my eyes on the side of the market.
Here's my recent double-digit gain on IMPP (more on this trade in my next post);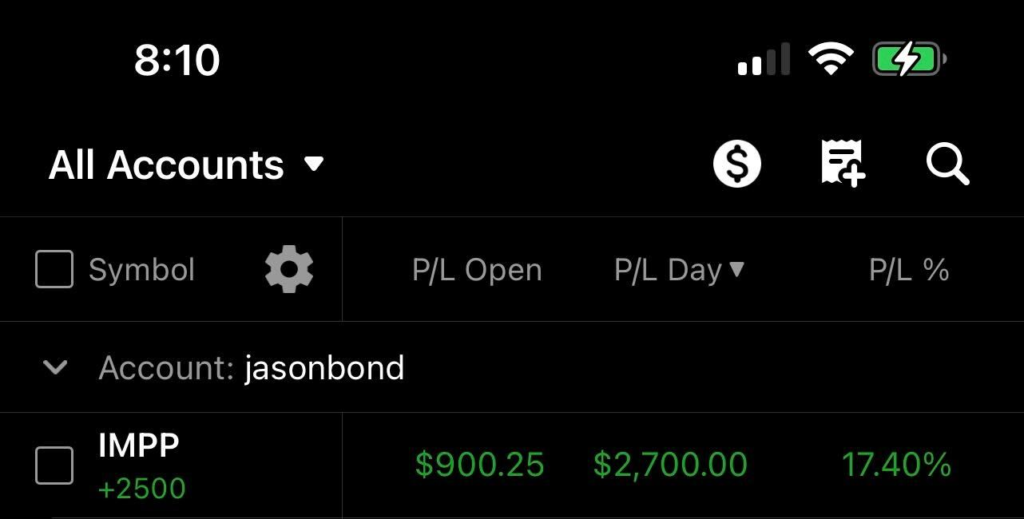 That being said, I'm being conservative… focusing on trades with good risk/reward ratio, and sticking to my favorite patterns as well.
3 Penny stock trading tips to always keep in mind
Before you start trading these stocks, or if you're trading already…there are a couple of tips I think are important to keep in mind;
Cut your losses quickly! 
I know…I know.
I talk about this point often — but for good reason. It's important it's at the top of your mind as it will save you from sinking deeper in losses.
I understand how big losses can mess up your mind and stir emotions that will affect your performance.
I lose money on trades too — you can peek at my trading journal to have a look. But what's important is knowing how to manage it.
But one of the biggest mistakes anyone can make is continuing to stay in a position that's failing.
There will always be another trade!
Remember, a single trade will never make you rich, but one bad one can wreck your account.
A key step in dealing with a position going against you is to exit before things get worse. 
Understand the Game
See, we're traders.
Our goal is to make the most of these stocks, in as little time as possible. 
Penny stocks are not like those big-name stocks out there. They're usually riskier. 
Most of them fail within a few years, are very volatile…and because they're not regulated as much as large-cap stocks, they can easily be manipulated. 
That's why I look out for the ones with good potential and make the most of the short-term spikes. 
That's the rule of the game.
It's a lot more speculative, but the moves can be much bigger than what you get with 'real' stocks.
As I said, it's volatile and risky, that's why traders need to enter with the right mindset and training.
Here's the vital lessons I've shared on penny stocks: How to find hot penny stocks without a scanner.
Always Be Learning and Keep Things Simple 
Everyone loses sometimes.
You can look at my portfolio here and see some of my losses along with my many wins.
But the bright side of losing is…you get to learn from your mistakes and be a better trader.
Whenever I take a loss, I like to take some time off and then review the decisions I made with fresh eyes. 
In doing so, I aim to figure out key lessons that would help me to spot my mistakes so I'll avoid going down that path twice.
The important part of this process is that I do not allow my losses to define me. 
I always remind myself that even though my account takes a hit…there are other people out there that probably had it worse. 
If you want to increase your chances of success, you need to be constantly learning and improving.
You need to focus on the process and learn. Invest in resources that will help you improve your risk management skills, fine-tune your plan, and overall make better decisions.
One more thing…
Trading isn't as complicated as quantum physics.
Invest in tools — like scanners, chat rooms, and more — that can give you an edge. 
The right tools can help you to find the best trades and overall, simplify your process.