Just last week I wrote about the Biden Admin's push to incentivize EV adoption, as the President met with US top automakers and unveiled an ambitious bill aimed at bringing the share of plug in cars sold in the US to 40% by year 2030. 
The plan is part of this Admin's broad push for everything "green" – an area, the government has shown willingness to spend obscene amounts of money on. 
Needless to say, the announcement has made some noise in the industry, as traders and analysts were greedy to calculate what such windfalls may mean for EV makers and related industries. 
Yet, there seems to be one segment of the market that slipped away from attention, overshadowed by the talk about behemoths like Tesla, Ford and Blink Charging.
Yet, by the looks and the feel of it, it may very well end up as the biggest winner of all.
The not-so-obvious, yet a perfectly logical beneficiary of the strong EV demand is the lithium industry. 
Electric cars run on Lithium-Ion batteries, which, as you already figured, are made of lithium. 
As the demand steadily climbs, the supply remains rather scarce. And don't just take my word for it: according to tradingeconomics.com, the Chinese price of lithium carbonate has increased over 150% since November 2020, lead in big part by the exploding EV sales in the country. 
As I pointed out last week, at current levels, US sales of plug-in cars would need to do a 20-25x to achieve the 40% goal, preached by the Biden Admin. 
That's a lot of cars and… a lot of lithium to fill those damn batteries! 
There's no question the suppliers will only get busier, but if the prices continue to climb – and looks like it'll be the case, given the natural scarcity of lithium – we may get some truly prolific stock gainers in the space. 
And the market agrees – shares of lithium suppliers have seen some steep gains this week, with some great technical breakouts. 
Here're some of the stocks I'm watching and my trade plan for them. 
Livent Corp – LTHM

Market Cap:

$3.79B

Free share float:

145M

Short Interest:

16.9%

ATR:

1.39
The stock has given one of the strongest reactions to the announcement as it gained over 35% at one point, in a matter of some 7 trading sessions. 
Couple it with nearly17% short interest and you'll see why I'm getting excited about what may come next. 
I really like the breakout out of a long-term consolidation and a move to new all-time highs. 
I know want to see LTHM consolidate in the $25-$28 area for a next extension leg into $35+. 
Lithium Americas Corp – LAC

Market Cap:

$2.73B

Free share float:

99.79M

Short Interest:

10.5%

ATR:

1.17
While the biggest picture setup is not as clean and impressive, as the predecessor, the name most definitely deserves its round of praise. 
First, look at its history – it tends to catch momentum and make large quick moves. 
Second, it's also moving higher out of a long-term consolidation, even if not as cleanly. 
Third, short interest remains decent at 10+%. 
I really want to see $18 area establish, as this has been an important resistance level.
If it does, I see no reason why a stock can't catch more momentum for a re-test of highs and a move to $30+. 
Albemarle Corp – ALB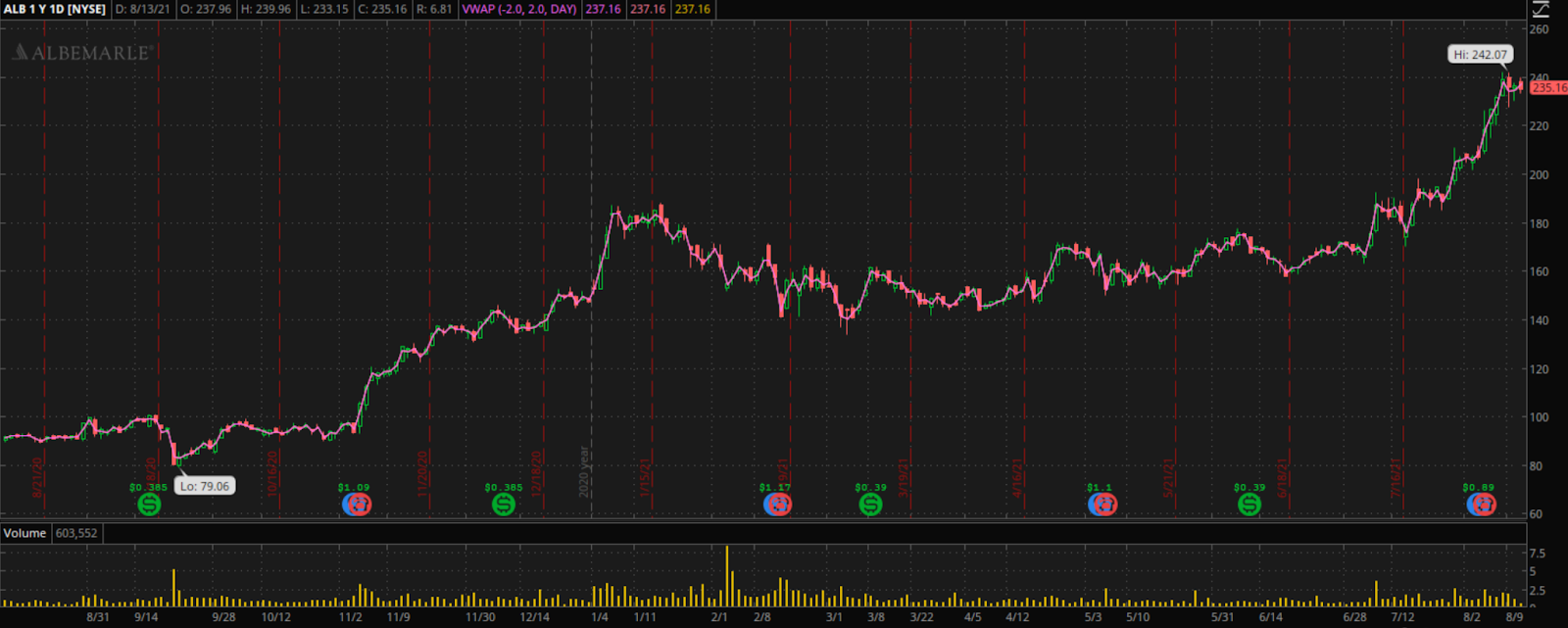 Market Cap:

$26.62B

Free share float:

116.09M

Short Interest:

2.37%

ATR:

9.54
Here's a heavyweight for you. At nearly $27B market cap, this surely is no small company like the prior two. But who cares once you look at the chart!
It has definitely been the strongest and the action has been very "momentum-like" so far. 
I recently spoke about "stocks not wanting to go down" – well, here's a prime example, there have been virtually no pullbacks in the past 6 months. 
I really like the current up move and think we can get a meaningful parabolic extension here. 
I'll be watching all dips above $220 for a next leg higher toward $300.