There are a few reasons why I love momentum trades so much, and moves of high magnitude are just some of them.
The other – possibly the most important one – is that many of these setups are repeatable.
In my lessons from last week, I explained that if you understand the supply and demand dynamics behind the lines and shapes on the chart, that may give you an upper hand.
You won't find two identical setups, but similar demand patterns can lead to identical price moves.
Let me give you a recap of one exact pattern I've seen repeat over and over throughout my career and share two stocks that are shaping up nicely…
Last week I spoke about a classic Bull Pennant setup and how I traded it in Progenity, Inc (PROG).
A classic pennant looks something like this: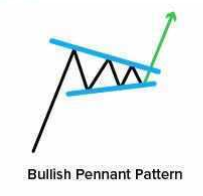 A trader can distinguish one from its sharp move up, followed by a tightening consolidation that, in a perfect world, results in the next leg higher.
This next leg higher is the result of excessive demand even at high price levels.
There are a few places this demand can come from, therefore, before I get into a trade, I'd like to see some boxes checked off…
For me, these are:
– Short Trap: A stock has previously provided an entry to short traders – if it starts edging higher, they'll be forced to cover causing a break higher
– Small Caps: Smaller names need significantly less of actual money poured in to have a major reaction.
– Stocks under $10: Cheaper stock attract more attention and are easier to buy: any pop in such names may cause many traders to chase an up move, providing additional demand
So, that's when I saw PROG pop on my screen, with a classic pennant + all 3 of the above:

I entered the trade at $3.19 and well, see for yourself how it went…


Look, as I mentioned, there are no blueprints in this game…
But here're 2 names that have very similar charts:
Alfi, Inc – ALF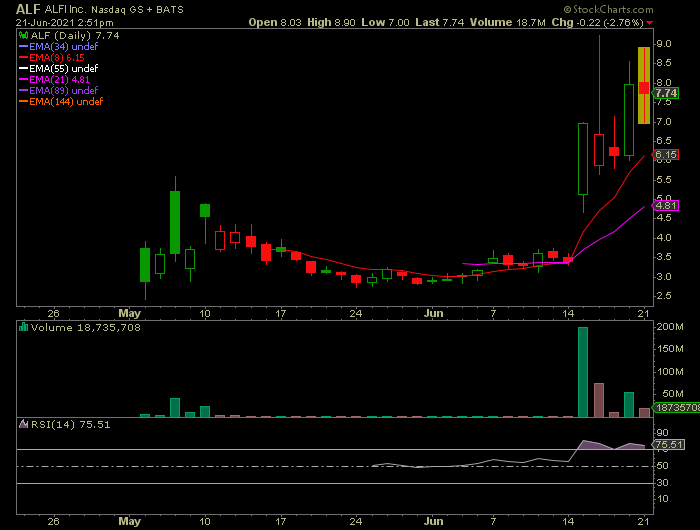 Market Cap:

76M

Free Floating Shares:

4.39M

Short Interest:

2.80%

ATR:

0.96
Summary: ALF is a recently IPO'd AI name that checks off every box – it's a very small cap, it's holding up & flagging well following a recent push higher.
I like that it's given plenty of short entries over the past few days – outsized pops on high volume always get some shorts involved. If we get moving – they'll be in trouble.
The stock is trying to break out of a flag as we speak – if the trade was to work, I don't want it to ever look back.
I'll consider a long into any consolidation above $6.80 for a move into the $10 area.
Holicity, Inc – HOL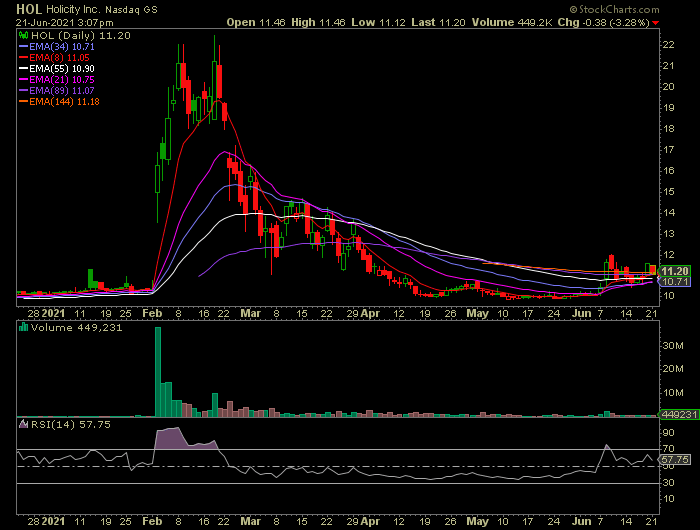 Market Cap:

408M

Free Floating Shares:

30M

Short Interest:

3.82%

ATR:

0.42
Summary: HOL is a shell company that doesn't have many fundamental reasons to go up, which makes me like it even more: shorts get involved big in names that should be up, and if they keep higher – short traders get caught.
After its most recent move, this name doesn't tick off the "under $10" box, but the chart and the reasoning above make me a big fan.
I really want to see the $10.80 area hold. If it does – I'll consider getting long right on the break above $11.80 resistance for a potential full-on reversal move into the $16 area.
Look guys, when I say setups are repeatable, I don't mean that you can copy and paste.
But if you see charts shaping up for similar reasons, why not utilize something you already know?