We, the momentum traders, loooove short squeezes!
When people on the short side are mispositioned – their covering provides a continuous source of demand for our long trades.
But is it only shorts who are susceptible to stubbornness and greed?
And what happens when longs act by these same principles?
Well, let me give you one good example of what you should avoid as a long trader… and what you should look for as a short one!
Suppose you've paid any attention at all to the market over the past year. In that case, chances are, you overheard somebody talk about Virgin Galactic (SPCE) – a space travel company from none other than Sir Richard Branson himself.
If you haven't – believe me, talk they did… and I can't blame them!
The market appreciates great storylines and what sounds better than space travel – something we've all read books and watched movies about!
Alongside meme stocks and EV names, SPCE remained a hot ticker for as long as it's traded publicly.
See for yourself: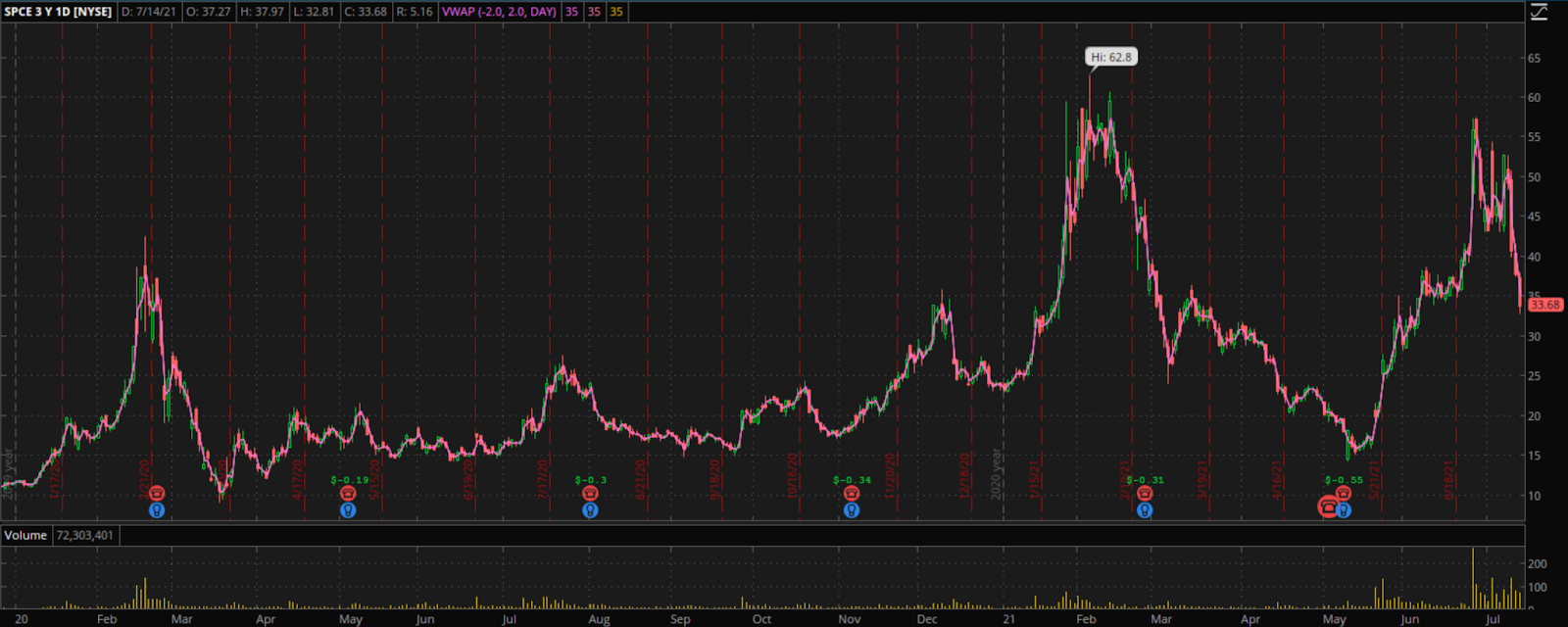 Doesn't look too boring, does it?
Following a quick $10-to-$45 run up early last year, the name pulled back, but had been gaining traction through the rest of 2020.
And it got what it wanted – a rapid February short squeeze to an all time high of $62.8
Following another sell off and yet another run up, fueled by excitement over upcoming passenger flights, the stock has been sitting in the roughly $45-$55 range, seemingly ready to smash past the prior high and have another short squeeze to the moon (quite literally, in SPCE's case)!
But it wasn't the shorts who were due for a squeeze…
The Consolidation
Let's have a closer look at the post run up consolidation:

There are two parts I'd like to zoom in your attention on:
Note how every push higher on MASSIVE volume… leads absolutely nowhere! The momentum just isn't picking up.

Note the MASSIVE VOLUME itself! Sheesh, the stock was doing hundreds of millions of shares on some days vs an average of 10-20M and it still couldn't do anything.
Now, whenever I review short squeezes, my key point remains the same: squeezes happen when short traders get overly greedy for a meltdown, so any tick against them causes a wave of covering.
Hmmm… you noting any similarities yet?
We have a stock where people are aggressively piling(literally, by hundreds of millions of shares) up for a move and the move never comes!
What will they do if the stock goes against them?
Try and get out as quickly as they can!
SPCE Longs Got Stuck
Time went on and the short squeeze never materialized.
Richard Branson went to space – seemingly the most bullish outcome a long trader can hope for – and the short squeeze still never materialized.
Worse yet, the company then filed for a $500M share offering…
If you're long, at that point, you might be getting nervous. You might even consider selling.
The issue? It's not easy to sell when everyone wants to sell:

In a matter of 3 short days, the stock goes from being a darling due for a squeeze higher, or burying everyone who bought in.
There are 2 takeaways from this story:
Identifying stuck longs might be of great value to a short trader, much like identifying stuck shorts is to a long trader

If you're long – don't get stuck and stubborn