It's safe to say we all know pretty well what Twitter (TWTR) is.
And while most people associate it with funny tweets in their feed, those of us who trade are excited about it for entirely different reasons. 
See, Twitter is one of the most active names out there… and a very polarizing one!
Many are convinced it's the next "big tech" runner neverstopper, others have been openly bearish since the day of its IPO, and long before that…
For us, traders, that can only mean one thing – Q2 earnings, scheduled for today, July 22nd, after the market closes may play out volatile!
And don't take my word, let's have a look at how they turned out over the past year:
3 reports – 3 gaps of 10-20% in either direction. 
So, what can we expect ahead of the 4th report later today?
Let's have a look at the chart going into the corporate earnings: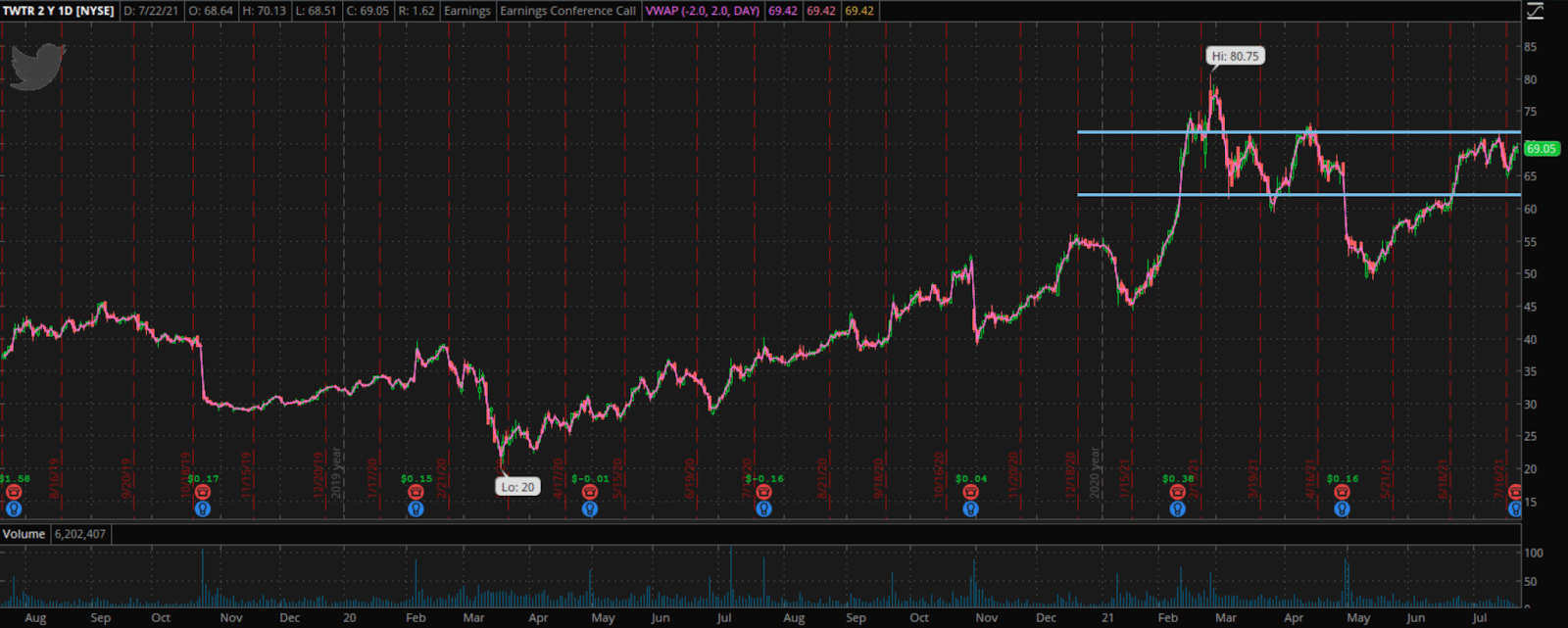 There are 2 things I take away here: 
Twitter is back to ranging at the highs in the $62-$72 area, where it's historically had a lot of troubles

The stock is positioning for a break higher
Shares are now trading at the higher end of the $62-$72 range I just mentioned and holding quite tightly near the breakout area, which may take it straight for a re-test of the February all-time highs and possibly far beyond that.
Given the strength of the stock over the past month, it seems that the market is eager to push it higher and expects Twitter to beat the analyst estimates.
Speaking of which….
TWTR is High, Expectations Are Higher 
There are 2 key metrics analysts always follow closely in Twitter's reports:
Revenue growth

Number of Monetizable Daily Active Users (DAU)
Speaking of the former, the consensus currently sits at ~$1.06B in revenues for the quarter, implying over 55% growth rate YoY!!!
If you wanna know my take – that would be quite a statement by the company that's historically grown anywhere between 7% and 25% a year over the last few years, even if it is catching up for the slow 2020. 
The DAU consensus figure is ~206M which translates into ~11% growth YoY from 186M in Q2 2020 – that's not a historical high, but not a lowball figure either.
So to sum it all up, we have a stock that's right near the high of its range, seemingly ready to tackle all-time highs again… But the expectations for its performance are really high as well!
Do you see where this all might go wrong quickly?
Will Corporate Earnings be a "Sell The News" Event?
Don't get me wrong, I'm no bear and in no way am I suggesting to get ahead of ourselves – I'll only consider trading the name after the earnings are out. 
But the way I see it, the stock is at a "decision point" and there are 2 ways this can play out:
Results slightly less than perfect will likely make it a "Sell the News"
The expectations are so high and the price action has been so bullish that any reason "not to love" the report will likely put a selling pressure on the shares – given how high it's been and how tightly it has consolidated, we may get a serious pull back.
Breaking higher would take a HUGE beat
I may sound pessimistic, but that's not true – I'll eagerly look for long breakout trades later today or tomorrow, shall TWTR deliver a really impressive beat that justifies the optimism and sets it well for the clear skies above.