I have something exciting to share with you today!
So, I recently discussed a trade that I took and explained why I love trading penny stocks.
But today, I'm going to do something different.
Today, I'm going to give you an inside look.
I'm going to share my specific game plan and thoughts with you, on a stock that has caught my eye.
I have been stalking this stock for some time, and now I think it might be gearing up for a breakout.
Typically, I only share my watch lists, thoughts, and game plans with my members…but today is your lucky day!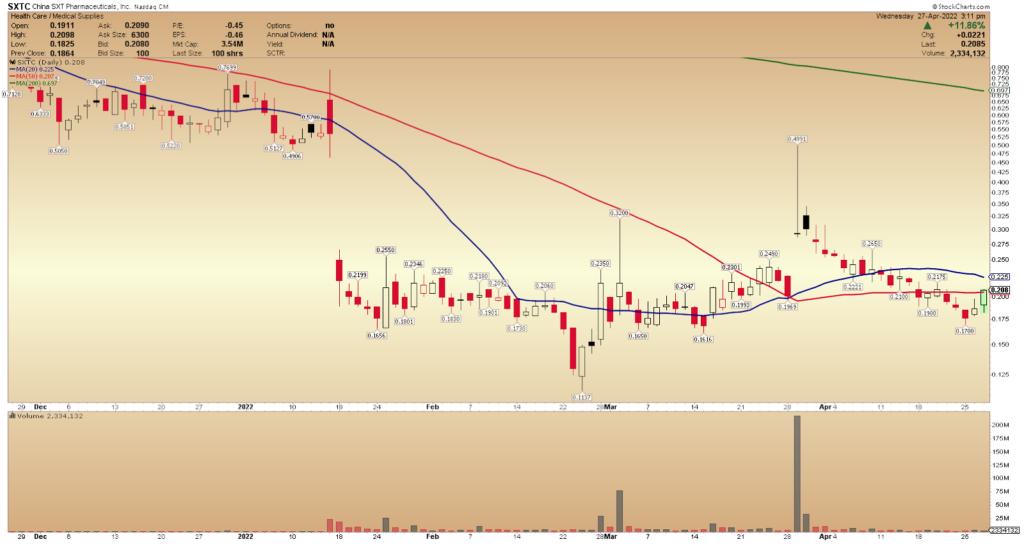 SXTC was moving yesterday as the stock closed green on the day and right at the 50d moving average.
What I like about SXTC is how the stock has held that $0.17 area for a few months now, and bucked the trend of the overall market.
The long sideways action in the stock has also led to the 50d and 20d moving averages contracting, flattening, and trading within $0.02 of one another.
I think that this contraction might be leading to an expansion.
Here's my specific game plan:
I'm stalking the 20d MA around $0.22 for a possible entry.
If the stock can push above that area and hold, I'll be targeting a move towards $0.25 – $0.30 to take profits.
While my Trading Floor members will receive live updates and game plans and get to watch me trade live every day, I have not forgotten about you!
I hope that you enjoyed this inside look at my game plan for a stock that's high on my watch list.