One thing is for sure right now in small-cap land. Volatility is here, and it's here in a big way.
Now, this is excellent news for traders because volatility often results in increased opportunities.
Just yesterday, I saw numerous stocks go up over 100%. 
The price action and volume are creating fantastic opportunities for momentum-type trading in particular. I say momentum trading because, currently, many stocks go up over 100% but pull back and close the day up just slightly.
For example, two days ago, BIMI was up over 300% at one stage and then faded back in the after-hours, closing the session up just over 100%. MYSZ is another one. The stock was up almost 300% but closed the day up just 36%. 
So yes, volatility is excellent as it creates exceptional moves in stocks; however, I always remain realistic and dialed into the price action because as fast as a stock rises, it can fall.
What better way to further explain momentum trading and how the current environment rewards that style than to show you a trade I recently took.

BENEW is the ticker for the warrants, which trade on Nasdaq, of Benessere Capital Acquisition Corp. (BENE).
On Friday last week, shares of BENE rocketed higher as word of the company's CEO, also being a Chairman and CEO of Digital World Acquisition Corp. (DWAC), made the rounds.
If you need a quick reminder of the stock that dominated the headlines last week, check out this article I previously posted.
BENE, according to Yahoo, does not have significant operations. It intends to effect a merger, capital stock exchange, asset acquisition, stock purchase, reorganization, or similar business combination with one or more businesses.
The warrants, BENEW, had been relatively dormant in the past. However, as BENE shares soared higher along volume, BENEW also experienced a rapid surge in volume and range.

As shares of BENE, in the chart above, continued to rise and remain in an uptrend, I noticed a bullish pattern forming the warrants; BENEW.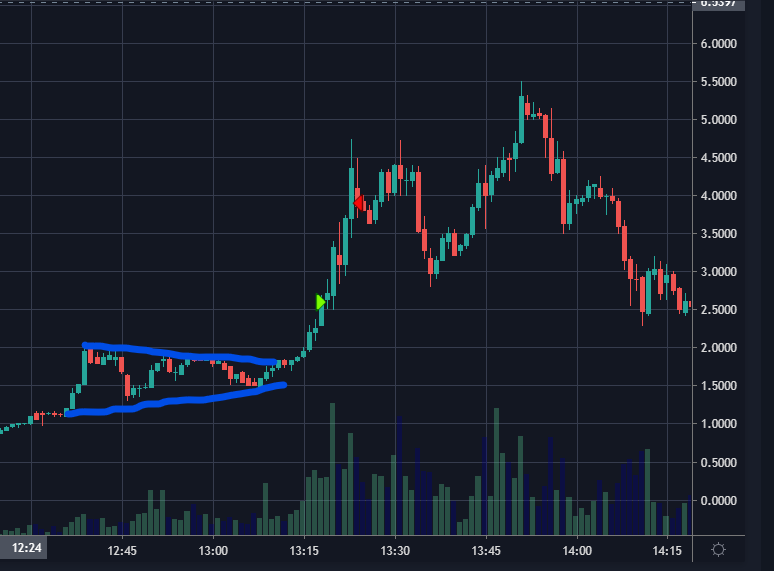 BENEW spent close to an hour consolidating in a range as shares of BENE continued to rise. As soon as I noticed volume increase and the stock firmly gained momentum above the consolidation resistance, I got long. 
I entered the position at $2.60 (green arrow) and sold six minutes later at $3.90 (red arrow).
That sell at $3.90 represented a gain of 34.48% in six minutes.
Sure, BENEW managed to go higher than where I sold. However, it also closed the day at $1.88 and gave back most of the day's gain.
The Bottom Line
Volatility can be your best friend or your worst nightmare. If I got greedy and decided to hold for longer, thereby ignoring my rules of momentum trading, I very well might have gotten stopped out of the trade as the stock faded back below $2.
It is essential to remember that as quickly as these types of stocks can rise during volatile small-cap environments, they can fall once the momentum has shifted.
Therefore, I am always aware of critical support and resistance levels, place a stop loss, and have profit targets in mind.