Today was all about the NFT.
What's that you ask?
It stands for non-fungible token. Which loosely translated means it's a digital asset (token) that is unique and can't be replaced with something else (non-fungible).
It's a way to show that someone has ownership of a unique virtual item, such as online pictures or videos.
Think about a piece of artwork. There's an original that is worth millions of dollars. Then there are millions of copies, or prints, that you can buy in Target for twenty bucks and hang on your wall.
An NFT is like the original…but for digital artwork. It's like a collector's piece that can appreciate in value…and it's all the rage right now.
I'll start with Cinedigm Digital Cinema (CIDM) as the stock is gapped up off of the corporate earnings report.
Of particular note: the company announced the first NFT-based film releases under the Fandor Selects™ label, taking it one step further into the realm of the NFT.
The stock is up over 20%, but currently trading below the opening price of 1.34.
I'll be keeping an eye on how it holds up into the close.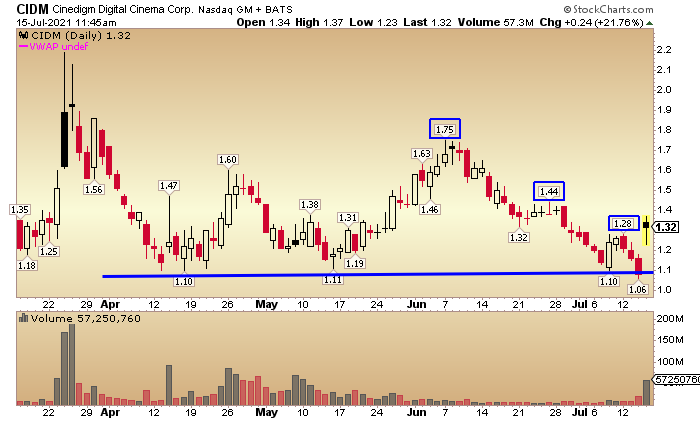 Takung Art (TKAT)
Next up, Takung Art (TKAT) which operates an online electronic platform for offering and trading artwork allowing artists/art dealers/owners to access a much bigger art trading market where they can engage with a wide range of investors.
Back in mid March, following rumors that TKAT was pursuing NFT capabilities on its existing platform, the stock jumped from the $4 level to a high of $74.11 a week later.
This was right in the beginning of the all things NFT craze.
Since then the stock has come way down to under $7 as of yesterday…but today TKAT is getting some love alongside other NFT names…
…up over 27%, currently trading in the upper 8s.
If TKAT gets a short squeeze move like back in March, look out.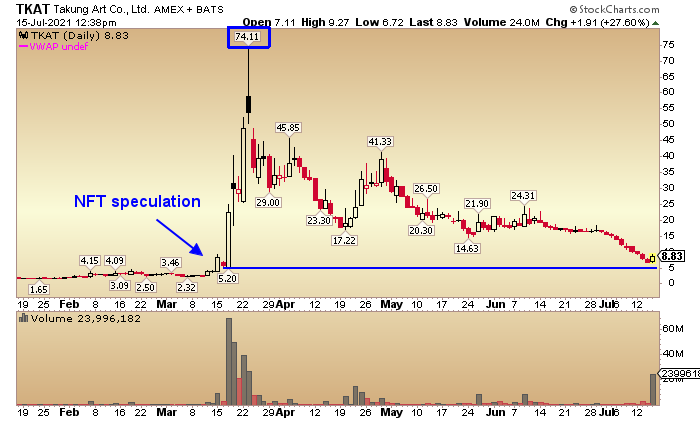 Liquid Media Group (YVR)
And this brings me to Liquid Media Group (YVR), a stock I have on my member's watchlist today.
As a business solutions company empowering independent intellectual property (IP) creators to package, finance, deliver and monetize their professional video IP globally…YVR is focused on taking steps to stay at the forefront of technology, NFT being a part of that…
And this has YVR surging, up over 50% today.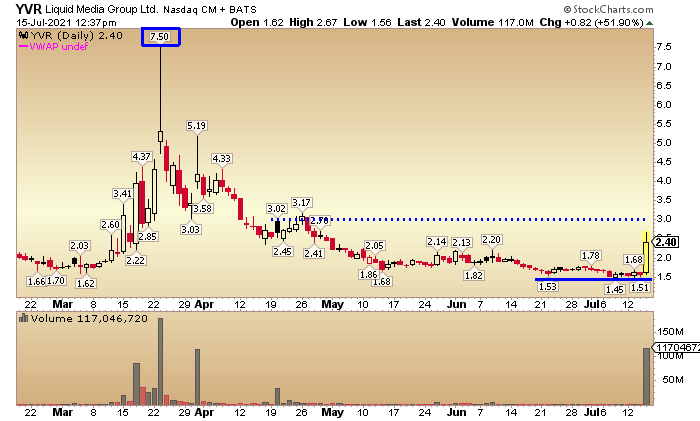 Now there isn't exactly company specific news on any of these except for CIDM which just reported corporate earnings…
But when a hot topic like NFT gets moving, it tends to have a spillover effect.
Other stocks to watch: OCG, FNKO, HOFV, ZKIN