As cannabis continues to gain ground in legalization worldwide, it's not hitting the headlines as much lately.
That doesn't mean it's over, though…
These things tend to come in waves.
We've all seen how fast interest in different stocks, sectors, and storylines changes overnight.
The hottest thing in the market for a few weeks is gone overnight…then back three months later, hitting new highs.
Traders are always on the lookout for the next big thing. And right now, many are on the prowl for the "next cannabis."
Could it be psychedelics?
Psychedelic drugs or hallucinogens, are a group of substances that are usually used recreationally to change and enhance sensory perceptions, thought processes, and energy levels, and to facilitate spiritual experiences.
They can be chemical or plant-based…think LSD and mushrooms.
The idea of using psychedelics as medicine isn't a new one.
New research has been done to show the benefits of psychedelics for various mental illnesses.
It may sound far out there…but the truth is, so was the idea of cannabis being legalized in the US.
And there is actually history here. In the 1960s, they were used in psychotherapy and there are numerous accounts of governmental programs experimenting with them. But mainly for political reasons, this was all halted a long time ago.

Until recently that is…researchers have made major headway studying the benefits of psychedelics on addiction, adult ADHD, anxiety and other areas of mental health.
And fast forward to today, there are now two psychedelic biotech companies listed on the Nasdaq…
Compass Pathways (CMPS) was the first psychedelics company to debut back in September 2020, followed by MindMed (MNMD) at the end of April this year.
With a third, ATAI, recently filing for IPO, psychedelics are moving from being a far out theory to being taken more seriously.
And investors and traders have taken note.
Below is the daily chart for Compass Pathways (CMPS)…
After making a bit of a double top, the stock has been basing above the $30 level and forming an ascending triangle.
If it can break out, there's room above to the $40 range. However, if it breaks that $30 support things could get ugly.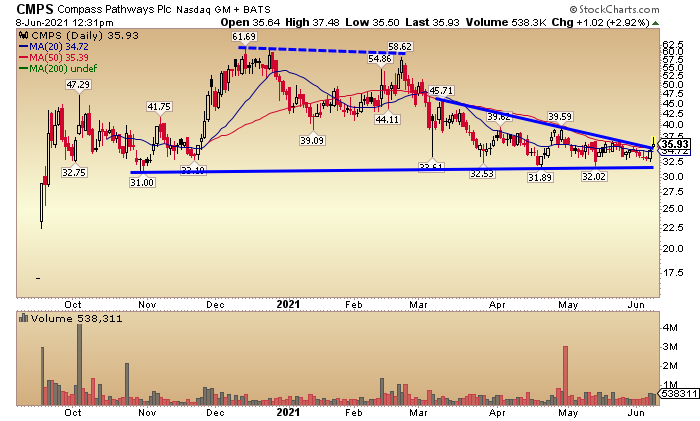 Mind Medicine (MindMed) Inc. (MNMD)
As noted…MindMed (MNMD) is a psychedelic medicine biotech company.
The company is working to discover, develop, and deploy psychedelic inspired medicines and therapies to address addiction and mental illness with innovative treatments based on psychedelic substances, including Psilocybin, LSD, MDMA, DMT, and an Ibogaine derivative, 18-MC.
With the main focus being on addiction, anxiety, and adult ADHD, the company is working to harness the benefits of psychedelics, without the hallucinogenic effects.
When it comes to mental illness, MindMed wants to flip the script by healing the mind instead of just managing the symptoms.
What does the stock market think?
Let's take a look at the daily chart below…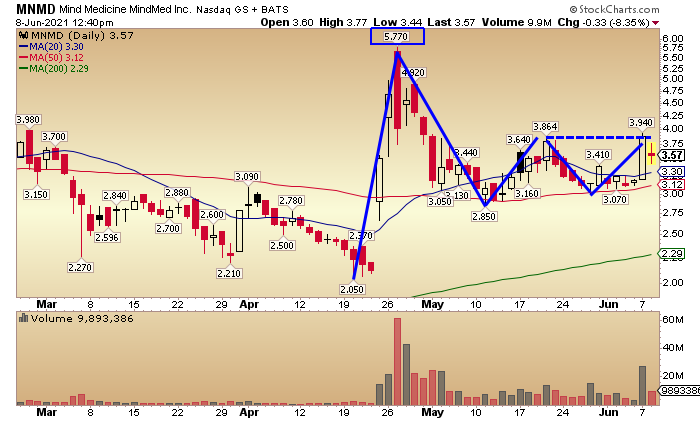 You can see the big rise preceding the move to the Nasdaq at the end of April (MindMed was previously listed on the OTC).
After that, it fell off finding support at the 50 day MA line (red line) before making another move up to 3.86.
On a second move down, MNMD again found support at the 50 day MA.
Is the stock putting in a double bottom?
The truth is, we won't know until we know…
MNMD was looking like a breakout candidate yesterday with a nice move up on increased volume.
With the stock getting slightly above the previous swing high at 3.86, it closed only slightly above at 3.89.
Watching for a potential breakout today, the stock hasn't looked as impressive.
Below is a 5-min intraday chart showing yesterday and today, with today's price action marked in a blue box.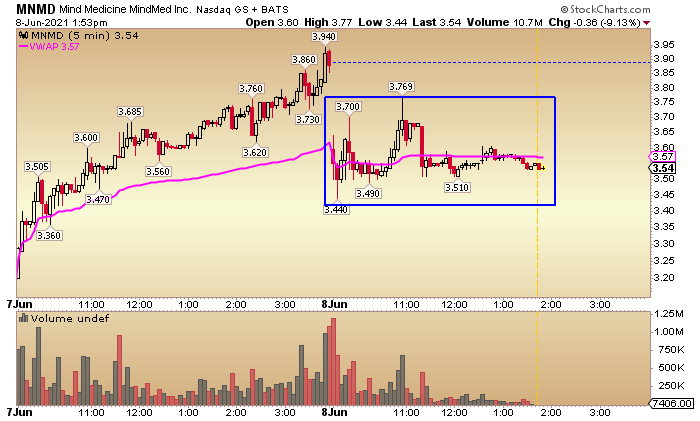 To be interested, I would need to see increased buying interest into the close and a break above the highs it put in yesterday.
With the stock just trading back and forth around the VWAP, it doesn't look like I'll see a break today.
If you follow me, you know that I like to see a stock hold above VWAP when I'm looking to make a trade, this is generally a sign of strength (learn about using VWAP here).
Are psychedelics the next cannabis?
While I can't answer that for you… Conservative investors probably won't touch them with a 10 foot pole, but speculators are already lining up.
The comparison would be in the potential in the medical market as it's unlikely psychedelics would ever become a recreationally legal drug.
However, the medical market is massive for any companies that can actually get FDA approved drugs developed.
And that's the other risk in this industry…these are experimental and development drug companies.
It could be a while before any drugs make it to market, if at all.
It's definitely worth some research though…
And since I'm not investing in them, I'll keep them on my radar for potential trading opportunities knowing there's interest forming in the names.