While last weekend's Virgin Galactic (SPCE) flight was the spacecraft's twenty-second test flight, it was the first with a full crew, which included Sir Richard Branson himself…
Beating Blue Origin's Jeff Bezos who will be taking his own flight next week.
No sooner did Branson get back to earth than the company filed for the sale of $500 million in new shares…
And the stock came back to earth as well…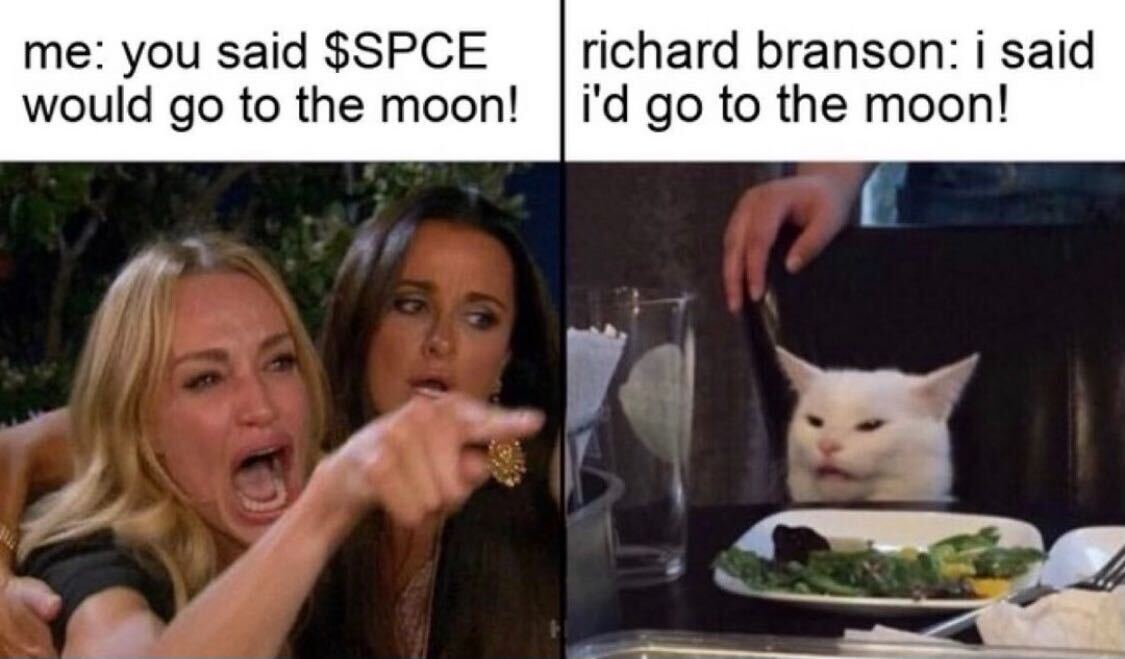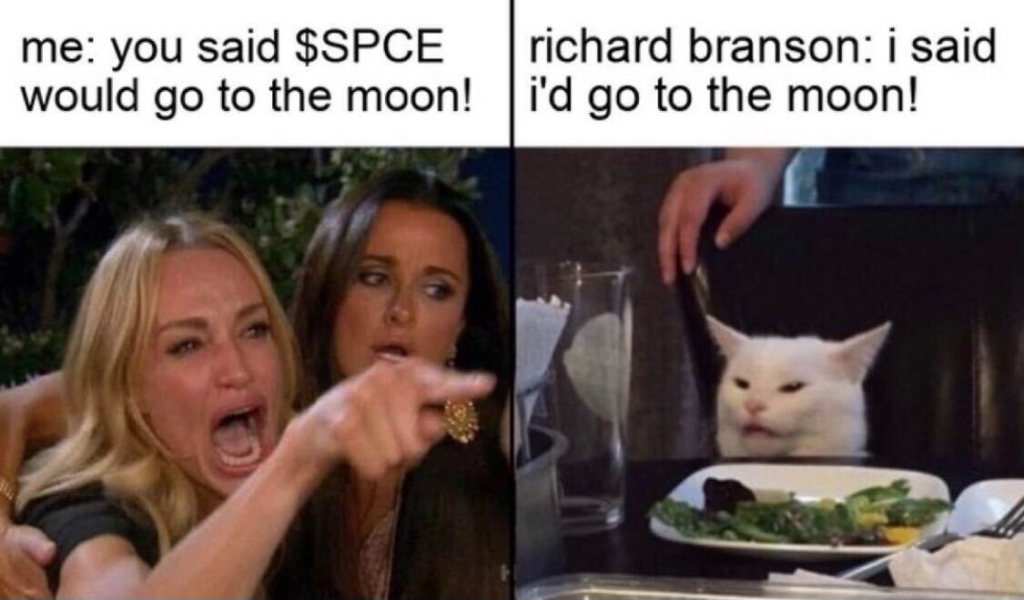 But it's far from over here…
In fact, this is just the beginning really.
Virgin Galactic Holdings, Inc. (SPCE)
I don't need to tell you what this company does. They take people to space…er, I mean they are working towards it.
With Virgin's first crew-manned ship going to the edge of space on a test flight this past Sunday…
Investors were all in as Virgin Galactic's (SPCE) shares moved to over $57 a share from just under $15 back in May.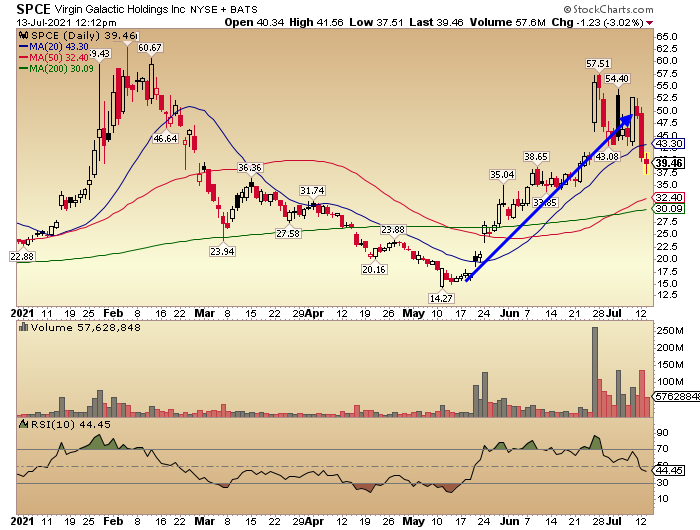 It turns out going to space isn't cheap. And since SPCE still hasn't taken any paying customers on trips, the company needs more money to make that dream a reality.
Quick to capitalize on the jump in price, Virgin announced a $500 million stock offering the day after Branson's epic journey.
For investors, offerings like this are dilutive, not uncommon. After all, did we really expect them to get there without raising more capital?
Investors in SPCE are futurists to an extent and it's a dream that's becoming a reality.
This is all part of the process to make it there. I don't personally see this as a long term problem.
Is there real value in SPCE?
Who can really say that? To be honest though, I'm not sure it's only about that right now.
This has always been about the future and beyond. The value of "space" itself is huge, there's no doubt about that.
From satellites to tourism…to the potential for mining and even colonization, the potential is almost unfathomable to say the least. Well, except for Elon…it's clear to him of course.
Needless to say everything "space" is far from over… it's still new and exciting, so I don't see an end to SPCE right here by any means.
In fact, it's pretty much par for the course to see a stock plunge after announcing a new stock offering.
After announcing the stock offering…SPCE went from $56 in the pre-market Monday morning to a low of $37.01 this morning.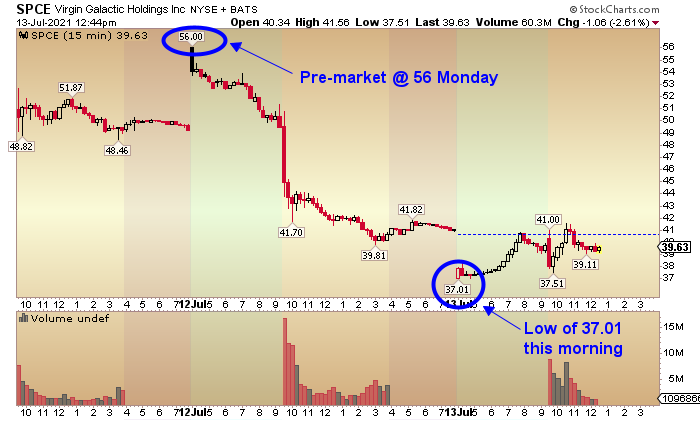 But as a trader, all I care about is what happens next…and my favorite thing to do is look at the chart for clues.
After a flag pattern breakout in late June, SPCE hit a high of $57.51 (not quite getting back to the previous high of $62.80).
This was leading into the epic crew-manned flight with Branson himself aboard.
But then, as noted, the stock stalled out and took a big hit over the past two days.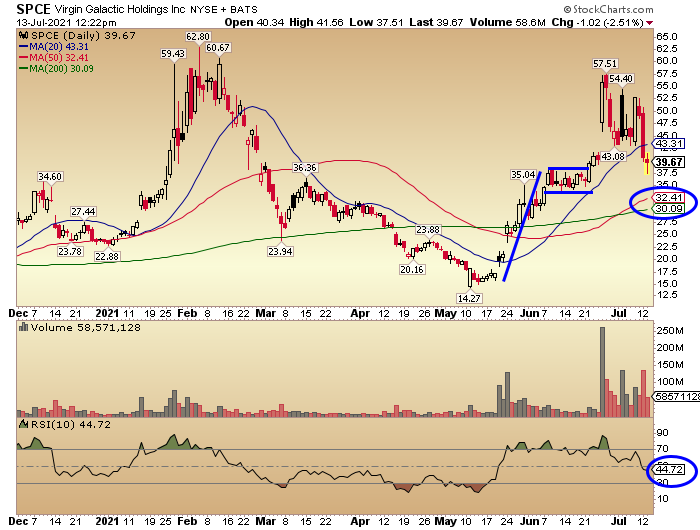 Now looking at the daily chart above, SPCE hit support at this low this morning…right in the range of where the stock previously broke out of the flag pattern.
If this holds, I'll be watching for a ride back to highs.
Another very possible scenario I'll be watching is if the stock stays weak on the heels of the offering. This could be an opportunity to shake out the weak hands.
If this happens, I'll be watching the 50 day moving average for support…looking for a bounce from there.
The 50 day is currently at 32.41…and the 200 day is just below at 30.09.
One last note on the "future" of SPCE
Analysts expect the commercial flights to begin in the first half of 2022, as the company hopes to complete another two suborbital test flights by fall 2021.
Virgin Galactic (SPCE) said on Monday that it was planning to eventually have around 400 flights a year carrying six passengers each.
And I'm pretty sure the current $250k price tag will likely increase as Virgin works out the true costs.
There are a number of estimates from $300-500k, in which case if they hit the 400 flights with 6 passengers each…well you do the math.
All speculation at this point of course…and so many things can go wrong, or right. That's why investors in SPCE tend to love the idea of "space" as much as the business potential.
Some of them just want to be a part of the future and invest in something so new and exciting, a childhood dream even.
For trading purposes, this stock isn't done making moves. I'll be watching for support at the 50 day moving average if it doesn't hold today's low.