We've all sat and watched a stock just rolling up like it has no cares in the world.
Each time it pulls back, it stays above the previous low.
Then it moves back up to break above the previous high, creating another swing higher.
This is what I like to call a stair step pattern.
And it's one of my favorite patterns to trade.
This is a pattern formed by a strong stock… and there are actually a number of ways to trade it.
Such as playing the pullback at support or buying on the next break of a high.
But don't worry, I'm not leaving you with just that…
Today I'm going to walk you through some charts to show you what it looks like.
I put a clear visual of this pattern in the chart below so you can really get to know it.
Basically this is a pattern of higher highs and higher lows… the stock is "stepping" up.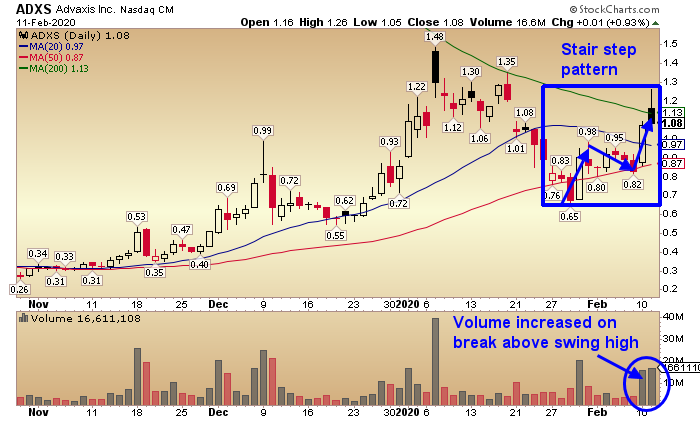 With a stair step trade, it's key that the pattern exists first. Seems simple enough, but look at the chart below…
There's a leg up, then a leg down… at that point we don't have a stair step pattern yet. We need a second leg up to complete the pattern.
Two key points here: There must be a higher low on the step down, and the pattern isn't complete until it breaks above the high of the previous step up.
If you were looking at the chart below, what would you do with it?
I hope nothing… There is no pattern here. The stock moved up and then moved down, that's it.
To complete the formation, we need to get a move back up above that black line (previous high).
At that point the stock has formed a stair step pattern (as seen in the first chart above).
So how do we trade the chart below?
We simply wait… (until it breaks the previous high/ black line, it's still in a downtrend).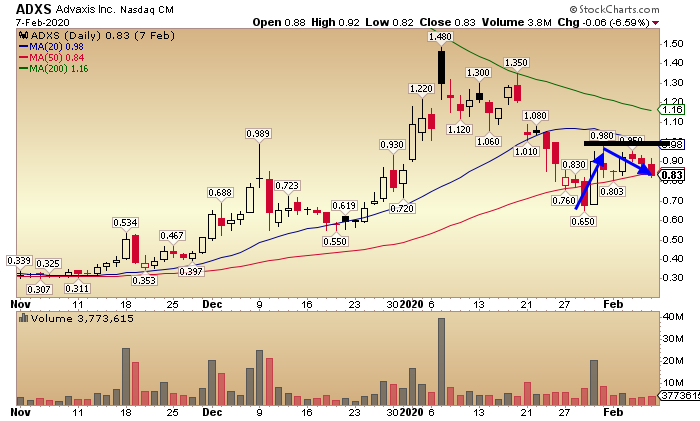 In the next chart, you can see when ADXS broke above the black line (previous high), it was now making a step higher.
A potential trade here is to buy the break of the previous high…
Another key to the stair step: Increased volume on the breakout.
Notice the spike in volume on the break above the previous high in the chart below.
This is key. An increase in volume gives me confidence in the move.
This also provides liquidity to get in and out on the potential move up.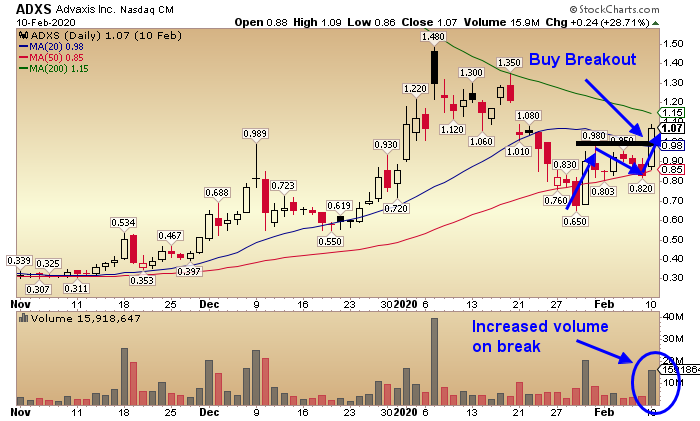 Now you probably want to know how to find a target. 
When it comes to penny stocks… I don't want to hold them too long.
After all it's just a penny stock, not an investment.
So what I like to do is look for the next levels of resistance to find good target ranges.
In the case of ADXS, you will notice the 200 day MA is sitting at 1.15, just above the breakout.
That makes for a good short term target as I would expect the stock to hit some resistance in that area.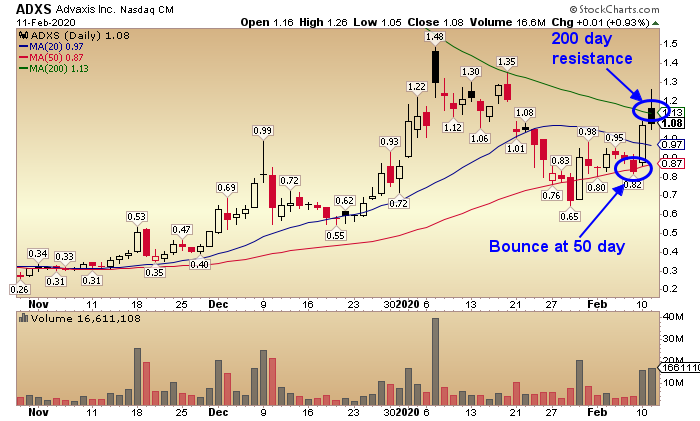 As with anything, the more things that line up the better.
When looking at the pullback, the stock also bounced off the 50 day SMA.
Holding support at a major moving average on the higher low just gives me one more show of strength to add to my analysis.
I love this pattern.
In fact, I am searching for stocks that are making higher highs and higher lows every day.
Here's a chart of a recent watchlist pick…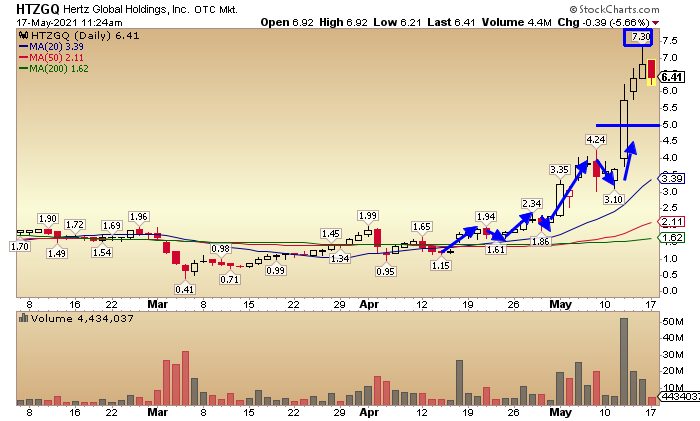 Hertz was stepping up for over a month. There are multiple opportunities in this one chart alone.
All from understanding how strong trending stocks move with higher highs and higher lows.
Well there you have it, one of my favorite chart patterns… The Stair Step Up.