With vaccine rollout and lower cases, stay-at-home orders are gone, and mask mandates are slowly fading away.
The much anticipated "return to normal" is in the beginning phases, which is exciting.
People have been getting back out there…and spending money.
And with that we've seen rebounds in many of the stocks that got banged up by the stay at home orders.
And the poster child of getting back out there has got to be Party City (PRTY).
Why?
A party just to party… coming soon to a back yard near you.
I talked about it in my member's chat room earlier today, calling it the "Post-Covid cup-and-handle."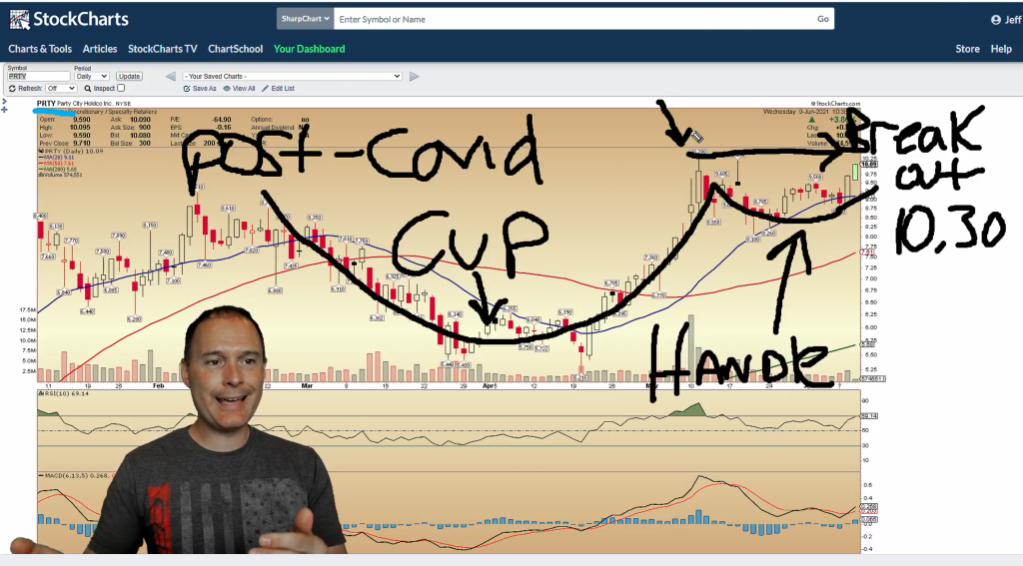 And I'll break it all down here to show you why I think PRTY could be headed higher on a break above the previous company earnings high…
Here's a stock—all but forgot.
The chart below shows earnings releases in November 2019 and March 2020…both leading the stock into what looked like the end.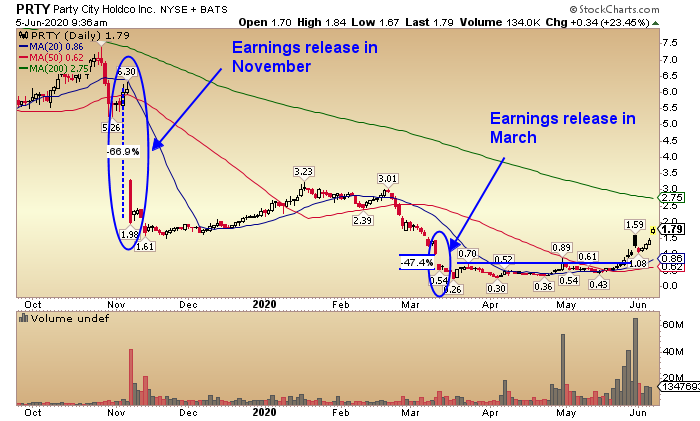 The stock dived on earnings to end 2019 and then again after earnings in March 2020…which happened to coincide with mandatory shutdowns.
Was this the end of Party City?
The consensus at the time was pointing that way, as seen in the .26 stock price in March 2020.
Well, the Beastie Boys didn't fight for your right to party just to have this place close down.
So PRTY wasn't about to give up either…
They restructured debt and found a way to make it through turning the stock into a post-pandemic stock pick…
What do I mean by that?
We knew we would come out alive, we just weren't sure when…
So the play was to buy stocks that were getting beat up by the pandemic…and then wait for the recovery.
Simple enough right?
Not so fast…while great in theory, companies were filing for bankruptcy protection left and right during 2020.
So what made PRTY a winner?
Company earnings of course…
PRTY beat the earnings estimates in November 2020, and with that it became a reopening play.
Check out the chart below…
Retail traders latched on…taking the stock from a 2.34 close the day before earnings, up to a 9.21 high in February.
Nothing is perfect though, so in March 2021 PRTY threw a curveball and missed expectations this time around, sending the stock to a low of 5.22 in April.
But getting back on track…the stock headed up into the earnings release on May 10 when PRTY beat expectations and put in a new high of 10.28 the day after reporting…
They still reported a loss but it was smaller than expected with growing revenues…and on the forefront of an economy that is beginning to reopen.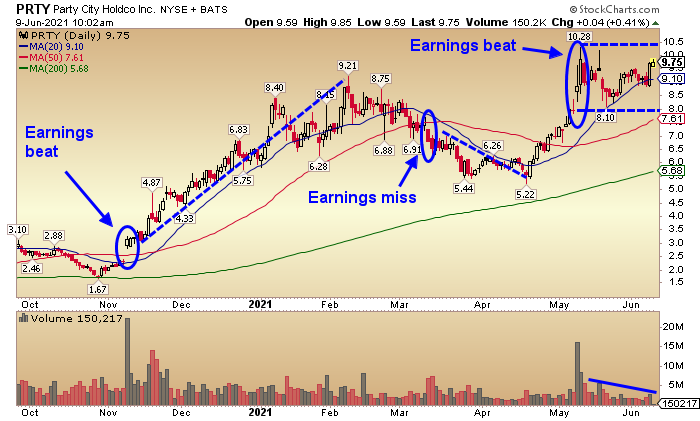 Keep in mind…company earnings up to this point are from times when most of the stores have been closed or constrained in some way.
Investors don't care about the past. They are always eyeing what's next…and that would be full reopening…and potentially revenge parties.
Heck, the 4th of July is just around the corner. And we should be well into reopening in time for Party City's biggest sales event of the year…Halloween.
What I like about PRTY right now
I have to go back to early 2019 to find the stock price in this area.
If it stays above this $9 range, I like the potential to the $12 range, but also keep in mind that the further you have to go back to find previous highs, the less important those numbers become…
In that case, I can almost look at the 10.28 as the high with no resistance above. But I personally prefer to look back just to see where it's been.
With the 12.37 high in early 2019 and then 16.95 going back to 2018…
This gives me a reference point on a break above 10.28.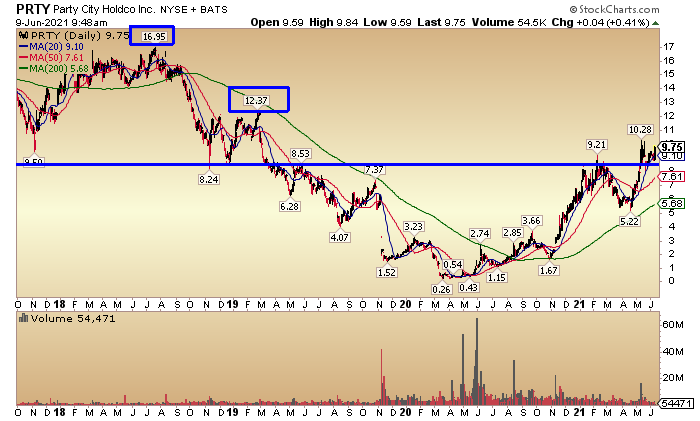 In the what have you done for me lately aspect, I'll zoom in…(chart below)
After a 5.22 low in April, PRTY began to rise into the May earnings report, hitting a high of 10.28 the day after…
It has been in a trading range ever since…you saw the "Post-Covid cup-and-handle" I pointed out earlier to my chat room.
But we also have somewhat of a flag pattern with the pole being the rise into earnings, and the flag being the current range.
It's not as tight as I would like, but volume did go down showing me PRTY is likely consolidating in this range.
If it can break out on high volume, we could see a potential move towards that 12 range…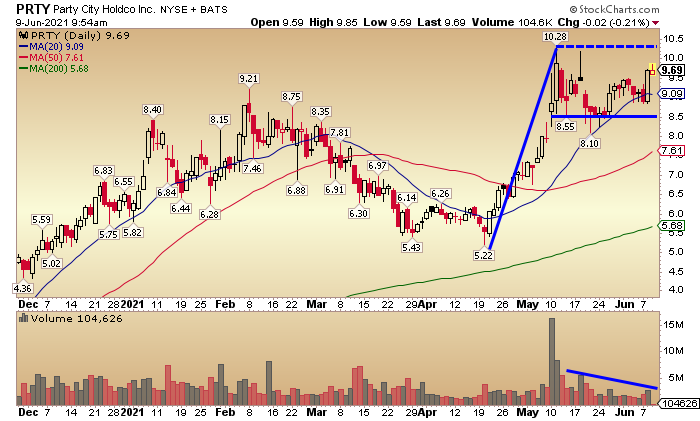 Ultimately, investors are looking for continued growth and a turn to profits for PRTY over the next year.
Which way will it go?
Time will tell, but the play waits for volume to pick up on a breakout and catch the next move.
I want to see it hold above 9 as a show of strength, and I want to see it break the 10.28 high soon.
That's all I got for you today folks…
This is just one attractive "return to normal" stock play to help get you thinking…
What else do you think might go up as things reopen or as people start to revenge spend, travel, and party?