What an opportunistic and volatile market we find ourselves in with penny stocks and small caps.
For me, this is when trading is super fun.
Not only is this an opportunistic market, but it is also an excellent time for my members to study, experience an environment with elevated volatility, and look to potentially take their game to the next level.
During periods of heightened volatility and outsized moves, it's more important than ever to come prepared each day with specific plans and a watchlist.
Today I will go over three penny stocks on my watchlist after experiencing impressive moves yesterday. These three penny stocks all show promise and potential, in my opinion, and might continue higher, and therefore they were added to my watchlist.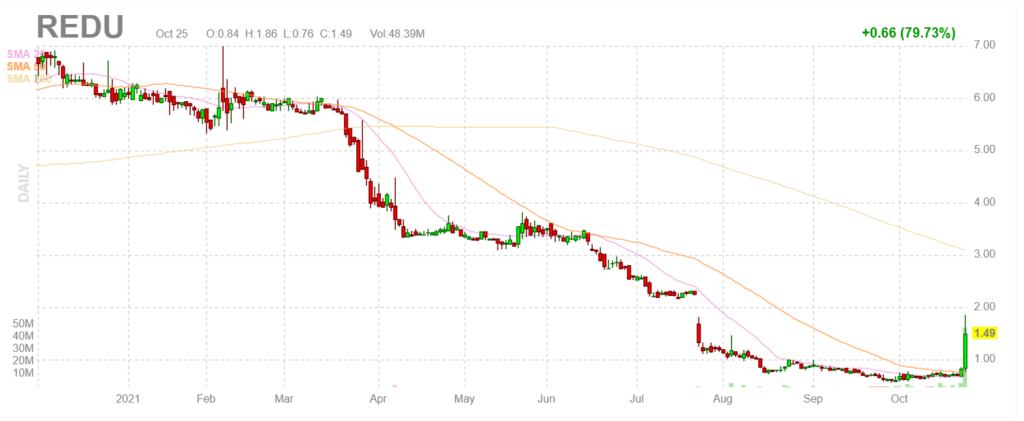 REDU closed up 79.73% yesterday and traded an enormous amount of volume relative to its average volume.
Market Cap: 72M
Float: 16.16M
Short Interest: 0.26%
Average Volume: 538K
Volume Traded Yesterday: 49M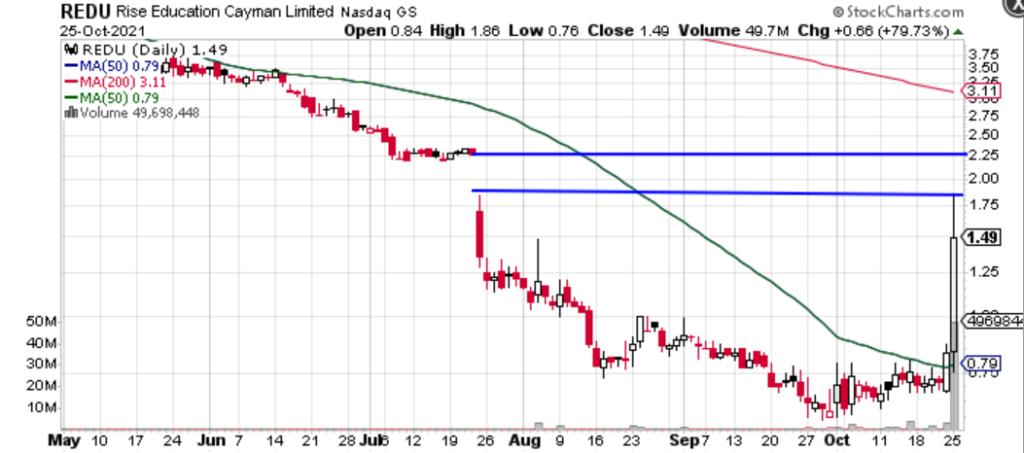 The stock made a high yesterday of $1.86 before pulling back and closing at $1.49.
I am watching this stock as the small-cap market has been on fire lately, and many names have experienced significant overnight gaps and continued momentum.
Two areas of interest for me exist around the gap fill. I'll be watching the stock to see if it can continue its momentum higher and fill the gap. If that happens, the stock will first need to hold above yesterday's high, and then a $2.25 gap-fill will come into focus.
RiceBran Technologies (RIBT)
RIBT closed the day up 17.24% yesterday after breaking out of the daily consolidation. The stock traded just over 3m shares yesterday, which represented a nice increase compared to its average volume.
Market Cap: 32M
Float: 44.86M
Short Interest: 0.91%
Average Volume: 423K
Volume Traded Yesterday: 3M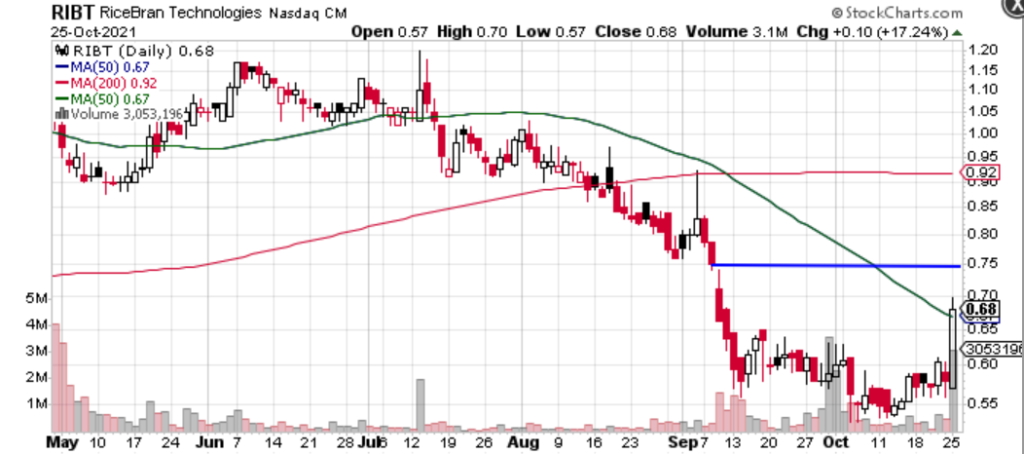 After breaking out of the consolidation on the daily, I believe the stock might trade higher, but I'm keeping my expectations realistic. 
One thing that might change my expectations of where the stock could go is if the volume were to increase substantially and the stock can continue to hold over the highs from yesterday while making higher lows and higher highs.
One area I am keeping a close eye on is $0.75. 
AIadvertising (AIAD)
After trading in a base between $0.013 and $0.019 for almost two months, the stock gapped above the consolidation resistance and experienced significant momentum yesterday.
AIAD was one of the stocks I was most impressed with yesterday! This stock closed up 122% and traded enormous volume. Volume yesterday stood at 171M, compared with the previous day's volume of 27M.
In The Trading Floor chat room, I had spoken about the stock earlier in the day yesterday and mentioned that the stock could trade to the 200d MA. Just like a magnet, the stock traded right into that 200d MA.
$0.037 and $0.038 are the next chart highs that I will be keeping a close eye on.