This is just a friendly reminder for my members that I will be on vacation from today until next Monday, but don't worry, I won't leave you hanging! I'll still be sharing ideas and case studies for the Penny Pro and Biotech Breakouts while I am away!
But before I share two promising penny stock setups, I want to share a lesson with you.
Yesterday, multiple low floats and small-cap stocks traded abnormal volume and surged higher in price.
LGVN was the most spoken about small-cap stock, as it closed the day up 181.16% before surging even higher in the after-hours session.
As I have said before, historically, November has proven to be a crazy month for small-cap, low float stocks. 
Many people might be expecting the next small-cap stock they see trading abnormal volume to go up to 2X or 3X. However, most of the time, that won't be the case. 
So, I will continue to be selective in my approach and look for confirmation. For example, I like to get long stocks that have held over support, made higher lows, or broke out of a significant consolidation on volume.
Alright, Gang, now let's look at two charts that are looking promising to me!
I included and shared both of these ideas yesterday with my members on The Trading Floor Chatroom Mid Day Watch List.
Asia Broadband (AABB)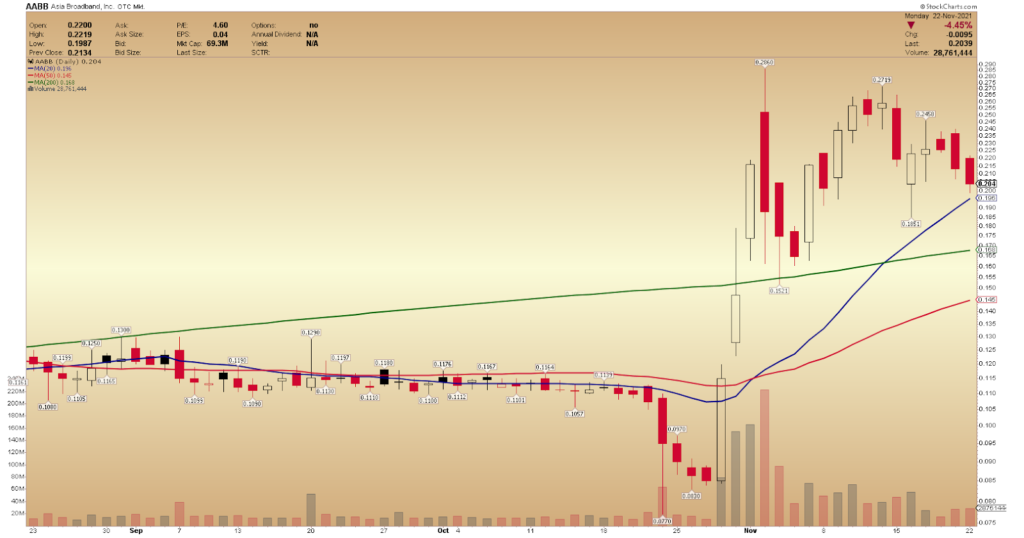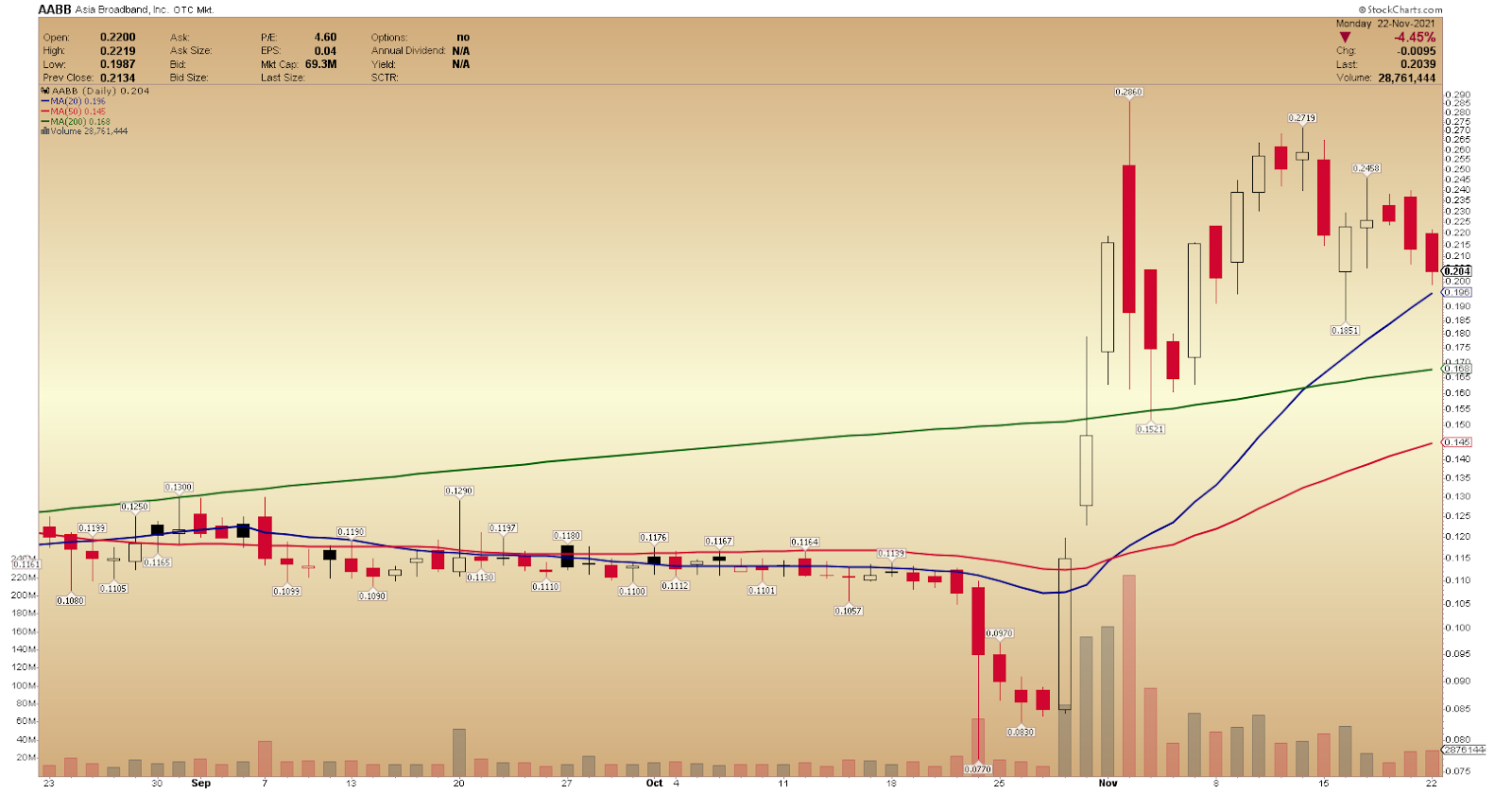 According to Yahoo, AABB, through its subsidiary, Asia Metals Inc., focuses on the production, supply, and sale of precious and base metals primarily in Asian markets. It also operates AABB Gold token, a minted mine-to-token gold-backed cryptocurrency, and AABB Wallet. 
I like the chart of this penny stock as it is now forming a symmetrical triangle pattern.
The key moving averages on the chart are all still curling upwards, indicating a higher time-frame trend up.
This is a stock that I will continue to watch to see if it can hold over $0.20 support and the 20d MA.
If the stock firms up over that level, I might target the previous chart high of $0.24.
AABB is a stock that I have previously written about and traded. So I am familiar with the way the stock moves, which can sometimes be beneficial as each stock trades differently and has its own characteristics and technicals.
Indo Global Exchange (IGEX)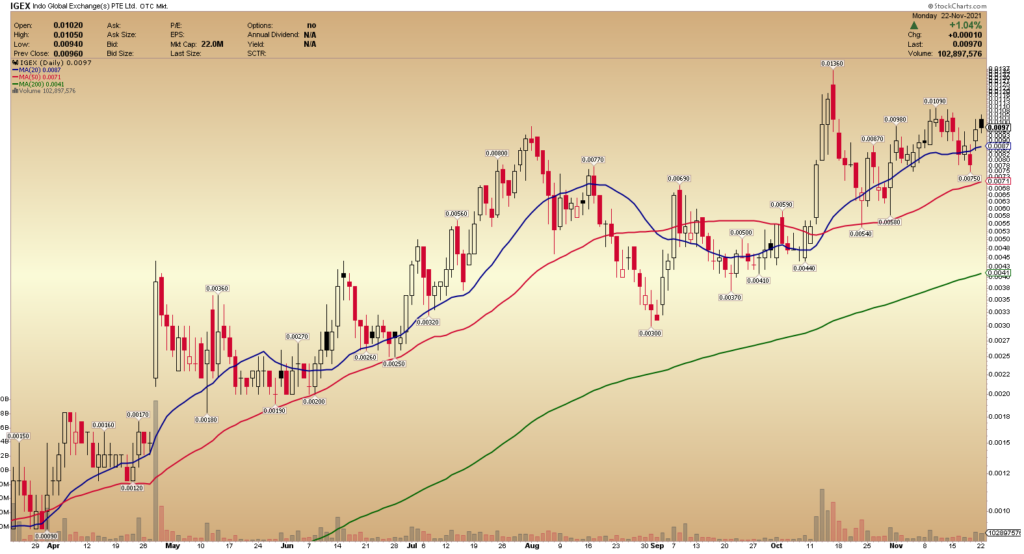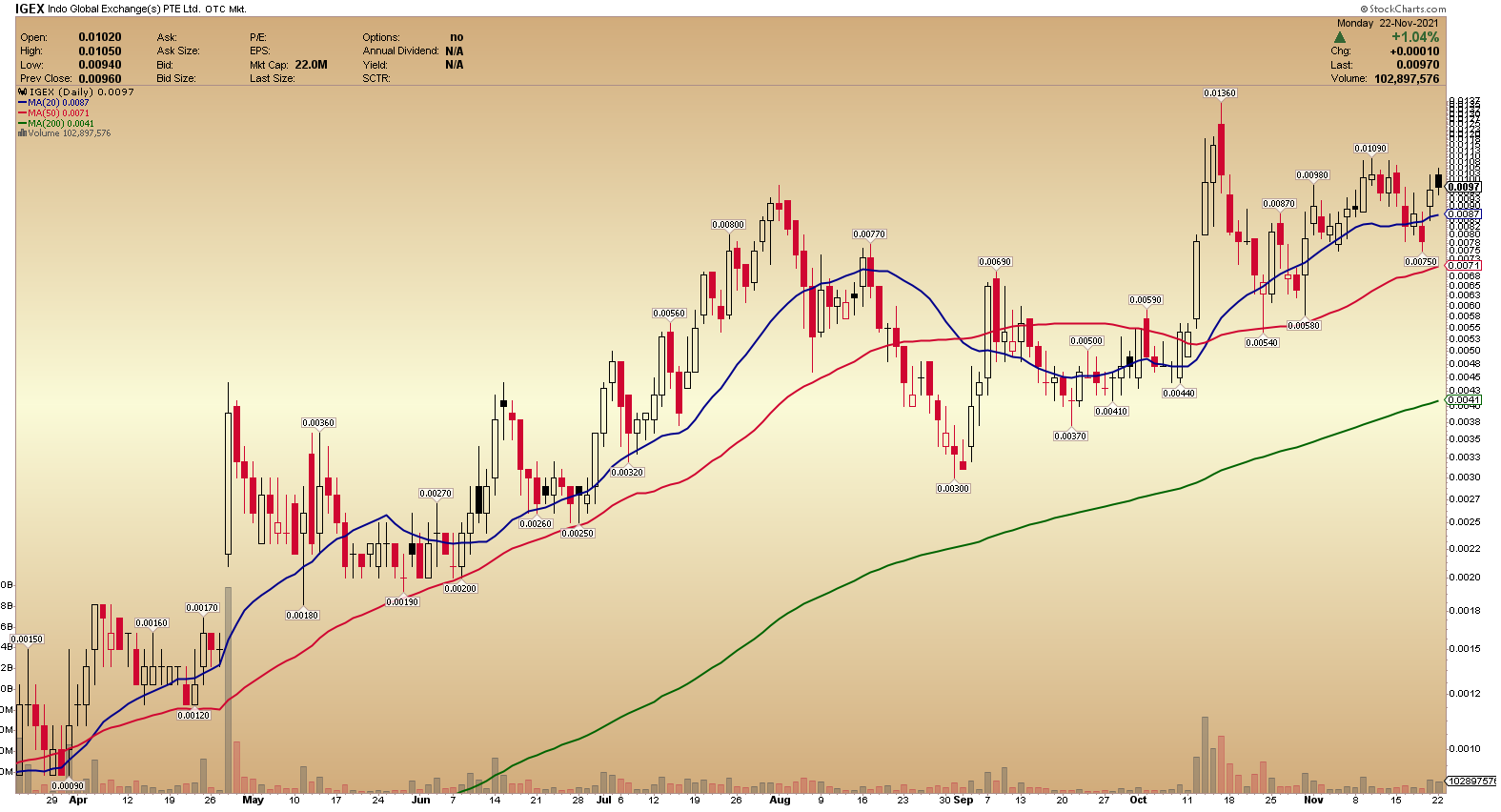 According to Yahoo, IGEX focuses on providing financial market access to customers worldwide. Its platform offers financial market access to approximately 30 equity exchanges for trading securities and contracts for differences. 
IGEX is another chart that interests me and looks promising as the stock continues to trade and hold firmly over the 20d and 50d MA.
As long as this stock can hold above the $0.009 area and 20d MA, I will continue to keep a close eye on it for a possible entry.
I am watching resistance in the region of $0.0109 and the previous high of $0.0136 as a potential target area.
If IGEX can hold over resistance, turning it into support, I will be on high alert for an entry. I will also be looking to volume to increase over resistance, which might signal that momentum and a trend higher could develop.