Sideways markets are always frustrating because it feels like the lack of movement makes it impossible to spot trades.
But that hasn't stopped my man Ben Sturgill.
Even while he's out on vacation, he's been keeping an eye on one tech stock that has taken quite a beating lately, yet still is showing signs of a potential trade opportunity.
While I am on vacation this week, I'm still lightly checking in on positions. 
With markets continuing to chop sideways, many on the Street are looking for opportunities in battered down tech that still hold massive amounts of cash on their balance sheets. 
One such name is ORCL.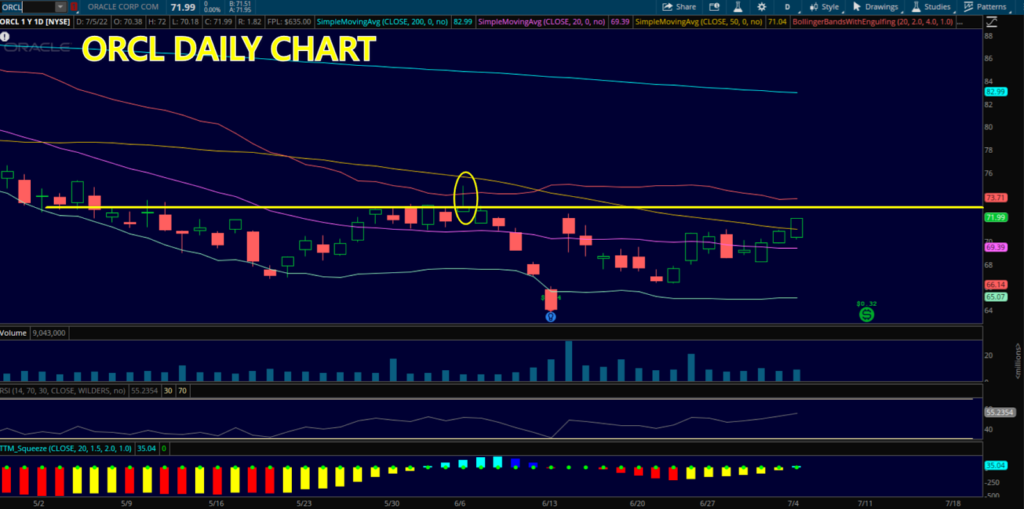 Also of note is the activity in ORCL here at these levels, as several days over the last few weeks saw 20 million or more shares trade in a single day. This looks like it could be an accumulation sequence down here.
There, ORCL could be making a run to the top of this move around $75 a share and, perhaps if this is a true accumulation sequence down here, the stock might be headed towards its 200 day SMA around the $80 to $82.99 range.
This isn't the only stock on my watchlist, of course!
There is plenty of dark pool activity out there… and it can lead to some high-quality trades.
Want to know more about my dark pool trading strategy? Click HERE.