The market has taken a spanking over recent weeks. Every time it tries to bounce it just gets sold into. The volatility is extreme. 
The Professor has identified one major vaccine stock that he thinks could go much lower. Total Alpha subscribers get access to the Professor's picks daily! 
Not only that, but every day you get access to live education and Market analysis from the Professor in Master's Club! Click Here to subscribe now!
Macro worries have sent stock markets all over the world spiraling down. Vaccine stocks should be pretty independent of the market overall. The demand for vaccines doesn't have much to do with the global economy. But the Technicals in Moderna (MRNA) are looking quite bearish, and it looks like it could head lower in the short term
The Professor has Identified a classic bear triangle setup in MRNA.
For picks like this every day of the week, and the best market education on the street click here! 
Here's what the Professor sees from the Technicals sent out to subscribers Friday afternoon:
The Professor is LIVE every day in Master's Club, running through market analysis, and usually has one or two trade ideas for subscribers every day! Mike Parks is Raging Bull's Senior Training Specialist. Mike is a veteran trader and educator and is adding a level of insight to Total Alpha that can only come from decades of experience in trading and market education.
Mike has incredibly knowledgeable on all things markets, and his talent for teaching new traders how to use market signals to choose the right options strategies is unmatched. Click here to become a part of the team! 

MRNA 4 Hour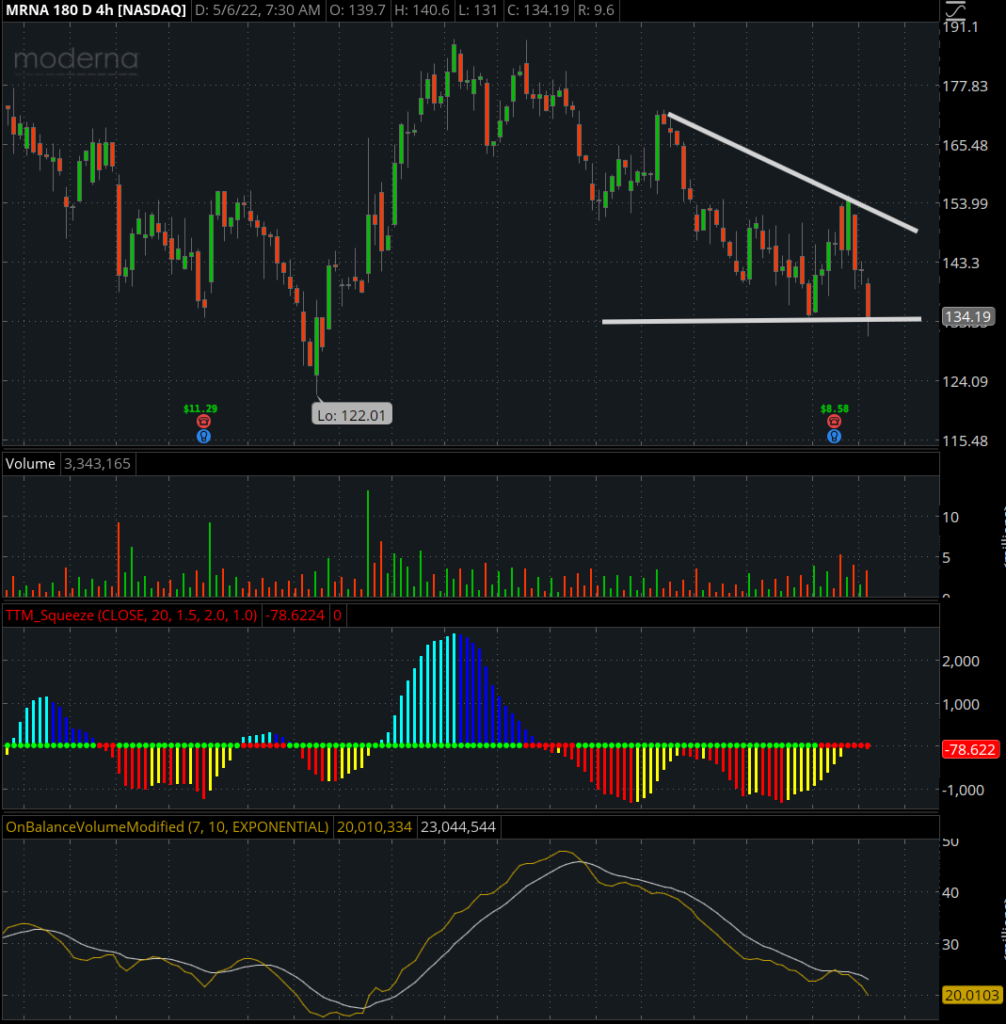 Trade Setup:
Triangle:

Bearish Triangle setting up for lower prices as traders start to press against the lower support.  If the bulls step away from here, this could start the trend to the downside.
TTM Squeeze:

TTM Squeeze is showing the calm before the storm here and the negative momentum histogram is signaling the bears are sticking around for more downside action.

On Balance Volume:

OBV Bearishand heading lower from here.
Trade Details:
Entry Close Below $133.33
Target 3 : $107.87
17 June 125 Puts 
Key Takeaway
As a trader it is my job to get long strong stocks and short weak ones. MRNA is making lower highs and lower lows. The bearish triangle is a consolidation pattern that could lead to a severe move to the downside if the support line is broken. By using puts instead of shorting stock outright, a trader is able to define their risk better, and use less buying power to carry out the trade idea. 
For great tips such as this on the daily subscribe to TOTAL ALPHA NOW!  
CLICK HERE for more details and become a part of the Raging Bull community!