Editor's Note: This was sent to subscribers of Jeff Bishop's Bullseye Trades on Monday, April 3rd, 2023.
Speaking of 🚀 "Rocket Trades," last week, we saw several great ones.  My favorite was the call on CAT to the upside on Wednesday, and then it doubled by the market close on Friday.  I was at the airport headed home when I decided to lock in the 100% winner to end the week.
Here are the copies of the alerts I sent to members before I made each trade:

Pretty awesome start to the service in March, and I am dialed in on making April an even better month for trades!
Online enrollment is open again right now.  If you want to upgrade your membership or look into any credits you might have, please reach out to Jeff Brown (jbrown@ragingbull.com) or call him at 800-585-4488, and he will get you taken care of today.
Last week with Bullseye Trades, I was able to exit my calls with a quick overnight win (we'll talk about that in the live session this afternoon), and then the stock continued to climb most of the week.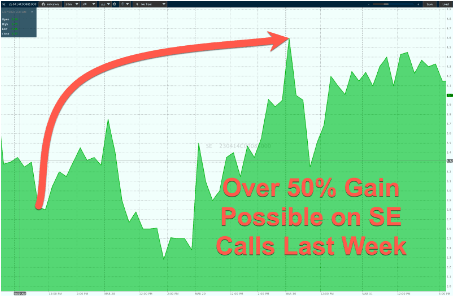 My regret for the week is that I didn't reload and buy the dip on Wednesday.  The chart was still strong, and I just got preoccupied with other trades, and I missed it.  That would have been a 100% gain overnight from the lows, but there is always another one around the corner!
For this week, I still think the market will be choppy and continue to frustrate the bears.  While I don't expect to see any significant new highs after the blowout rally last week, I do not think the market is going to roll over and give back a bulk of the gains we just saw.
The Biotech sector has been finding some life again after a dismal few months to start the year. I really like the support building up for that entire sector, and I think we will see it play "catch up" with the rest of the market soon (IBB is down 2% while the QQQ is up 20% YTD so far).
The top dog in that ETF is one of my favorite Biotech stocks, and that is what I am focusing on this week.
The company is Amgen (AMGN).
There is a lot to like about the chart setup right now.  When a major stock like this drops from $280's to $220's in a few months' time, you better pay attention.
I think we have seen the lows for AMGN for quite a while, and the bulls will take charge again.
I will walk you through everything I am seeing with the price charts during my live session @ 11am EST today so make sure you join us then!
Please note: There are two different rooms where I will be streaming live today:
👉 Bullseye Live can access the Bullseye Live room HERE.
👉 Bullseye Unlimited (or 🚀"Rocket Trades") members, you'll want to join me in The Shooting Gallery, where not only will you have access to chat during the live Bullseye session, but you'll be able to catch the FULL HOUR of my Monday live trading session… PLUS, you'll have access to my top 3 ideas each day PLUS any new trades I make during the week LIVE.
By the way, no matter what service you have, if you are not getting my real-time alerts when I am ready to make trades – 
 📱 Get the app on your phone!  📱
I always send out my trade alerts via our mobile app.  It's crucial that you download it and enable alerts so you can stay up-to-date on what is going on with my trades.  
I am expecting AMGN to have a slight dip today or tomorrow, and I plan to be there to buy it up.  I am putting my target price on the options just a little lower than the closing price on Friday last week.
If this trade goes against me, I will look to stop out if AMGN closes under $234, which is just below the mid-point of the Keltner channel.
If things go my way, I am looking at the 200-day moving average as target #1, which is around $248.  
After that, I think AMGN could see $255 before the next earnings date, which is April 26.
My Trade Details:
AMGN Apr 21 2023 $245 Call near $2.70