Editor's Note: This was sent to subscribers of Jeff Bishop's Bullseye Trades on Monday, March 27th, 2023.

If you missed
"Rocket Trades," last week, my favorite alert was on COIN puts, which soared over 250% overnight. I love walking into bad news for a stock when I am short.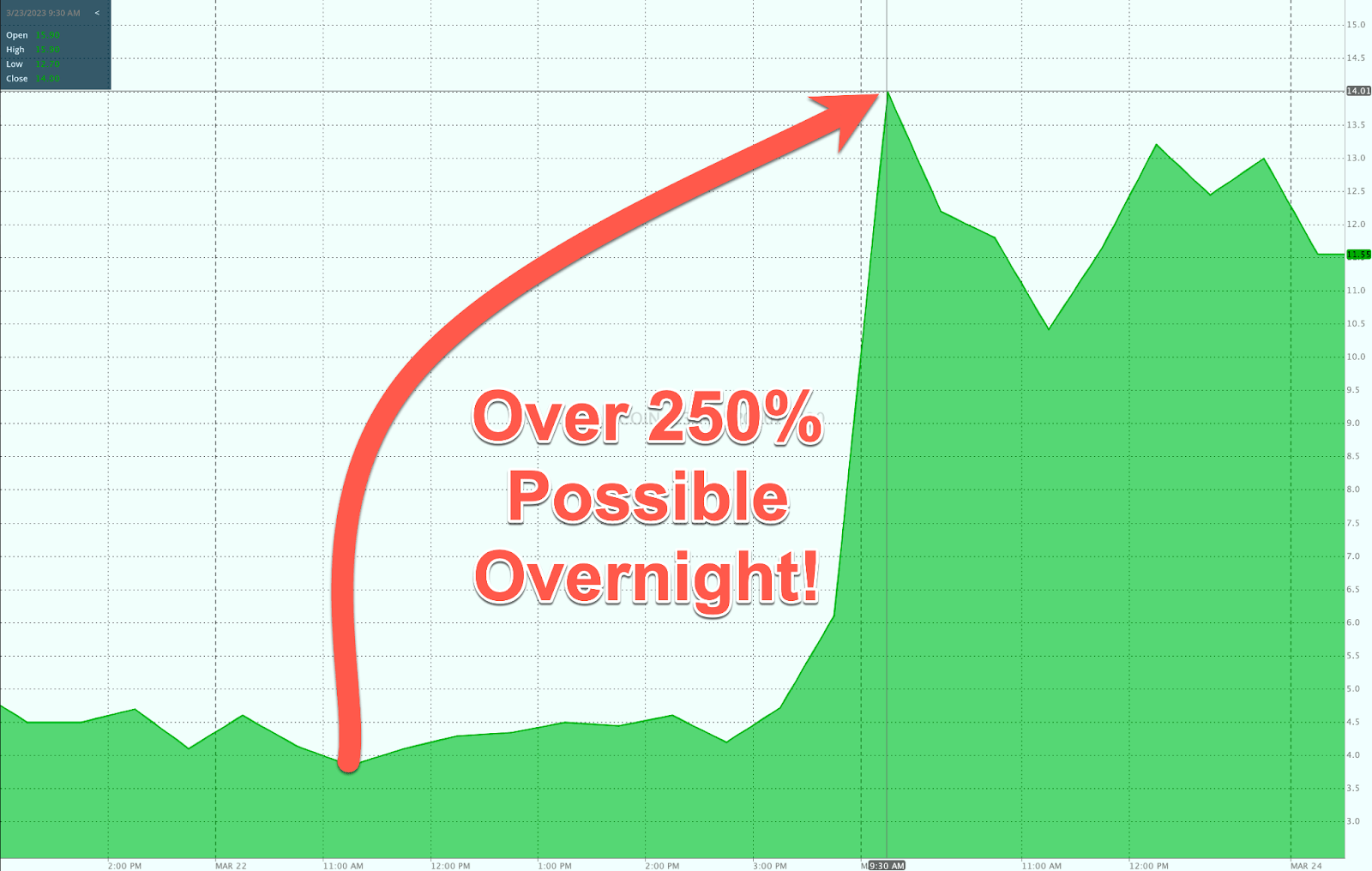 Online registration is still closed for "Rocket Trades," but if you want to upgrade your membership or look into any credits you might have, please reach out to Jeff Brown (jbrown@ragingbull.com) or call him at 800-585-4488, and he will get you taken care of today.
Last week with Bullseye Trades, I thought the alert of the week did very well.  As I expected, there was a strong bid all week long in tech stocks and SMH was a big beneficiary of it.  The options I alerted made a possible move of 90%. Just a tad shy of my 100% goal – but pretty darned great!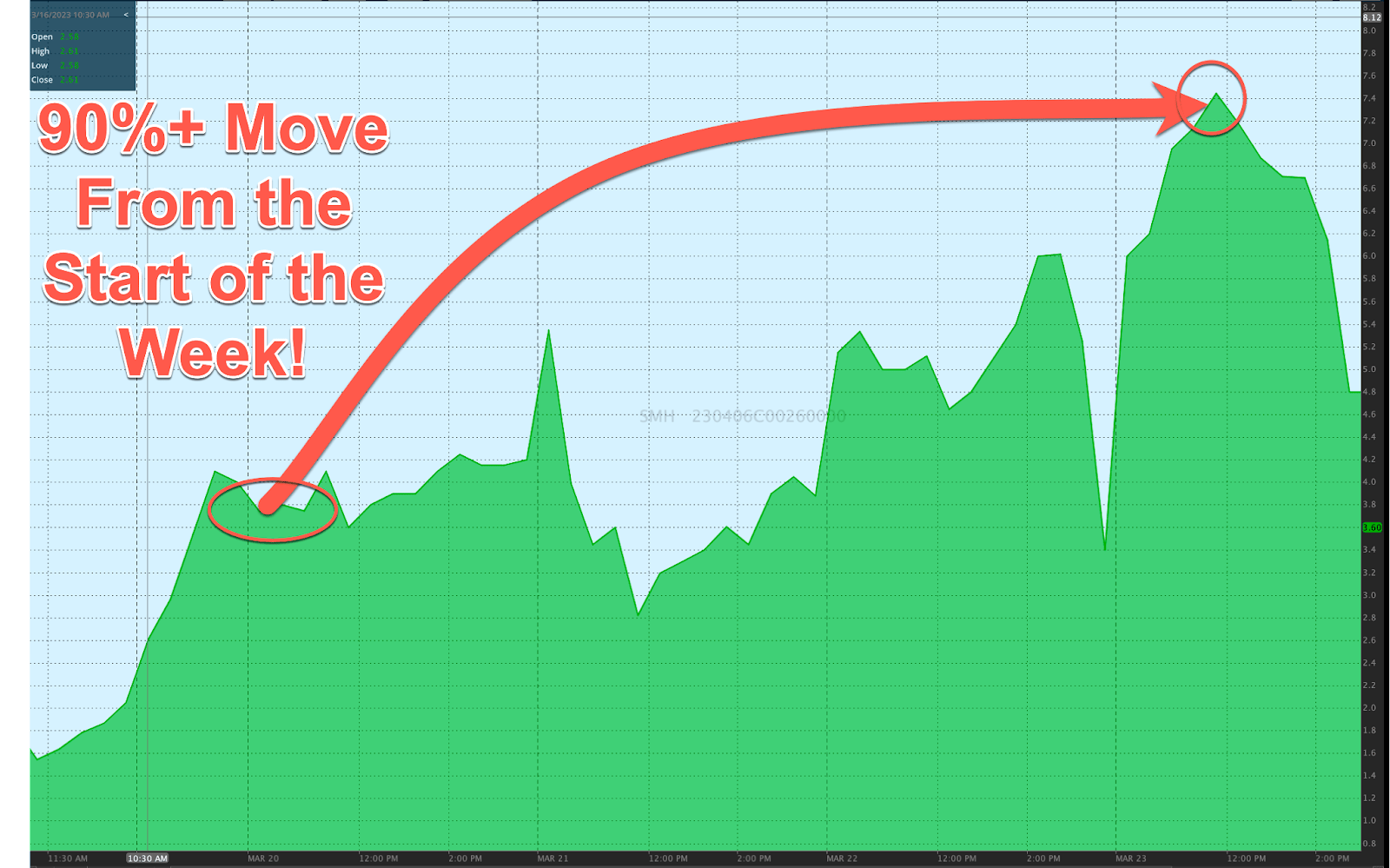 I didn't capture all of that move, of course, but I made a nice little profit on the trade myself.  I still think SMH should be on your radar.  There is a lot of momentum going for semiconductor stocks.
For this week, I am really on the fence when it comes to trading.  I think the market is going to rally for a little while longer, but a "rug pull" is likely coming where stocks will have a sharp, temporary correction.
I am going to hold my nose and continue to stay long on stocks though.
There is one tech stock that has been on my radar for a few weeks, and I think now is the time to get involved with it.
The company is Sea Ltd (SE).
SE has been on my "naughty list" for over a year as the stock plummeted from $350 to under $50.  The previous earnings report in November got it back on my radar, though. The report they had in early March really impressed me and the rest of the market, as the stock shot up over 22% after the earnings were released.
All timeframes look like a buy signal to me right now: hourly, daily, and even weekly.
I will walk you through everything I am seeing with the price charts during my live session @ 11am EST today so make sure you join us then!
Please note: There are two different rooms where I will be streaming live today:
Bullseye Live can access the Bullseye Live room HERE.
Bullseye Unlimited (or
"Rocket Trades") members, you'll want to join me in The Shooting Gallery, where not only will you have access to chat during the live Bullseye session, but you'll be able to catch the FULL HOUR of my Monday live trading session… PLUS, you'll have access to my top 3 ideas each day PLUS any new trades I make during the week LIVE.
By the way, no matter what service you have, if you are not getting my real-time alerts when I am ready to make trades –
Get the app on your phone! 
I always send out my trade alerts via our mobile app.  It's crucial that you download it and enable alerts so you can stay up-to-date on what is going on with my trades.
Subscribers receive alerts on trades, webinars, and events.
Even though I expect the overall market to pullback soon, there are not many stocks like SE right now.  I would not expect to see much of a dip there at all, and judging by the recent price action, I think those dips will get bought up.
If I am wrong, I am setting my stop with a closing price for the stock under $75, which has been the low on the hourly and daily chart recently.
If things go my way, I am looking to sell half of my position on a break above $90, and then I think $94 could come shortly after that.
Ultimately, I see this stock headed over $100 if the market can continue to drift higher.
My Trade Details:
SE Apr 14 2023 $85 Call near $3

Stop: Close below $75

Target 1: $90

Target 2: $94