One of the hottest stocks last year was ZOOM Video Communications (ZOOM). In fact, since Covid hit, ZOOM has become a phenomenon.
However, the stock is down about 30% this year, and over 50% from the highs reached last year.
Perhaps the stock price got a bit ahead of itself last year after being up over 500% in less than 12 months. The introduction of vaccines and the re-opening with employees and students going back to work and school, respectively, explains some of the selloffs.
Given the large pullback, ZOOM is now approaching possibly attractive levels. I am actively stalking this stock now for my trade setup to form and a great long-term entry.
Zoom Video Communications, Inc. provides a video-first communications platform. The company offers Zoom Meetings that offers HD video, voice, chat, and content sharing through mobile devices, desktops, laptops, telephones, and conference room systems as well as  Zoom Phone, an enterprise cloud phone system that provides secure call routing, call queuing, call detail reports, call recording, call quality monitoring, voicemail, switch to video, and other services.
Due to lockdowns during the Covid outbreak, Zoom became a phenomenon. All across the world, people began to use Zoom to interact for school, work, and to stay in touch with friends and loved ones through video chat. It became the market leader due to its superior platform. In fact, its founder, Eric Yuan used to be an engineer for the video conferencing software company WebEx, the previous market leader, which was sold to Cisco for $3.2 billion. Zoom left all its competitors in the dust, and the company became a household name as people all across the world started to use the software.
Fundamentals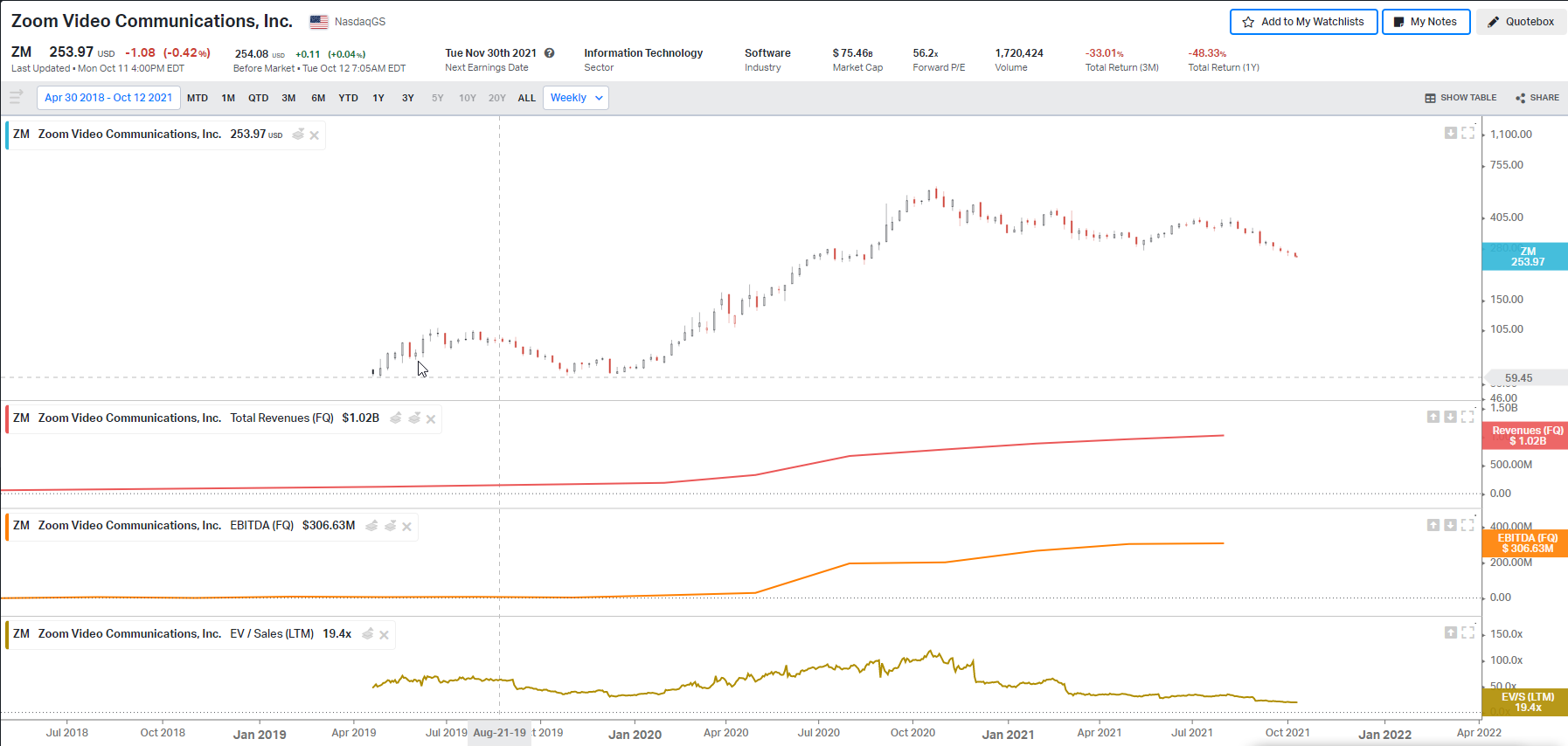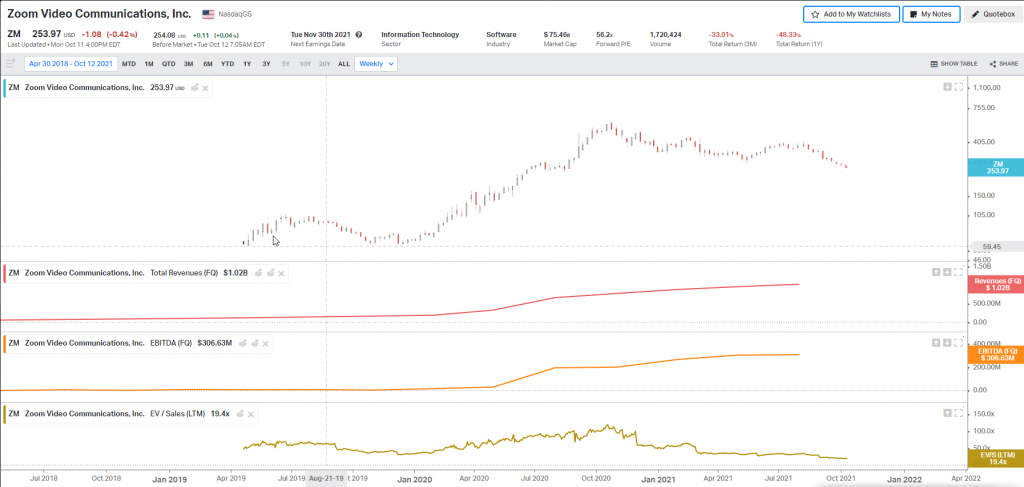 As we can see from the chart above ZM's revenue is continuing to grow quarter over quarter, however, its rate of growth is beginning to decline. This is somewhat expected as it had a boom in customers during Covid, where it was growing at a rate that at some point had to slow. The point is, the company's revenue is still continuing to grow, albeit at a lesser rate than at its peak, and due to the steep decline in the price of its stock, the company is now at a much more attractive valuation. Although it is still not cheap if looking at ratios such as Price to Sales or Price to Earnings, usually no growth stock is.
The re-opening up of the economy, businesses, and schools has meant that the Covid "stay at home" trade, in stocks like Zoom, Netflix, Teladoc, Peloton, which performed so well during lockdowns, was over, seeing a large selloff as money was rotated into other sectors of the economy. However, despite life returning closer to normal, ZOOM has become a household name. The brand recognition similar to GOOGLE (GOOGL) and FACEBOOK (FB) means that ZOOM has established itself as a part of modern culture, something that is very difficult to achieve. Thus as Covid's impact continues to lessen, I believe ZM is here to stay for the long term, and it is just a matter of time before the stock finds a bottom for the next leg up.
Moreover, over the long term stay-at-home and new ways of working remotely are being embraced. Consumer and business habits have changed since the Covid outbreak. Twitter  (TWTR) last year said its workers can work from home "forever" if they want, and Microsoft (MSFT) has postponed its return to the office "indefinitely". Facebook (FB) and Google (GOOGL) will also allow some employees to continue to work from home if their jobs can be done remotely.
Technicals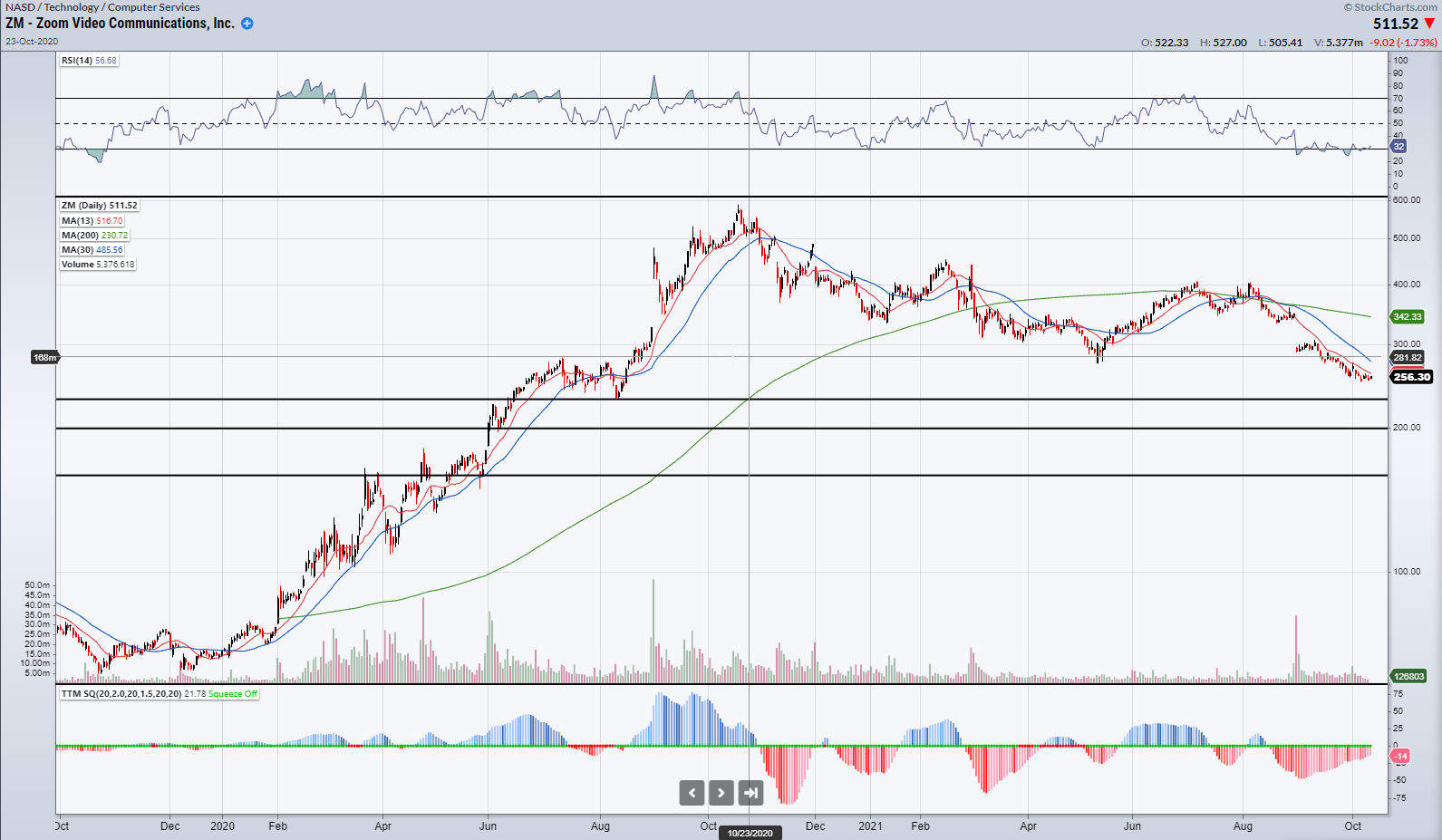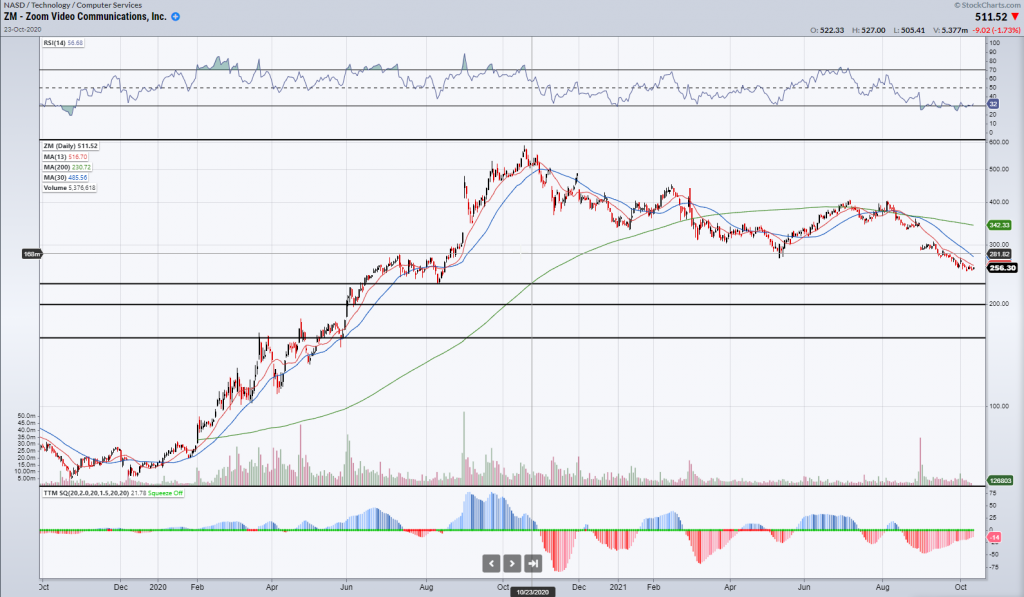 ZM is trading around the $250 level, where it has found some support over the last 2 weeks. However, all the moving averages that I look at on the daily are pointing down, a sign of weakness and a downtrend. This consolidation could be the beginning of a turnaround, and I will be watching the 60min chart closely for the beginning of an uptrend before I begin a long position. I am getting ready to enter the trade longer-term once the stock begins to trade above the daily support levels. It has been trading under them for a long time now but is getting close.
Below that, a major level interest for me is $230, a previous level of support which was followed by a move to $570. I expect this to be an area of significant potential demand. However, there are no guarantees the stock gets there in the short term. If it does, I would definitely look for a trade setup to enter long. Still lower, there are support levels at $200 and $160.
I would be looking to enter the ZM for a longer-term swing.  The first big target would be $300, almost 20% higher from here, which is the top end of a previous consolidation area. Above that, there is a gap to fil at $350. Being a momentum stock, once ZM gets going, it can move hard and fast.
ZM is a stock of interest for me coming into its earnings on November 29. Given the large selloff, I may even look to enter a position and hold through earnings on the expectation that the company may surprise the market. Any significant weakness post-earnings, I would also be looking for good setups to buy given how much I like the company and its future prospects.
Bottom Line
ZOOM was one of the hottest stocks last year due to Covid. Given the end of the stay-at-home trade, it has sold off more than 50% from its highs. However, it has become a household name, and I believe it is an amazing business long-term, having demolished its competitors to become the market leader.
ZOOM is approaching a significant support level, and although it is not quite ready yet, it is very close to forming a great trading setup. Once it begins to trade above its daily support levels, I will be waiting in the wings to pull the trigger for a longer-term swing trade.