Ever since the Donald Trump SPAC (DWAC) merger was announced, mania has returned to the market. We are seeing some moves that remind me and some of my colleagues of the 1999 .com bubble. 
These moves are a day trader's paradise, which is why I've switched up my strategy and begun trading more actively intraday. 
The setup in BKKT was almost identical to the one that happened in DWAC just 2 days ago, and I was able to make an awesome trade! In just a few hours, the stock was up over 50%. Not only that, but I called the trade out live in The Wall Street Octagon.
 I've decided I'm going to be jumping into Jason Bond's Wall Street Octagon to call out my best trading Ideas live, which Total Alpha subscribers will have free access to for the near future. Here's the live BKKT call and trade setup explained in detail:
Oct 25, 2021 at 2:24 PM –
Jeff Bishop :
I don't like it, but I am going to scale into BKKT for overnight hold as long as it holds > $22. 
Buying dips
Oct 25, 3:35 PM
Jeff Bishop (Moderator): holding BKKT (decent size) and BRPM (big size) into tomorrow.
Oct 25, 4:00 PM
Jeff Bishop (Moderator): you bet, Melinda. I forget how much I enjoy trading garbage stocks during the day instead of trying to time moves on QQQ and large caps. This is much more fun!
Oct 25, 4:21 PM
Jeff Bishop (Moderator): wow, that's nuts! I had a feeling shorts were screwed into the close on that one. I am going to hold 2000 shs for the open tomorrow and see what happens. Closed out a lot of $$ there already
Oct 26, 7:52 AM
Jeff Bishop (Moderator): last piece of BKKT sold for me now @ $48.58. Very nice ride
The Fundamentals
Bakkt Holdings (BKKT) is a trusted digital asset platform that enables consumers to buy, sell, store and spend digital assets.
Yesterday, on Monday, Oct 25, BKKT released a PR stating, "Mastercard (NYSE: MA) and Bakkt (NYSE: BKKT) announced a multifaceted partnership to make it easier for merchants, banks and fintechs in the U.S. to embrace and offer a broad set of cryptocurrency solutions and services."
"Through the power of the Mastercard network and Bakkt's trusted digital asset platform, Mastercard partners will be able to offer cryptocurrency solutions. 
These include the ability for consumers to buy, sell and hold digital assets through custodial wallets powered by the Bakkt platform and streamlined issuance of branded crypto debit and credit cards."
This news is a big deal in that Mastercard (MA), a company with a market cap of $353 billion at the time of writing, is partnering with BKKT, a company (and recent de-merger SPAC) which before the news was only valued at $2.1 Billion to make crypto mainstream. 
Given that only 2 days earlier, DWAC a SPAC merging with Donald Trump's new media companies, ran over 1000% to a valuation of over $100 billion, this news in BKKT presented a multi-bagger opportunity in what was a very similar trade.
The Technicals
I wasn't the earliest to the party in this trade. In fact when I entered the trade and called it out in the Octagon, the stock was already up over 100% on the day. What gave me so much confidence to take this trading setup? One word, volume!
You see, after digging into the Financial statements, I found that BKKT had a float of 20 million shares. However, at around 2pm when I was looking to get into the trade, BKKT had already traded 110 million shares or 5 times the float. 
To me, this meant that the algo behind the share trading was in complete control and could pretty much push the stock wherever it wanted.
Another really important point is that according to Finviz BKKT had a short float of over 30%. Thus, anyone who was short BKKT coming into the day (at around $10) was in pretty big trouble, not to mention any new shorts trying to catch the top above $20.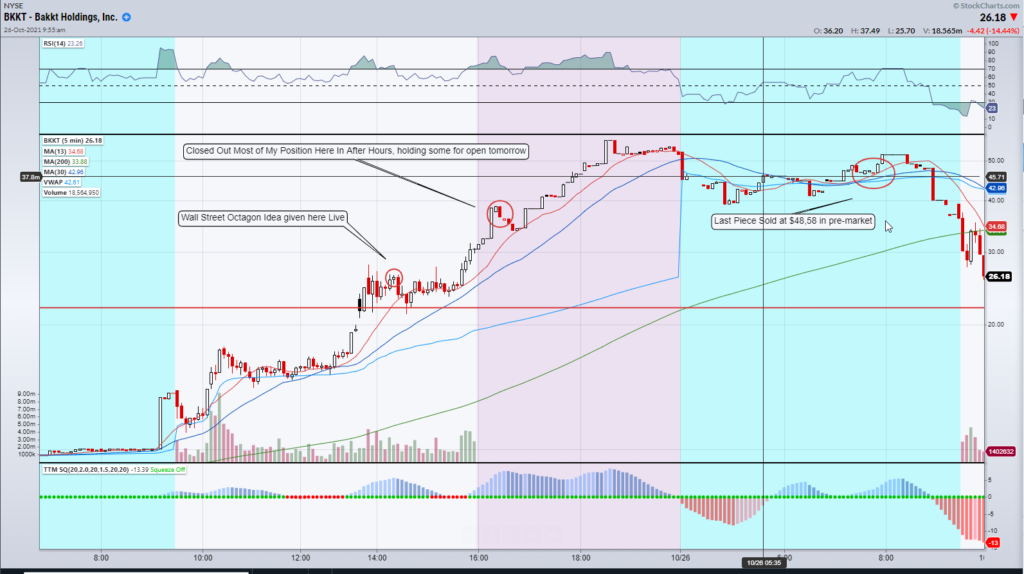 BKKT was making a perfect staircase consolidation pattern, and I felt that as long as the buyers could hold BKKT above 22 before the close this was a good gap up squeeze candidate. We had seen DWAC gap up 100% and go even further on an almost Identical pattern the day before.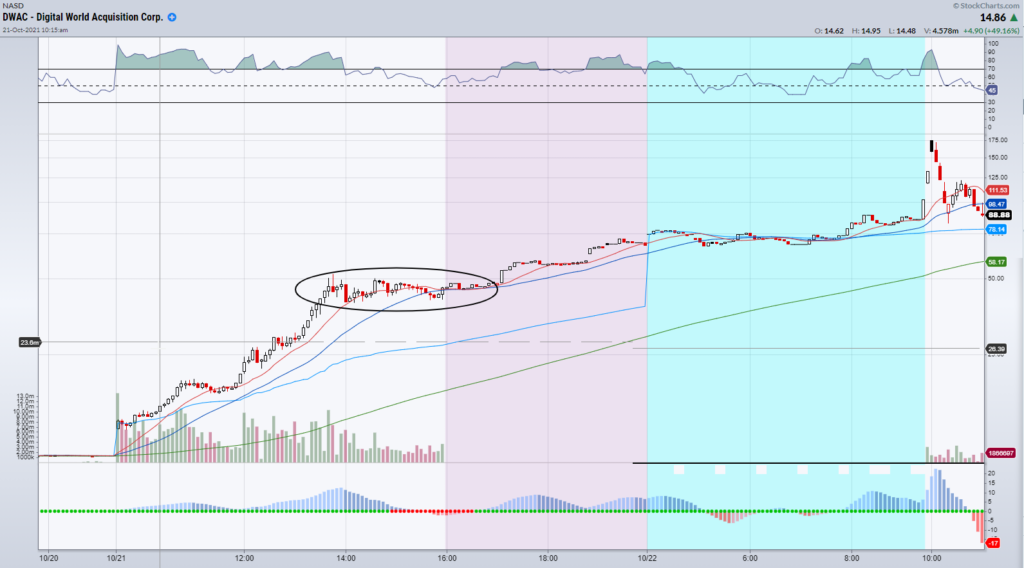 Stairstep pattern in DWAC 2 days prior 
So I pulled the trigger on a long and was planning to hold the trade overnight. The trade worked faster and even better than expected. 
Coming into the last 20 minutes of the trading day, BKKT broke out above the highs of the day and trended into the close. I took some off at $28.68 before the close, got out some more at around $38 in after-hours trading, and finally took the last part of my position off the next day in the pre-market at $48.58. 
The trade worked almost perfectly, and it was all because I paid attention to what had happened in DWAC 2 days earlier and paid attention to the volume and short float. When mania hits the stock market, the moves can be extreme!
Bottom Line
When mania returns to the market, I pay attention. A 1000% move in a new Donald Trump SPAC (DWAC) got things going. A great news catalyst in BKKT led to an almost identical technical trade setup. 
Understanding that there was a mania in the market and that it was highly likely that this unexpected move trapped shorts, I got long a classic stair step pattern in BKKT which was trading millions of shares every 5 minutes. The short squeeze did in fact eventuate, and BKKT moved 50% higher after my call in the Wall Street Octagon.