Bullseye Pick Of The Week – CVNA – Recap
My first target in CVNA this week was hit on Wednesday. Despite the market being overextended we got the euphoric rally in "meme stocks" before the rug was pulled this week (stupid BBBY derailed what could have been a MONSTER WEEK!). 
From my experience this is how big bullish market moves usually end in the short term, when junk begins to fly! Here's what happened to the options I sent out on Monday:
And here's how I traded it:

I took ½ of my position off after a 50% move so I am still in this trade! I wanted to let the rest ride because I know how crazy these meme names can get but unfortunately CVNA has started to come back down. Either way I traded my plan and made sure to lock on some gains on a great idea.
I also "double dipped" on this trade by sharing a different strategy with my "Wall Street Bookie" members who also saw another opportunity where I was able to cash in a 50%+ win in 3 days as well.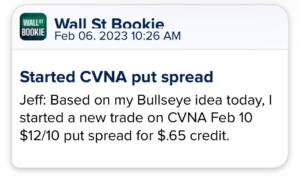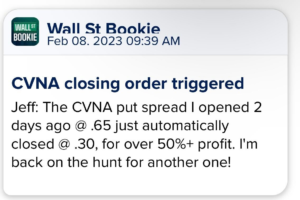 I just want to show you this to point out there are a few different ways to "skin a cat" (where did that phrase ever come from anyways?) when it comes to trading.
You can take the same stock idea and build several different strategies around it.
It wasn't just a great week for me.  Here's what some actual Bullseye Members had to say!
Brian Bradford 1 day ago
Good call Jeff! Thank you. Keep it pushing
Rigoberto Corredera 2 days ago
Jeff… TY my brother
Dan Bouchard 2 days ago
Halted!! Wow!!
Long may it continue!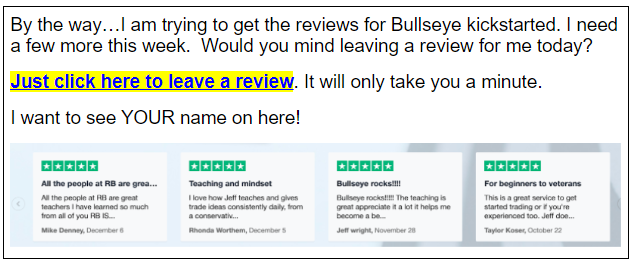 And as always, drop by during the week and leave me a message on our comment pages at the bottom of the weekly trade recaps.
Bookmark this page to quickly be able to find the game plan on my current trades and discuss with other members and me.  
Now that was the trade my Bullseye Trades members received. My Bullseye Unlimited members got even more trade Ideas and opportunities. Rather than just getting 1 idea each week, they get 3 a day.

Here is my highlight from the week with Unlimited…
I sent this out around midday Tuesday like I do every trading day for subscribers:
YETI-  YETI Holdings designs and sells products for the outdoor and recreation market. Yesterday they announced that they had identified a potential safety concern regarding the Hopper® M20 Soft Backpack Cooler, the Hopper® M30 Soft Cooler, and the SideKick Dry® Gear Case. YETI notified the U.S. Consumer Product Safety Commission ("CPSC") that the magnetic closure of these products can fail and release magnets, posing a risk of serious injury or death if the magnets are ingested.
The stock was down over 6% on the news today. YETI has failed to break above $48 resistance and looks like it could be headed for a test of $40 support and possibly lower.
My Trade Details:
YETI Feb 24 2023 $45 Puts near $3  
Target 1: $40
Target 2: $33
Those options rocketed over 85% over the next few days as YETI stock tanked!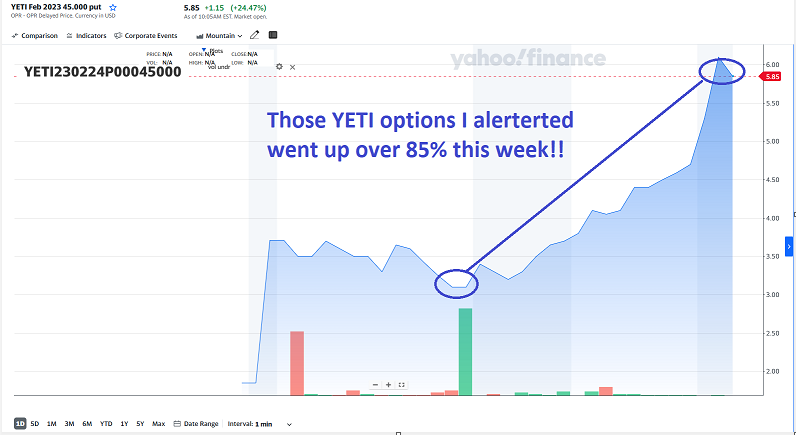 Unlimited members get live updates and alerts on all my trades. 
This one was a quick 85% trade in 4 days!
With Unlimited, here's what you get on top of the Bullseye Trade of the Week:
The

LIVE trade breakdown

and expanded updates and insights on my trade of the week and how I'm managing it

The

Top Targets Watchlist

— my 3 top trade ideas every morning

INSTANT app alerts

with the options contracts I'm eyeing when I see scanner activity members need to know about

The

"Shooting Gallery" Live Trading Chat Room

, where I'll alert members to join me for my real-money LIVE trades (with all-day access to the chat room)

The full trade details plus the

EXACT options contracts

I'm looking at

My suite of

world-class options training

education videos

And a

30-Day Satisfaction Guarantee

!
These are the tools that will help you take your game to the next level! And there's never been a better time to join.
With this RIDICULOUS 54% discount to get started with Bullseye Unlimited, there simply is no better time for you to make the move to become a more nimble, more prepared trader.
***This pricing will not last long, so you must act NOW***
I urge you to learn more here or call Jeff Brown at our VIP Team to find out more at 800-585-4488.
Or drop Jeff a line at jbrown@ragingbull.com.
VIP Rep Jeff Brown: 800-585-4488/jbrown@ragingbull.com
We're also making it easy to become an Unlimited member by providing easy to use payment plans.
To learn more, help is also available by email (Support@RagingBull.com). Don't let price stop you from achieving your goals in 2023!
We're here to help you have the best year ever – let's do it together!