Today I wanted to share with you some of my Bullseye picks over the past few weeks. My Bullseye pick is my favorite trade for the week, which I gameplan on Mondays after some heavy research and due diligence over the previous week and the weekend. 
I made a trade in the Buy Now Pay Later sector in AFRM. I exited a credit put spread at $0.35 that I sold at $1.55. I also exited calls at $17, which I entered at $10.50.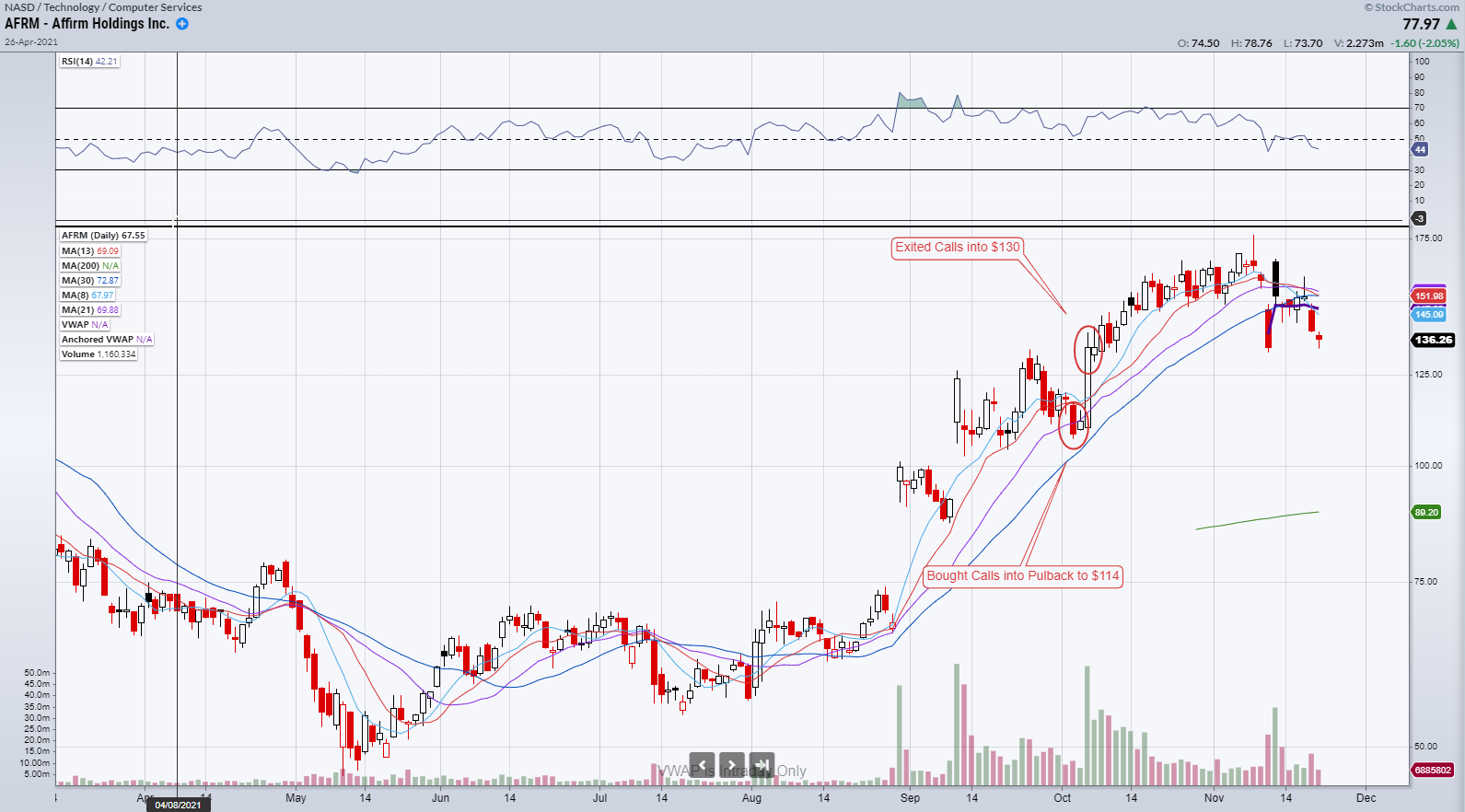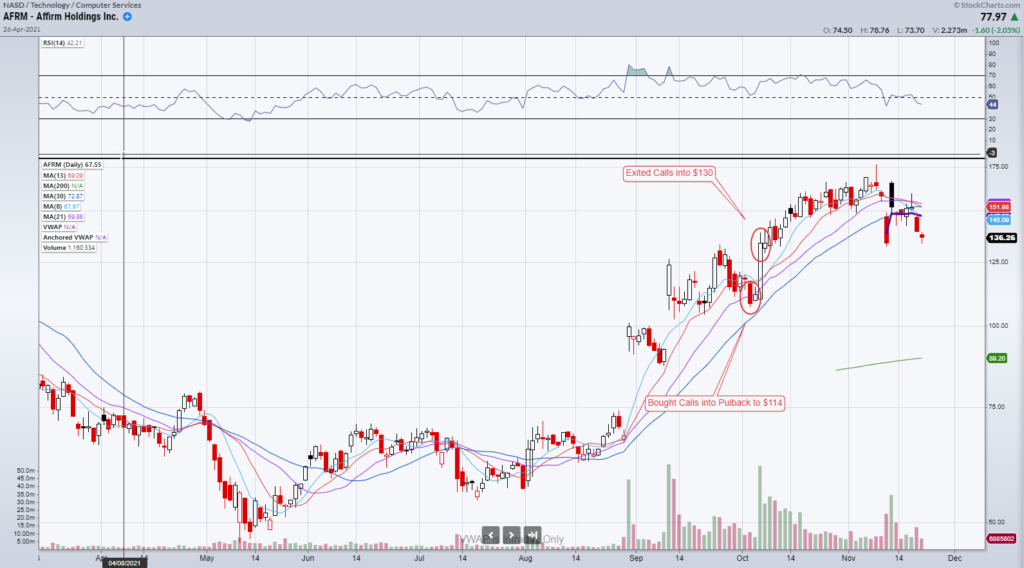 I traded RBLX after Mark Zuckerberg said he was going all-in on the Metaverse. I bought the $82 calls for $3.95 and was able to sell them at $8.87.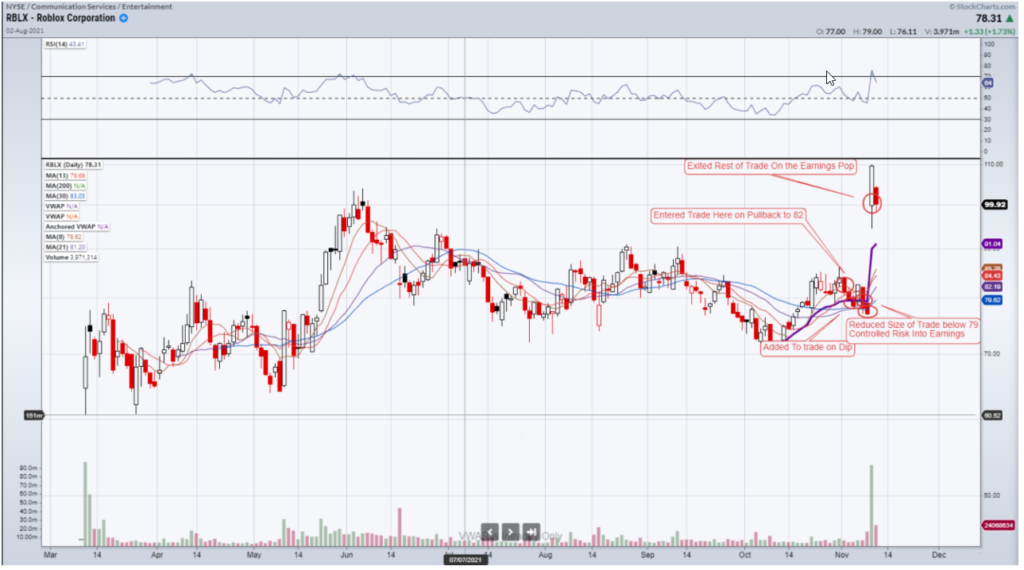 I also made a call in CHWY. I wasn't able to get a fill on my buy order though. I had a buy order in at $4.20 in CHWY to get the 62 call options. The price of the options got to $4.30, just missing my order, and then skyrocketed! The options went to $6 in about an hour.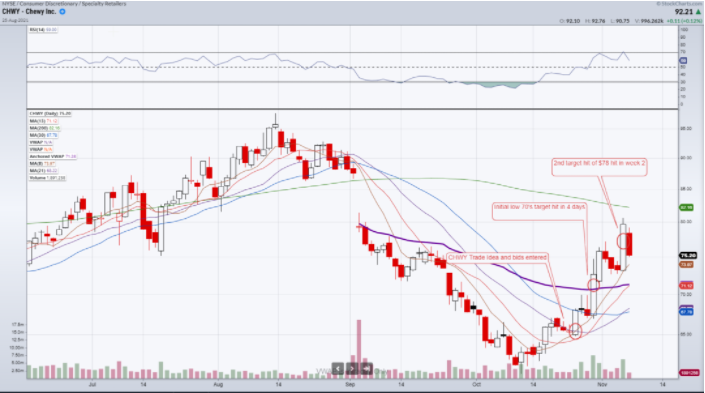 Now Here Are The Reasons Why I made These Trades.
Fundamentals
AFRM is in the Buy Now and Pay Later industry that is becoming ever more popular with younger buyers, and AFRM is the market leader! The sector is red hot with AFRM up over 100% since August, and Paypal recently acquired an Australian Buy Now and Pay Later company called Afterpay in a $29 billion deal. Afterpay was up 10 times since the Covid lows. 
As a trader, it is my job to get long strong stocks in strong sectors!
Also, given that the Christmas season is coming up soon, I expected that many retailers will be adapting AFRM on their checkout pages as they are the leader in Buy Now Pay Later. I was proved to be spot on as it was announced on Wednesday, 2 days after my trade and discussion live on that Target was partnering with AFRM coming into the Christmas holidays.
Technicals
Now, let's take a look at the technicals:
From a technical standpoint, the chart was looking perfect. All the moving averages were pointing up, indicating a very strong trend, and we were making a stairstep consolidation pattern.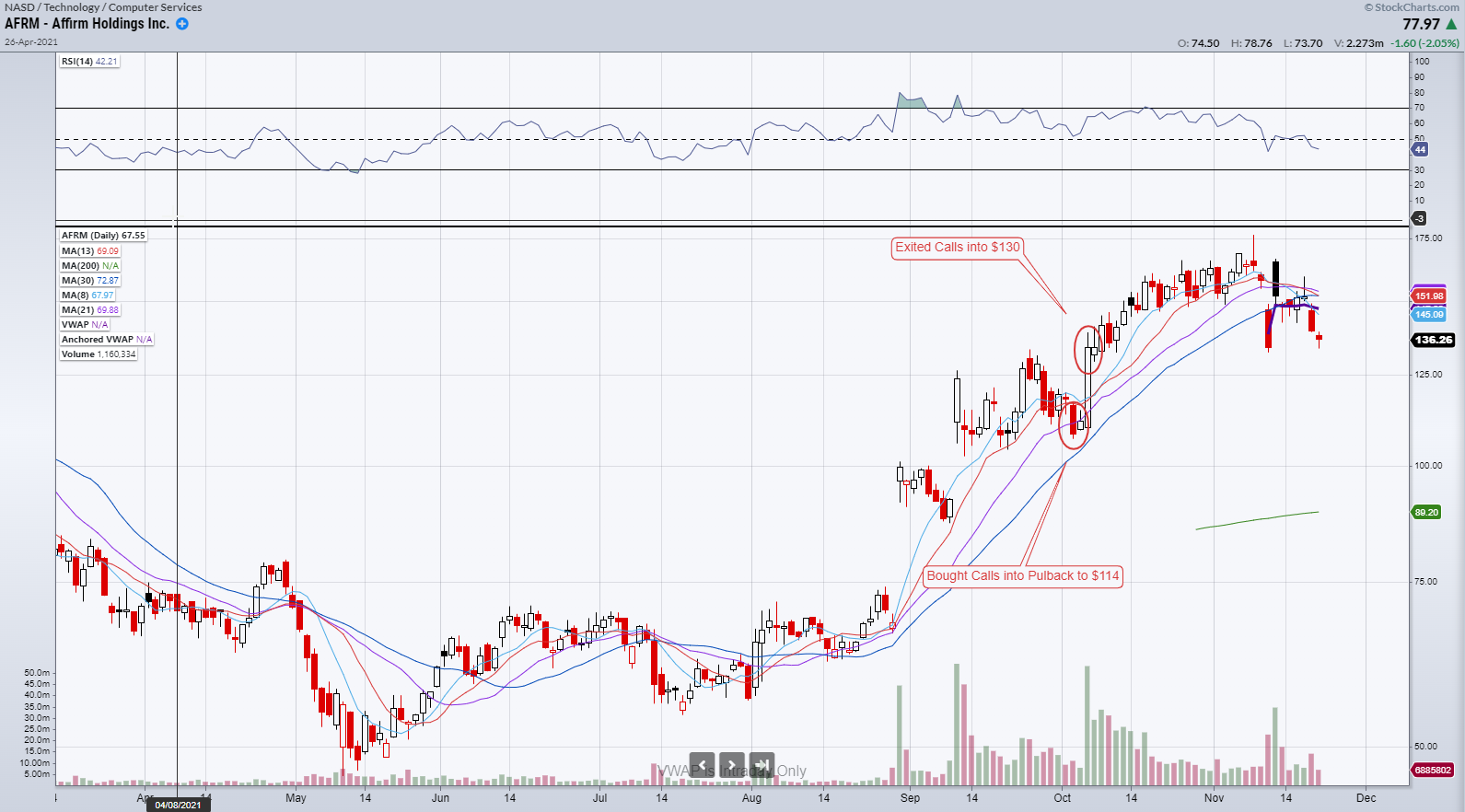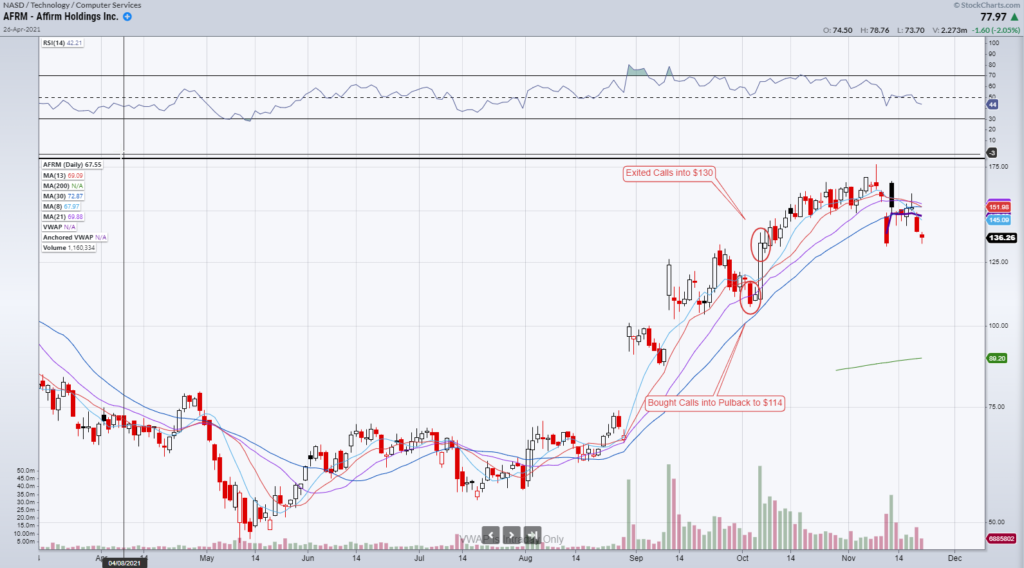 Since the first AMZN news gap, this was the second set of steps, consolidating higher. 3 inside days indicated that an explosive move was on the horizon given how tight the range had become….
….Even in a very weak market, with both SPY and the QQQ's selling off in recent weeks, AFRM was holding and making a base higher, showing relative strength. To me, it was a great risk/reward setup to buy at the bottom of this range.
The Trade
Below is my AFRM trade:
My Trade Plan Recap:
My Target: I plan to scale out of half of this trade near $130, which is the recent high.

I want to look to protect the remaining half at breakeven or shoot for $140+ if we see a surge past the all-time highs.

My stop if we close under $107
My Trade Recap:
Exited credit put spread at $0.35, sold at $1.55

Exited calls at $17, entered at $10.50
As of the week of October 4, 2021, AFRM went from $115.85 to $141.10.
RBLX
Fundamentals
Mark Zuckerberg shocked the world when he announced that he would be changing his company's name from Facebook to Meta and that he would be going all-in on the Metaverse. As a trader, I understood that this unexpected news could increase demand for Metaverse-related stocks.
Personally, I don't want to live in the Metaverse. I like the Realverse!. 
But the next generation, my kids, your kids, that might be a big part of their lives. 
Roblox (RBLX) has one of the most vibrant "Metaverse" communities for the younger generation. It has tons of users aged in the single digits to teens and now has more and more advertisers due to this audience. The audience is super engaged, and the stock had everything I was looking for from the Metaverse side! 
Here's how I traded it: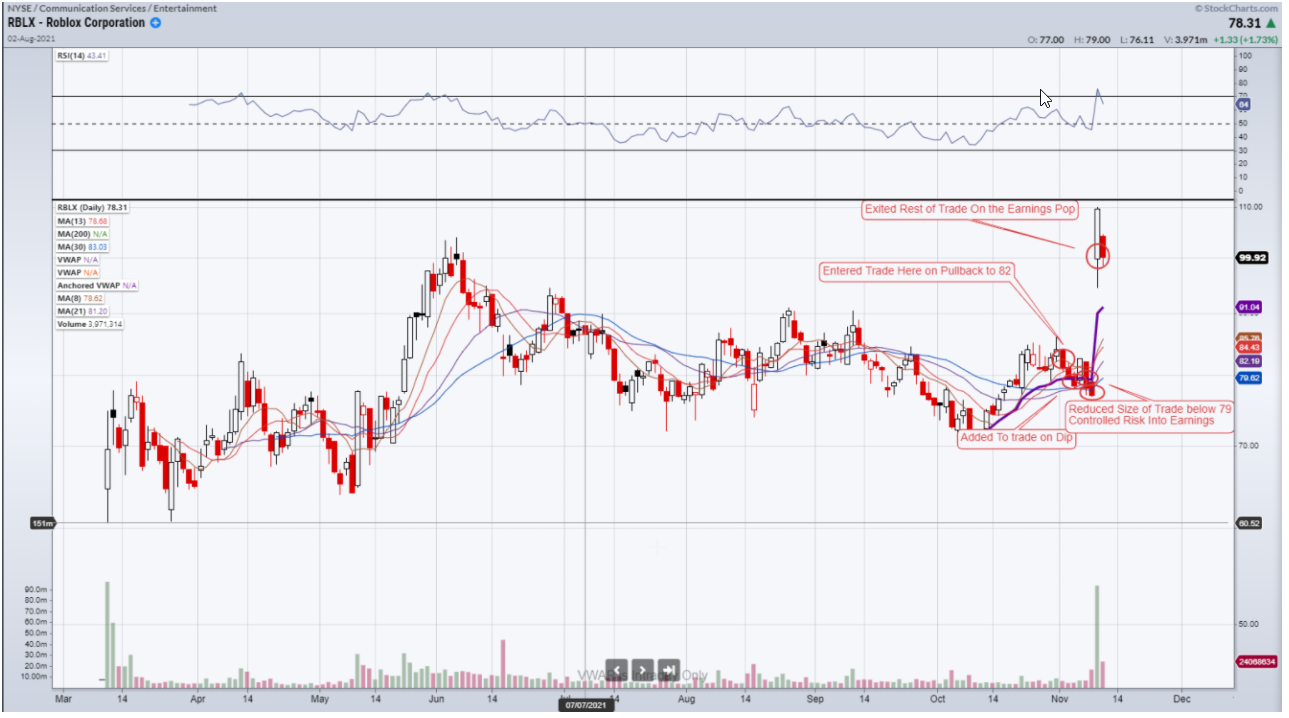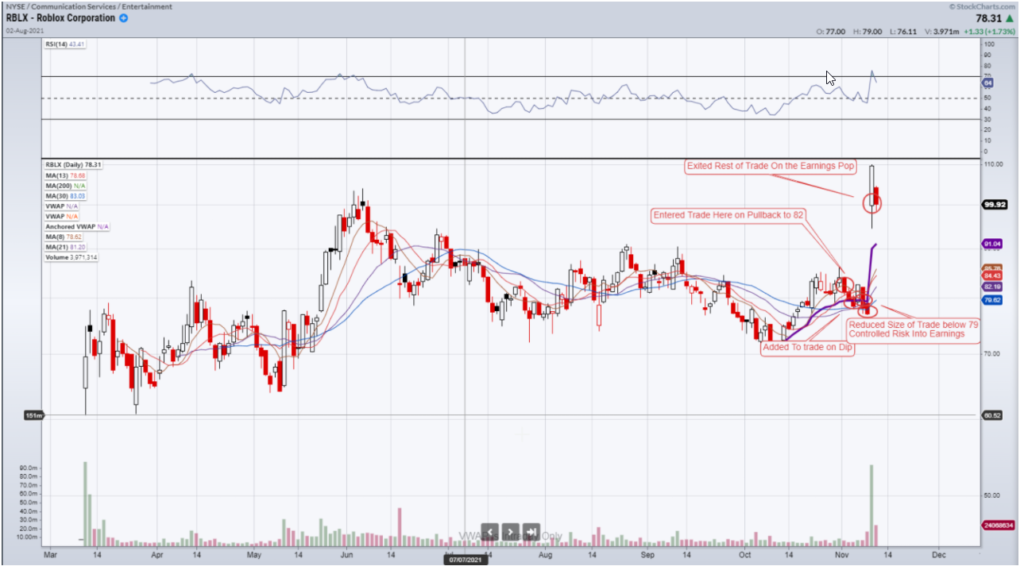 CHWY
There's a difference between buying bad companies in a downtrend and good companies on a pullback! It is being able to distinguish between these types of nuances that separate good traders from bad. 
CHEWY INC (CHWY) was a phenomenal stock running from under $25 to $110 until it gave up all of its gains for the previous 12 months. 
However, when you've got high growth, momentum, and market favorite stocks like CHWY, these are the type of stocks I want to buy on dips. I look for pullbacks in strong momentum stocks and wait until they form a base. 
Unfortunately, I didn't get filled on my buy order and missed the boat. However, the lessons and reasoning behind this trade idea are invaluable.
Here Was how The Trade Idea played out: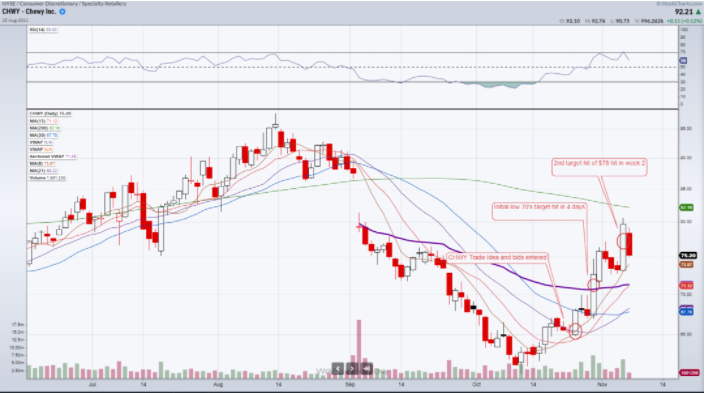 When you've got high growth, momentum, and market favorite stocks like CHWY, these are the type of stocks I want to buy on dips. 
I look for pullbacks in strong momentum stocks and wait until they form a base. In my opinion, CHWY is a great company. Some bad earnings brought the price of the stock down. Making the most of bad news is how you can get stocks at a discount. A stock needs to have bad market sentiment if you want to get discounts on stocks you want to own!  
CHWY was starting to consolidate at $60, a major daily technical level from last year which started the move to $120. This was a great spot to make a swing trade as the stock was down almost 50% from February's highs. The stock proceeded to move up 15% in a week. Although I missed the entry, my reasoning for the trade was spot on!