Even as the market has been trading near all-time highs this week, I've had my eye on a number of important stocks that are showing significant downside potential.
Even when the major market indices are making new highs as they have been of late, history has shown that, beneath the surface, there's constantly rotation and turmoil occurring across different sectors. 
The stock I am planning on trading bearishly happens to be a part of the Casinos and Gaming Industry within the Consumer Cyclicals sector, and I am so confident in its bearish path forward that I am looking to buy straight puts to capitalize on aggressive downside movement. 
Penn National Gaming, Inc (PENN) is struggling to find traction since a weaker than expected earnings announcement and the new scandal with the Barstool Sports CEO, Dave Portnoy.
According to Yahoo Finance, Penn National Gaming, Inc., together with its subsidiaries, owns and manages gaming and racing properties, and operates video gaming terminals. It operates through four segments: Northeast, South, West, and Midwest. The company operates live sports betting properties in Colorado, Illinois, Indiana, Iowa, Michigan, Mississippi, Nevada, Pennsylvania, and West Virginia; Barstool Sports, an online sports betting app in Pennsylvania; and online social casino, bingo, and online casinos under the iGaming name in Pennsylvania and Michigan. It also owns and operates horse racetracks in West Virginia, Pennsylvania, New Mexico, and Ohio; and harness racetracks in Maine, Ohio, Pennsylvania, and Massachusetts. As of December 31, 2020, the company owned, managed, or had ownership interests in 41 gaming and racing properties in 19 states. It owns various trademarks and service marks, including, Ameristar, Argosy, Boomtown, Greektown, Hollywood Casino, Hollywood Gaming, Hollywood Poker, L'Auberge, M Resort, and MYCHOICE. The company was formerly known as PNRC Corp. and changed its name to Penn National Gaming, Inc. in 1994. Penn National Gaming, Inc. was founded in 1972 and is based in Wyomissing, Pennsylvania.
The stock was absolutely crushed by 21% on November 4th after the release of its 3rd-quarter results. 
If that weren't enough, on the same day an article put out by Business Insider alleged that David Portnoy, the president of Barstool Sports, a company that Penn National Gaming owns a large percentage of, engaged in potentially violent sexual acts with several women.
To be fair, it's still not clear if those allegations are true, and Dave Portnoy, through his attorney, has vehemently denied the accusations.
According to PENN's stock price, though, the damage has been done, and is potentially long lasting. 
Specifically, as Figure 1 shows, shares of PENN have crashed below the neckline of a large topping pattern and the Anchored VWAP emanating from the COVID crisis lows in the past two weeks. 
Simply put, THAT'S NOT GOOD.
Figure 1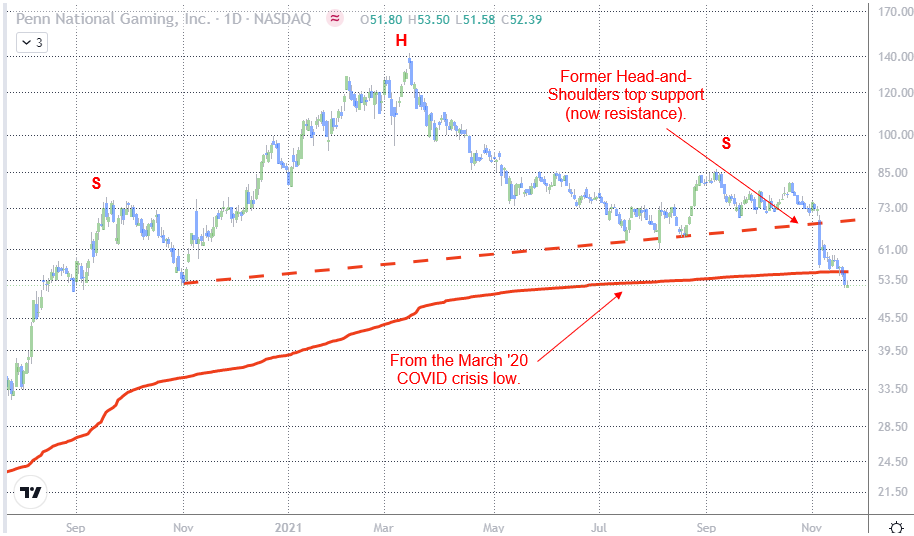 As PENN continues to fall from negative publicity along with the negative pressure on the sports betting industry, I am looking to sell short this stock on the next bounce higher.
PENN finished the week trading near 1-year lows, confirming that the bears are in full control of the stock.
Right now, there is support around the $50 area, which is a psychological support level that coincides with the pivot lows of November 2020.
But with such negative news and press releases around this company and their CEO, Dave Portnoy, I wouldn't be surprised if the buyers are destined to stay far away from this stock for a while.  
If buyers fail to show up to defend the $50 area, I would expect the $25 price level to be tested as that is the next significant pivot area and consolidation that was made back in July of last year.
If there is any little blip to the upside, I'll look to buy puts for a drop lower that I'm expecting to happen once the $50 price level is breached.
Here's the trade that I currently have working.
Figure 2

In addition, there are headwinds within the gaming industry that are also in the mix here.
Specifically, after enjoying an epic boost from stay-at-home gamblers during the height of the COVID-19 pandemic, there's been a slowdown in online sports betting. 
Sure, this industry may have strong growth prospects over the long-term, but everything in markets is cyclical, and right now the cycle is still in a downward trajectory for this industry.
To YOUR Success!