Want the inside track on the next big short opportunity?
You've come to the right place.
Don't just think of earnings season as being the best time of year to get into trades with relatively high volatility potential before they happen.
Think of it as a great time to find the greatest number of trades that have gone too far, too fast, and are vulnerable to a reversal.
That's why I keep a special watchlist of companies that reported during the prior earnings season and are now growing close to retesting those levels.
Especially those companies that saw massive gaps form as a result of those earnings. 
As you know from Monday's Weekly Bullseye update, after one of the best January's ever, I am looking for opportunities to short the market soon.
I am not looking to shift my entire portfolio to bearish, but I am certainly looking for setups where stocks have simply rallied too far, too fast to continue without first taking a breather.
And one of the many names I have been discussing with my Bullseye Unlimited members each day so far this week is CALM.
CALM disappointed the market when it surprised by -4% on its EPS during the company's 12/28/22 earnings report. 
The market was so surprised by this that the stock left a MASSIVE 4.4% downside gap the next day.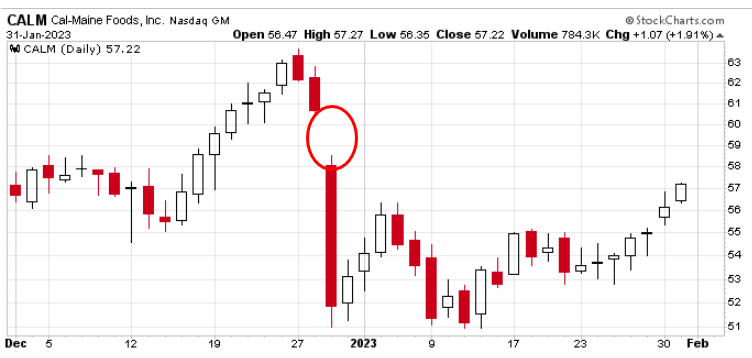 These guys sell eggs.
You've seen the egg prices at the store lately, how are these guys not rolling in cash right now?
Like many other stocks, though, CALM has been ripping higher in January…but may be close to running out of steam.
If you have not learned by now – I DO NOT chase stocks! 
Over 20+ years of trading and educating folks on how to trade, I have also taught thousands of students the pitfalls of chasing overbought or oversold options.
Sure, on rare occasions chasing works.
But now that the Fed has removed the punch bowl, the odds are no longer in a retail trader's favor for such trades to work.
When stocks have run too far, too fast, the premiums on those options simply become too darn expensive – and I refuse to overpay.
Instead, I have made a career out of teaching retail traders the value of sitting patiently and waiting for THE RIGHT SETUP.
You witnessed, first hand, how I executed this strategy last week with my Weekly Bullseye pick in SPLK, which made over a 100% move. (did you catch a piece of that one?)
Hopefully you are watching this week's Bullseye Trade on MRNA, which is a stock I am betting against.
Those options are already up around 200% in just 3 days! (please don't tell me you missed that one? That was a cupcake trade! 🧁)
I love betting against companies because they tend to crash so fast when they do break down. 
Now, I am setting up for a possible short entry in CALM based on everything I am about to show you.
As this chart shows, I have combined 2 VERY POWERFUL technical tools to create the entry portion of my trading plan: 
The 12/28 to 12/29 earnings gap

My CUSTOM Keltner Band strategy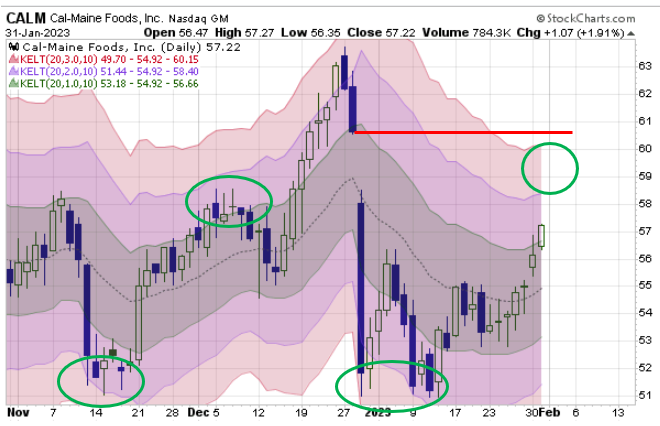 As the green circles on the chart show, my customized Keltner Band tool has captured the big reversals in CALM recently, just like it was designed to do.
As I wait for CALM to meet my criteria, I also know there's always a chance the stock won't enter my sell zone.
And that's just fine by me, because I know there are thousands of other stocks with tradable options that I can choose from as my next big trade idea.
That's why I have a list of at least 20 other stocks I am getting ready to pounce on, and I am discussing them DAILY with my Unlimited members. 
Each day, I am seeing more and more Weekly Bullseye members recognize the value of this more active strategy.
Just like this trade alert I just sent Unlimited members: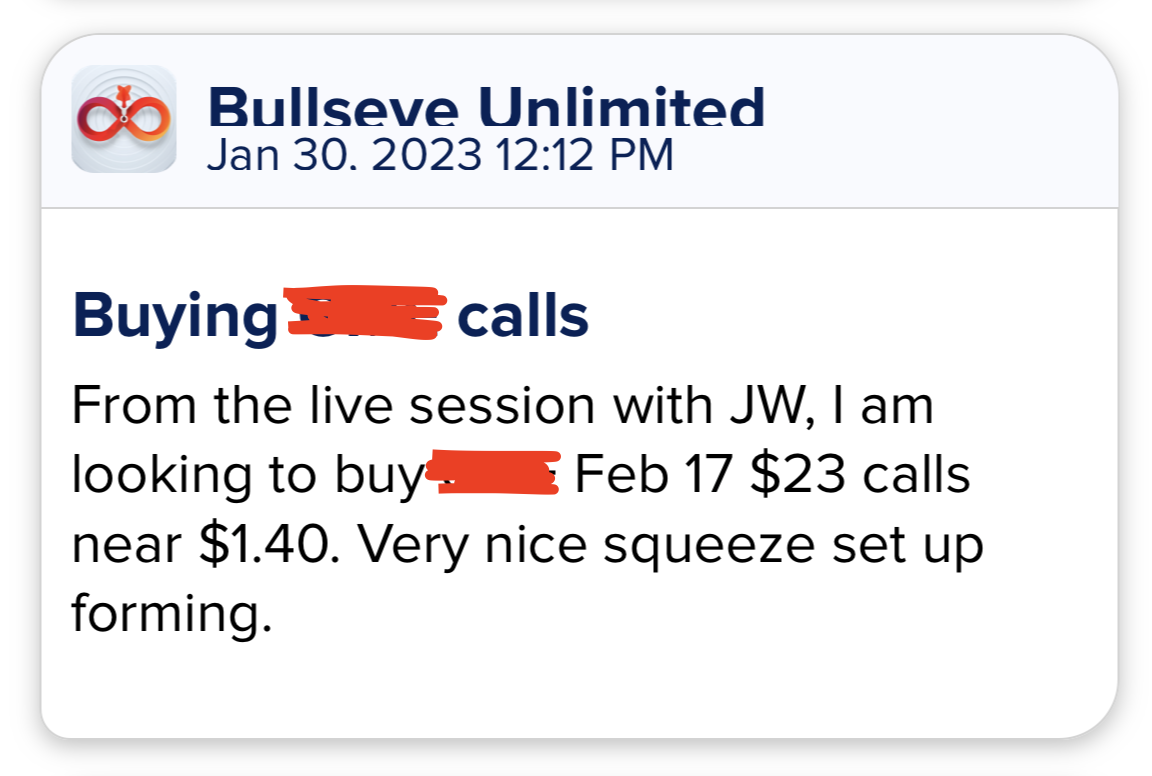 (I can't give away great ideas like this, but you can become a member right now!)
But, don't worry!  If you join along with them and upgrade to my community of active Bullseye Unlimited members, you'll still receive my Weekly trade idea each Monday morning.
On top of gaining a much larger list of trading ideas, I am also keeping these members informed of how I am managing the ideas that I actually alert them to and executing on myself.  
They also get access to:

Members only trading room

Exclusive live training sessions

INSTANT App alerts throughout the entire week of multiple trade ideas
And the coverage does not end there!
Unlimited members also receive my Top Targets Watchlist, which provides a daily short-list of my top 3 trade ideas I'm looking at for the day, based on scanner activity and analysis from the Unlimited Octane Scanner.
Folks, EVERY morning I send out an email with my top 3 trade ideas shortly after the open, along with a market overlook and real-money portfolio updates.
I also send INSTANT App alerts every time I am ready to make a new trade from that list.
Then I bring it all together in The Shooting Gallery – my exclusive LIVE trading chat room – when I see activity that I'm looking to set up a trade on.
These trade ideas also get posted to the Gallery's Trading feed so members can see the EXACT contract I'm looking to trade (***even if they miss the live session***) and go over specific trades or questions.
As always, Unlimited members get unrestricted access to ALL the educational materials I wish I had when I first started out trading options over 20 years ago. 
When I tell you that I can feel 2023 is going to be a WILD year, I mean it.
Just recently, I gave members 2 monster alerts with triple-digit potential on VEEV and URI (well, this one had over 300% potential, but who's counting?) in just the last few days. 
My list of great ideas is absolutely packed right now and I'll be firing off some new trades very soon.
I know you love Bullseye already… and you are going to be ecstatic when you upgrade to Bullseye Unlimited!
And as an existing Bullseye member, I'm rewarding you with this CRAZY 54% discount to upgrade to Bullseye Unlimited – there simply is no better time for you to make the move to become a more nimble, more prepared trader.
***This pricing will not last long, so you must act NOW***
I urge you to learn more here or call our VIP Team to find out more at 800-585-4488.
We're also making it easy to become an Unlimited member by providing easy to use payment plans. (all you gotta do is call up my buddy, Jeff Brown and ask him nicely!)
Don't let price stop you from achieving your goals in 2023, we are here for you!
Contact my team and see if there are any additional credits you can claim right now.
We're here to help you have the best year ever – let's do it together!