The market got pounded yet again into the weekend, and coming into today in the pre-market there is a whole bunch of fear out there. Plenty of traders are struggling in these choppy markets and you might be one of them. I understand what you're going through, I've been doing this for 20 years. But despite some of the most challenging market conditions I've seen in my career, last week was the 6th week in a row my Bullseye Trade of the Week hit the target. 
Here's what happened: 

 I got in at $2.80 and CHWY traded as high as $3.72 before I started to look to take some off! That's a gain of 30% in under a week.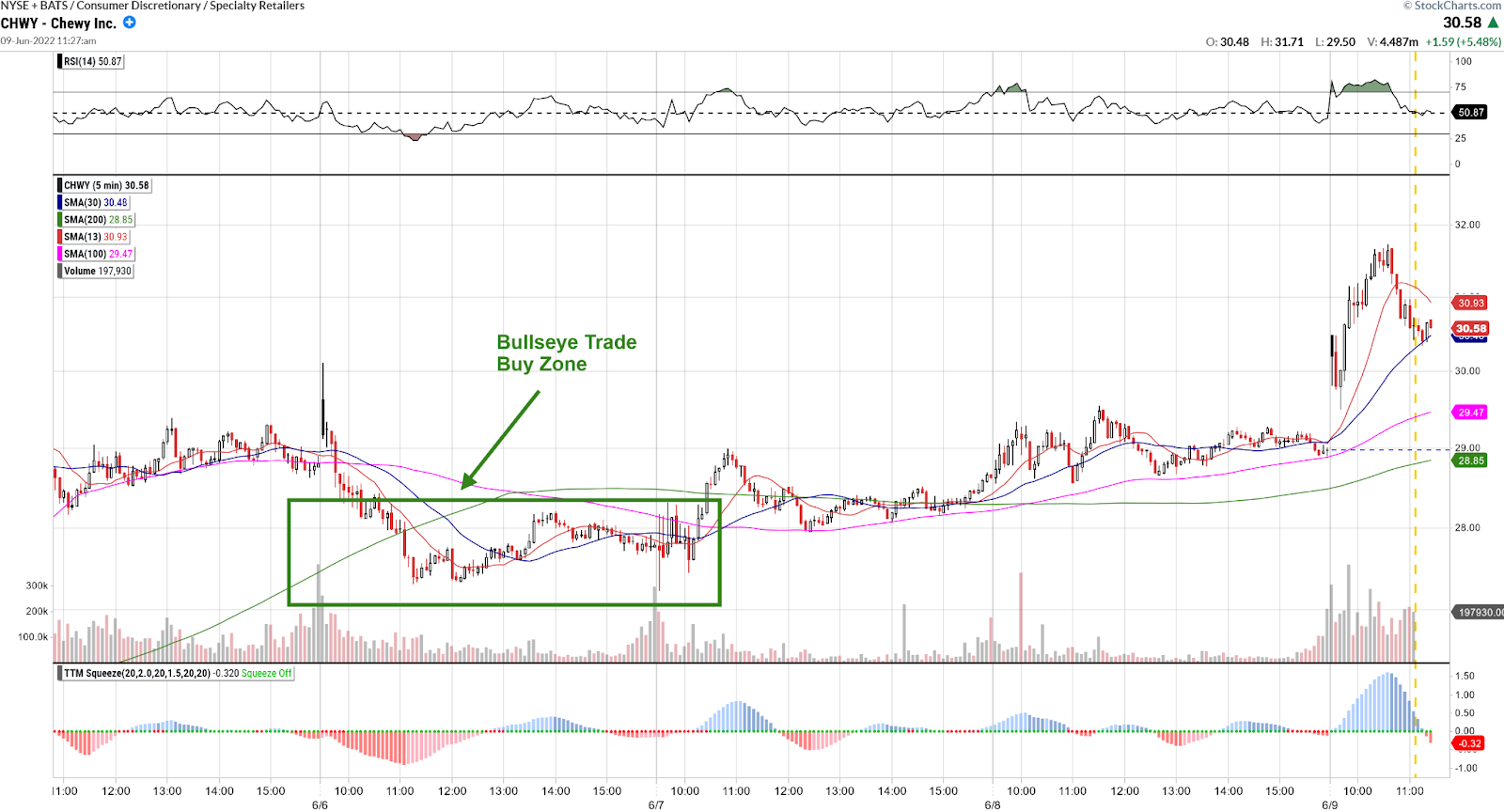 Every Monday morning, I send out my best trade idea for the week before the market opens to Bullseye subscribers. After analyzing the market the week before and running through charts over the weekend, this is my favorite and most primo setup for the week. 
Don't miss my next favorite setup coming Monday morning! Click Here!
I believe that if you can manage one single trade a week and do it well, you can filter out all of the noise happening with the market overall. 
There's a lot of thought that goes into the Bullseye trade of the week. I'm looking to find good trade ideas that are outliers in the market.  This has been my 6th Bullseye Pick to work in a ROW!
Get Bullseye delivered to your e-mail Monday Morning! Don't miss next week's best setup! Click Here
Here was my reasoning for the Bullseye Pick, which was sent to subscribers Monday, June 6 in the pre-market.
Bullseye Pick Of The Week – CHWY
Like I said last week, I still think we have seen the short-term low for the market.  
Sure, things are going to be very choppy and you will see some gut-wrenching moves lower, but I still maintain that we have seen the lows in the market… at least for a while!
That being said, I really like tech stocks again.  
PYPL worked out really well for me last week.  I am tempted to just buy QQQ (or even ARKK!) this week, but I am going with recent earnings winner CHWY.
Chewy Inc. (CHWY)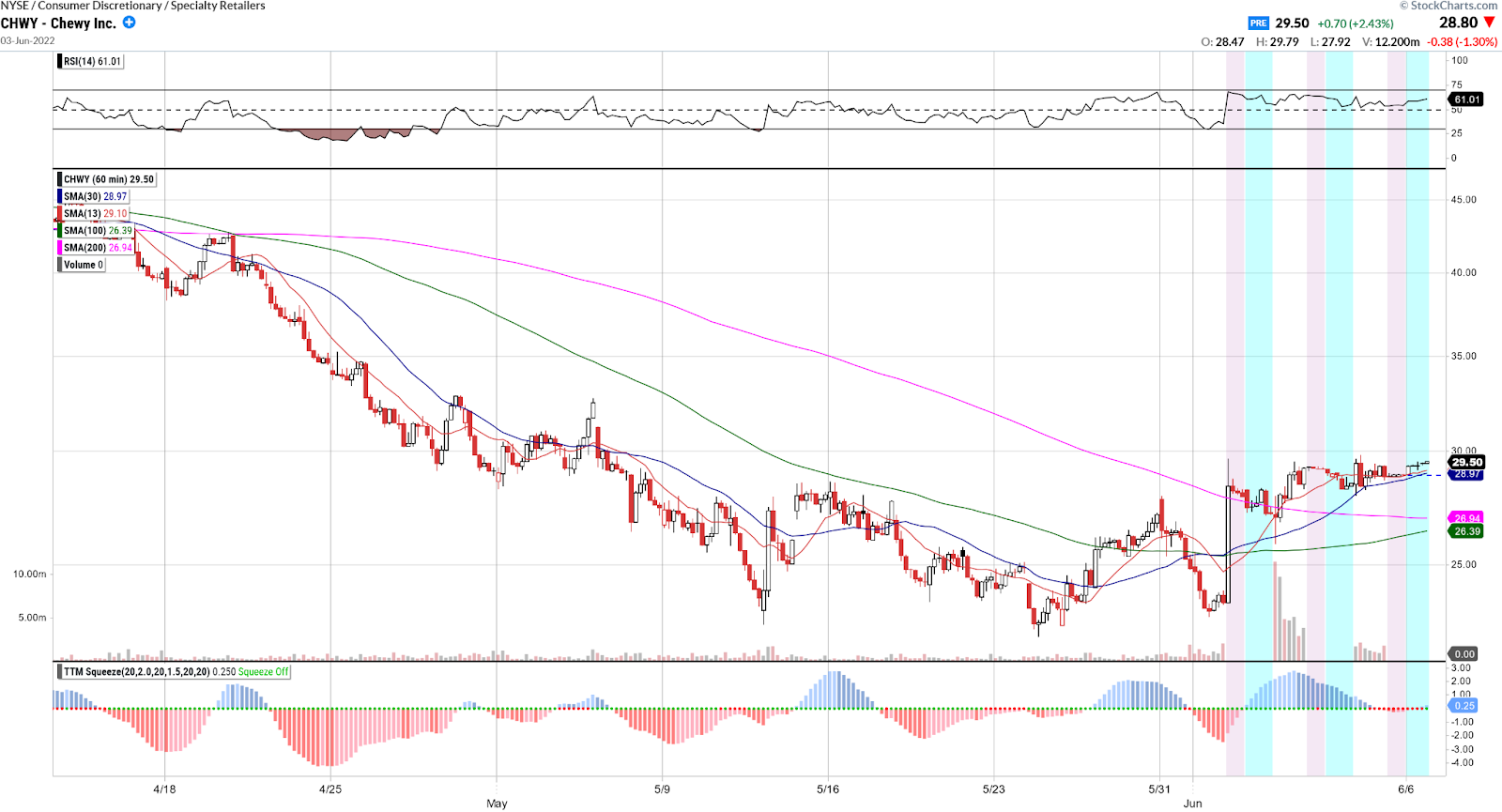 CHWY has proven they are not a "flash in the pan" that only benefited from the COVID lockdowns. 
They have continued to grow their business and it frankly looks better than ever to me right now, especially when you consider it is down over 75% from its highs and 50% just this year… and that is after surging 25% last week on the positive earnings report.
I would not normally "chase" a stock that has just rallied 25%, but with the belief that the tech market is headed higher and CHWY is coming off of such depressed levels, I still think there is a lot of upside here.
Here is how I plan to approach this trade:  
I want to get half of my position on the books today at some point, even if it is higher than my $2.40 target entry.  

I want to add to it later in the week if the options slip to around $1.50.

If I am wrong, I am going to set a stop on the trade if CHWY breaks below $26, which is a key level that I will explain in the

live training session today @ 11am EST

.  Just click here to join!

If I am right, then I plan to sell near the $33 level, which is the upper end of the Keltner range and also very close to the 50-day moving average. I think there will be a lot of resistance there.
My Trade Details:
CHWY Jun 17 2022 28 Call near $2.40

Buy half today

Add more around $1.50

Stop below $26

Target near $33
And Here's how my trade played out: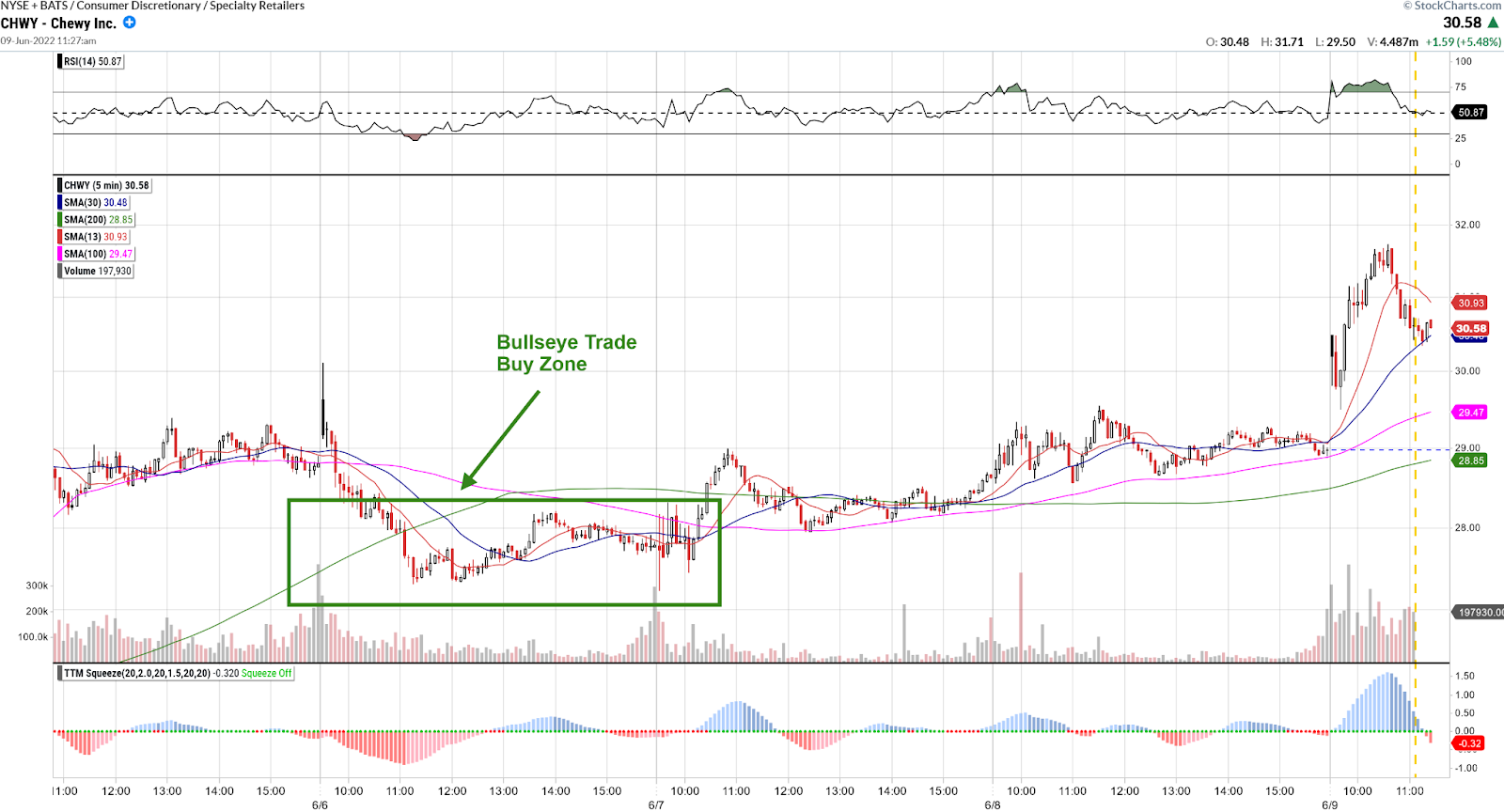 If you're struggling with your trading, become a part of BULLSEYE TRADES, and receive my favorite trade of the week straight to your inbox every Monday! CLICK HERE NOW TO SUBSCRIBE!
CHWY was in the buy zone for a day on 6/6 and didn't make an initial move higher.
Then on 6/7, there was some life to the stock, but I was thinking that pop was just a little bit of a head fake
But that didn't shake me out!
And after the pullback I saw the moving averages start to step up and pick up the slack…
And then on Thursday – BANG… CHWY went to the MOON!

I got in at $2.80 and CHWY traded as high as $3.72 before I started to look to take some off! That's a gain of 30% in under a week. 
Don't miss my next favorite setup coming Monday morning! Click Here!
Now, don't let volatility fear-mongers scare you on CNBC.
It's a simple equation… volatility = trading opportunities
And during the selloff I've been finding Bullseye Trades left and right
PYPL – IBB – FDX – UVXY just to name a few!
And I'm adding CHWY to this list!
So right now – not later – is the time to join in with the rest of Wall Street
And even though it sounds like doom-and-gloom out there, the markets are still poppin' off beyond what they show on the TV screens.
Which is why I spend every weekend – a holiday or not – scouring the markets and finding these trades for YOU
And whilst Bullseye trades is the cream of the crop, that only scratches the surface of my trading strategies. To get complete access to my portfolio and DAILY updates, join Total Alpha TODAY!
If You're struggling with your trading, become a part of the Total Alpha community, and receive the education you need! CLICK HERE NOW TO SUBSCRIBE!
There's a 30-day satisfaction guarantee, so if you're not happy, no worries, but I think you'll love what we're doing at Total Alpha! Click HERE to Subscribe!