Has the market been trending higher in 2023? 
Absolutely.
Did the market surprise many on Tuesday after it held up strong in the wake of a stronger than expected CPI inflation report?
You betcha.
That said, so far the market has remained locked in a range in February.
Teachable Moment:
Most people don't think about this, but market corrections come in two forms: price and time.
A price-related correction means that a stock's share price retraces (declines) a meaningful portion of the preceding rally before that rally eventually resumes.
A time-related correction means that a stock's share price simply moves sideways in a range, allowing important moving averages to eventually catch up.
With that in mind, the sideways price action so far in February is considered a time-related correction.
Sideways markets like this are PERFECT for the strategy I've been focusing on with my Bullseye Unlimited members this year.
I'm a trader, through and through.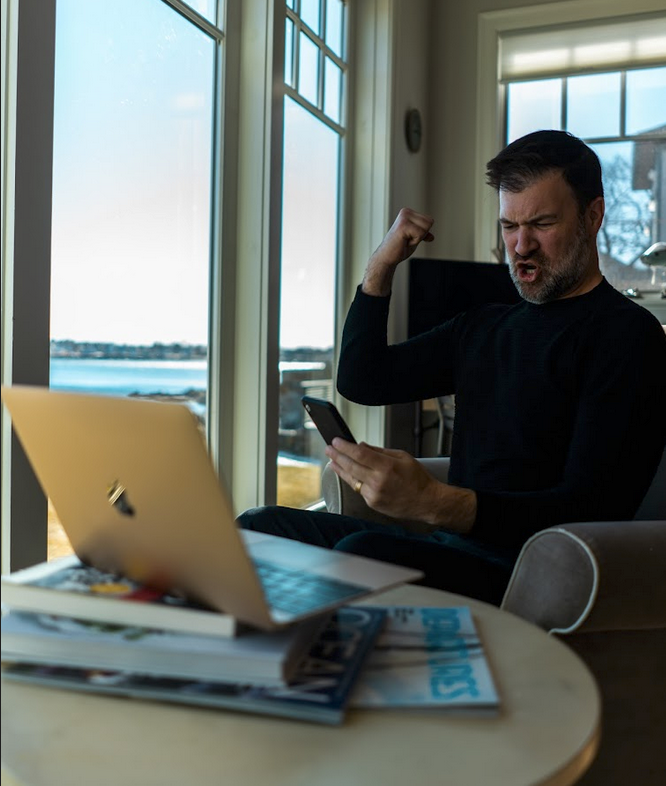 That means while many retail traders have been getting whipsawed in February's sideways market, I have been sifting through all the data that's available on a HUGE universe of stocks and ETFs to find the ones that are trending. 
RIGHT NOW, I'm bullish in certain areas and bearish in others.
That's real trading.
And with 1000's of stocks and ETFs available to trade, I have been super busy sending daily updates to my Bullseye Unlimited members. 
One of my favorite ideas right now is SKY.
SKY is a stock I am forming a game plan on right now and will share with Unlimited members soon when I am ready to pull the trigger.
SKY recently reported strong earnings, and has been mooning ever since.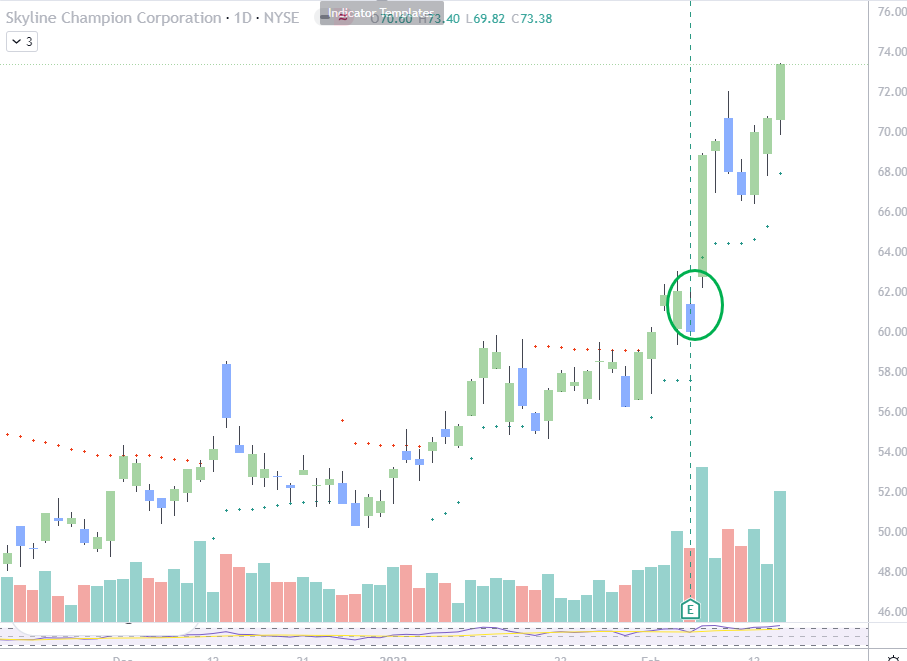 Long-term, though, SKY is showing even more upside potential after it surged above a major bottoming pattern on Wednesday.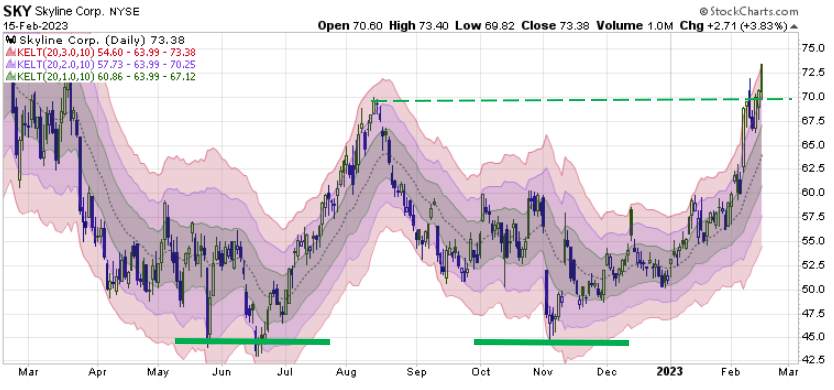 While this is an AWESOME setup, getting into this trade without paying too much for the Call options is where many retail traders will struggle.
That, my friends, is where my 20+ years of trading experience will come into play.
Not only have I built a career out of teaching retail traders like you how to use options Greeks, implied volatility, and technicals to get the best entry price possible, I've also built a company around it. 
Each day, I am seeing more and more Weekly Bullseye members recognize the value of the more active strategies I am using over in my Bullseye Unlimited service.
Just like this trade alert I just sent Unlimited members last week when I saw that LSCC had shorts on the ropes and was likely going to continue higher:
LSCC-  Lattice Semiconductor is also in my favorite sector right now. It too is starting to consolidate really close to all time highs. If it can break out there's plenty of blue sky for a big breakout here.
My Trade Details:
LSCC Mar 17 2023 $85 Calls near $3.20
Well, I can bet that Unlimited members loved that idea, because look what happened since I alerted it last week!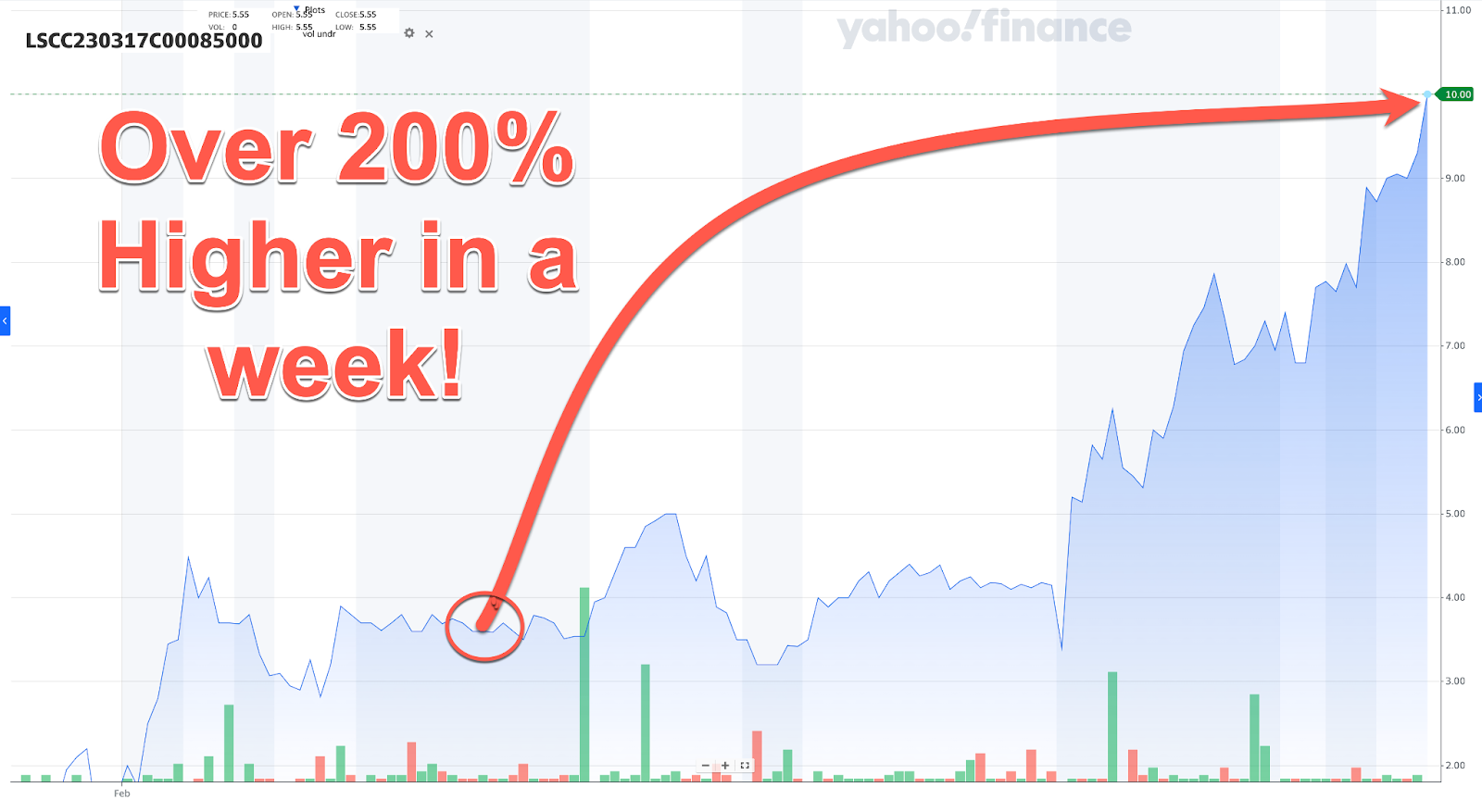 Or on Thursday last  when I alerted calls on PI, which is a stock not very people even know about?  
Those calls now, are worth nearly 100% more…
just a few days later.
Or on Friday, when I told members about TGTX?
Fast-forward to today, and those same options are already 
worth 70% more.
But it's not just the increased frequency with which my Ultimate trading ideas are delivered.
They are also capitalizing on daily lessons I provide, showing them how to sift through MOUNTAINS of information to find the ideas are the right ideas for RIGHT NOW. 
They also get access to:
Members only trading room

Exclusive live training sessions

INSTANT App alerts throughout the entire week of multiple trade ideas
And the coverage does not end there!
Unlimited members also receive my Top Targets Watchlist, which provides a daily short-list of my top 3 trade ideas I'm looking at for the day, based on scanner activity and analysis from the Unlimited Octane Scanner.
Folks, EVERY morning I send out an email with my top 3 trade ideas shortly after the open, along with a market overlook and real-money portfolio updates.
I also send INSTANT App alerts every time I am ready to make a new trade from that list.
Then I bring it all together in The Shooting Gallery – my exclusive LIVE trading chat room – when I see activity that I'm looking to set up a trade on.
These trade ideas also get posted to the Gallery's Trading feed so members can see the EXACT contract I'm looking to trade (***even if they miss the live session***) and go over specific trades or questions.
As always, Unlimited members get unrestricted access to ALL the educational materials I wish I had when I first started out trading options over 20 years ago. 
So far, 2023 is living up to expectations of being a great year to be a PREPARED trader. 
I know you love Bullseye already… so imagine adding MULTIPLE trade ideas EACH WEEK.
And as an existing Bullseye member, I'm rewarding you with a huge discount to upgrade your membership to Bullseye Unlimited – there simply is no better time for you to make the move to become a more nimble, more prepared trader.
***This pricing will not last long, so you must act NOW***
I urge you to learn more here or call our VIP Team to find out more at 800-585-4488.
We're also making it easy to become an Unlimited member by providing easy to use payment plans. (all you gotta do is call up my buddy, Jeff Brown and ask him nicely!)
Don't let price stop you from achieving your goals in 2023, we are here for you!
Contact my team and see if there are any additional credits you can claim right now.
We're here to help you have the best year ever – let's do it together!