With all the geopolitical uncertainty, I was bullish on defense stocks for a long time. 
A couple of my favorites are Lockheed Martin (LMT) and Raytheon (RTX) which have increased demand for their weapons and defense systems as Europe supplies Ukraine with arms in the war over there. 
Here is my thinking behind it – Europe runs out of its own weapons and looks to increase its defense budget to protect itself from the perceived threat from Russia.
All this was bullish for defense stocks for quite a while (we just saw an amazing bull run for over a month on these stocks!) and while the rest of the market was pulling back, LMT and RTX were blasting to new highs. 
I've noticed this and have been talking about this for months to my subscribers. But a couple of weeks ago, I saw something change. 
After making new all-time highs LMT found a lot of selling pressure as evidenced by these "topping wicks":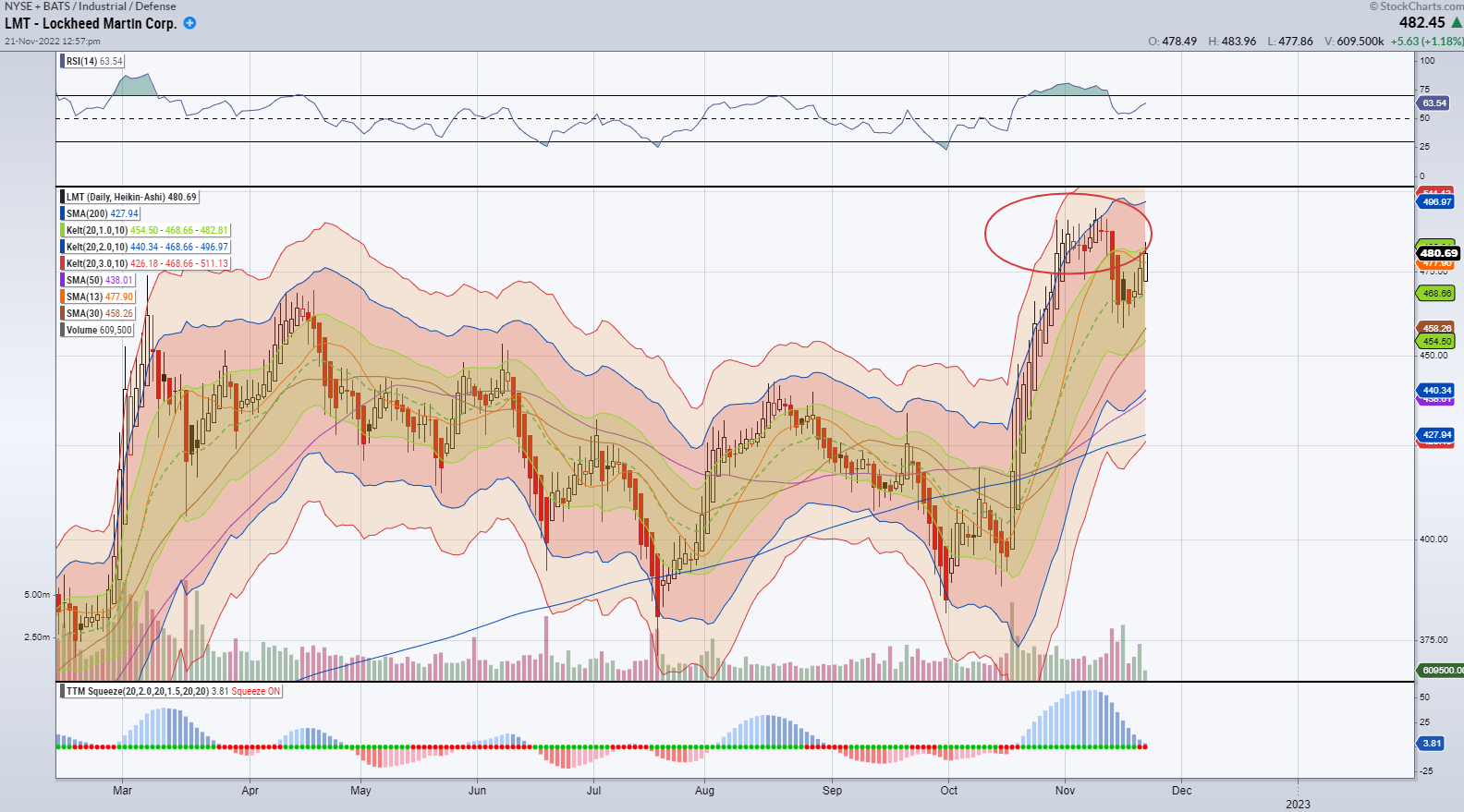 They followed an almost 20% non-stop up move in LMT, so I warned my subscribers that a pullback was likely in my live weekly trading session. 
Here's what happened next…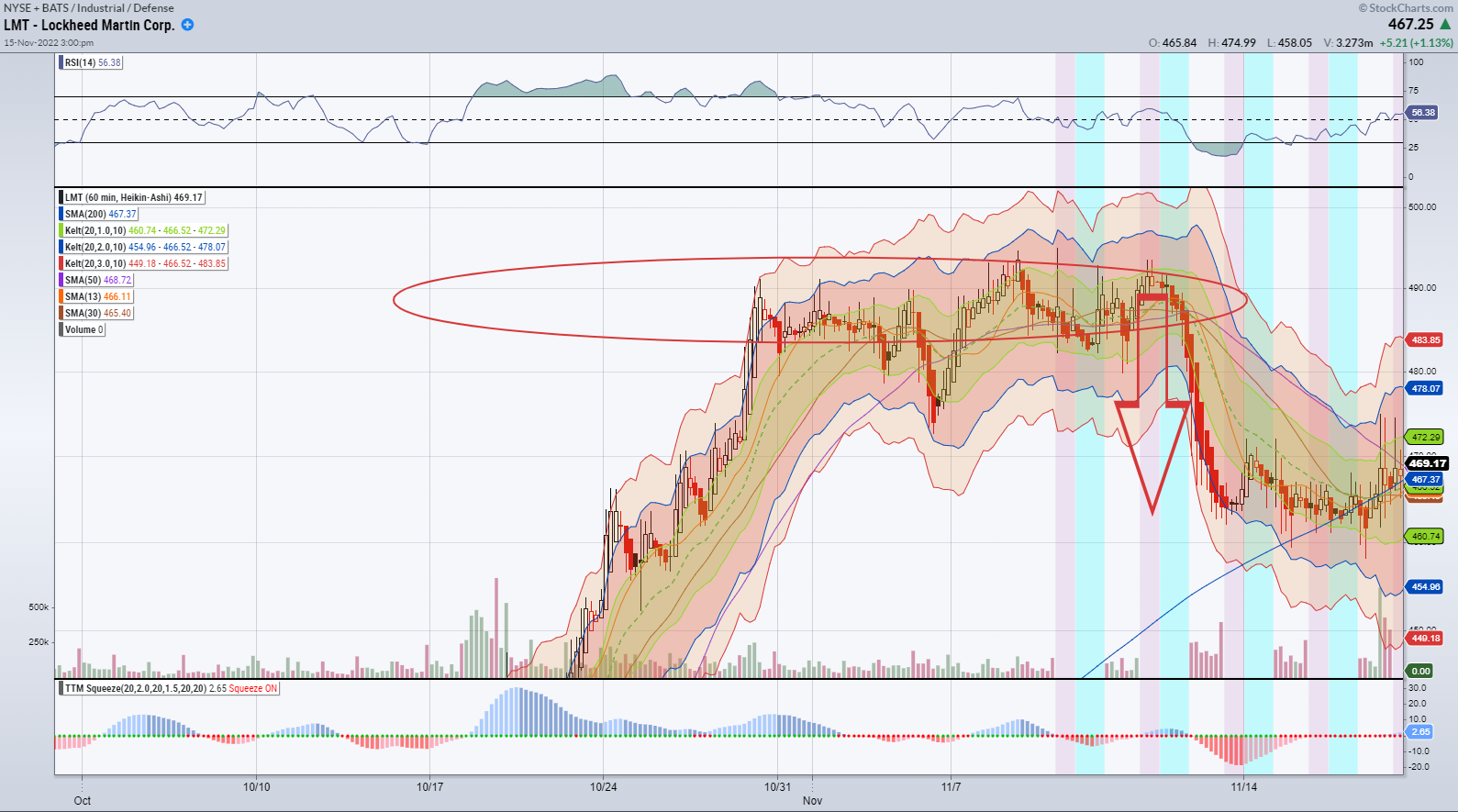 I watch the markets every day, and do my homework every single weekend in preparation for the Bullseye Trade of the Week. 
I'm just choosing ONE single stock a week as my favorite with Bullseye.  LMT didn't quite make the list (it was in the top 3 though), here's what I chose instead: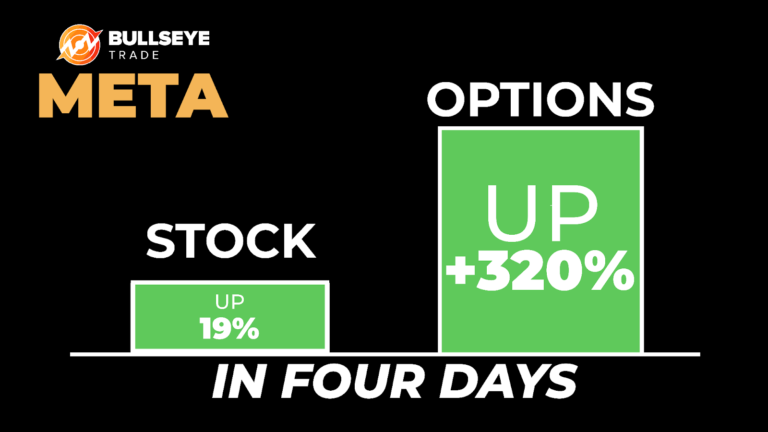 I did really well on META that week, grabbing over 100% profit on my position that I alerted everyone to before the market opened on Monday.
I wish I held on a little longer because as you can see, META calls went up over 300%!
Oh well, but like I always say, you never go broke taking profits.
When it comes to LMT though, I explained that defense stocks looked short-term overdone and could possibly pull back. And that's exactly what happened.
I don't always get it right, but I can help you think like a professional trader, and teach you what I've learned from over 20 years of trading and investing experience. In the markets, the same patterns play over and over again, and I've seen enough of them to help guide you to become a better trader with confidence.
My new Bullseye trade of the week just came out today (spoiler alert: I am not in the trade yet, but I will let all of my members know right before I get in!)
If you want to see this great trade idea along with my complete game plan SIGN UP HERE to find out what it is – and get the scoop on all of my upcoming trades as well!
I don't like "tooting my own horn" so check out what some of my thousands of my members have to say about Bullseye Trades: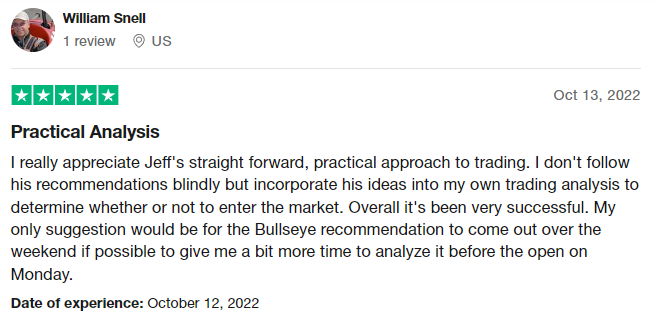 Here is the deal.
For less than $100, you get my best trading set up along with my well thought game plan for how I want to trade the stock every week – all before the market even opens on Monday. 
You can also get access to my live training session where I break down the state of the market, what I see coming up and my top trading ideas based on that. 
If you want to improve your trading, there is no better place to start than Bullseye Trades.
I fully believe that it will help shorten your learning curve and get you to where you want to be faster than most!
Heck, I'm even throwing in a full 30-day money back guarantee so what do you really have to lose here?
Don't miss out on another great opportunity.