Just days after Ken Griffin, the founder of Citadel LLC, a multinational hedge fund and the largest market maker in the U.S., suggested digital currencies were a 'jihadist call' against the dollar, this past Tuesday SEC Chairman Gary Gensler said that the SEC has no plans to "ban" bitcoin.
Simply put, as the SEC Chairman, Gensler's remarks carry a lot of weight.
Gensler's remarks are similar to those made by Fed Chairman Jerome Powell last week during his testimony on the economy before the House Financial Services Committee, where he said the Fed has no intentions of banning crypto like China has.
There's a lot of history between Gensler and the crypto industry, as he has made previous promises to create strict regulatory guidelines for the new asset class.
At the same time, though, Gensler recently stated, "the government's focus is on ensuring that the industry adheres to investor and consumer protection rules, anti-money laundering regulations and tax laws," which is a standard across financial industries.
As traders, we must recognize that the process of the government regulating an industry is not something that just sneaks up on us.
It is a mammoth endeavor that, if brought to the scope of China's recent effort to ban the digital currency base, requires a Congressional decision.
In other words, you'll see any attempt to ban crypto's use here in the US coming from a mile away.
But that doesn't mean we can be lax in looking for any signs that such a process has been set in motion.
As traders, it is our job to always be on top of the newsflow, so we can be prepared in the event such a movement ever begins, which, by the way, there currently are no signs of.
Crypto traders greeted this week's development with great enthusiasm
With the SEC Chairman simply speaking of efforts to keep the cryptocurrency industry in check, and not being interested in banning its use in the US, traders treated this as a victory this past week, sending Bitcoin surging as much as 17% at one point during the Monday through Friday window.
Figure 1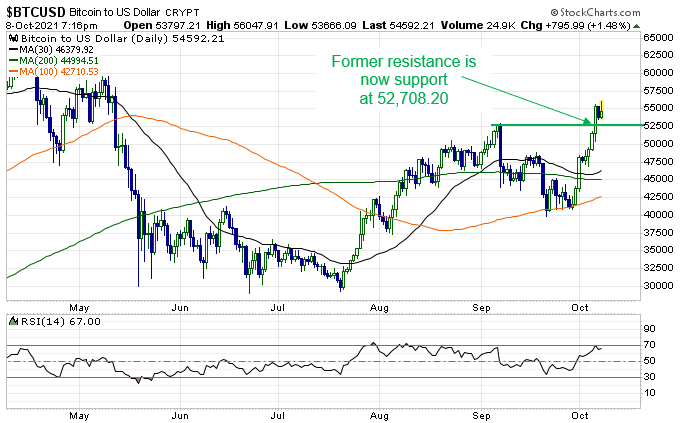 Despite the big moves that have already occurred, there are a couple of cryptocurrency stocks, which are showing interesting chart setups, that I'd like to examine today.
Before I continue, I'd like to remind you that I am not a day trader.
That said, when I searched the crypto space while researching this article my focus was to find stocks that I felt had the best trend mechanics that would allow price to continue to rise over time.
Although there were numerous crypto stocks that rallied this past week, Hut 8 Mining Corp. (HUT) and Marathon Digital Holdings, Inc. (MARA) are the two non-China-based stocks that I believe show the best potential to continue building on this past week's bullish trend development over time.
I'm watching Hut 8 Mining Corp. and Marathon Digital Holdings, Inc.
Headquartered in Toronto, Canada, Hut 8 Mining Corp. (HUT) operates as a cryptocurrency mining company in North America. The company engages in industrial-scale bitcoin mining operations. It also owns and operates 38 BlockBoxes in Drumheller, Alberta; and 56 BlockBoxes in Medicine Hat, Alberta.
Headquartered in Las Vegas, Nevada, Marathon Digital Holdings, Inc. (MARA) operates as a digital asset technology company that mines cryptocurrencies with a focus on the blockchain ecosystem and the generation of digital assets in the United States.
Figure 2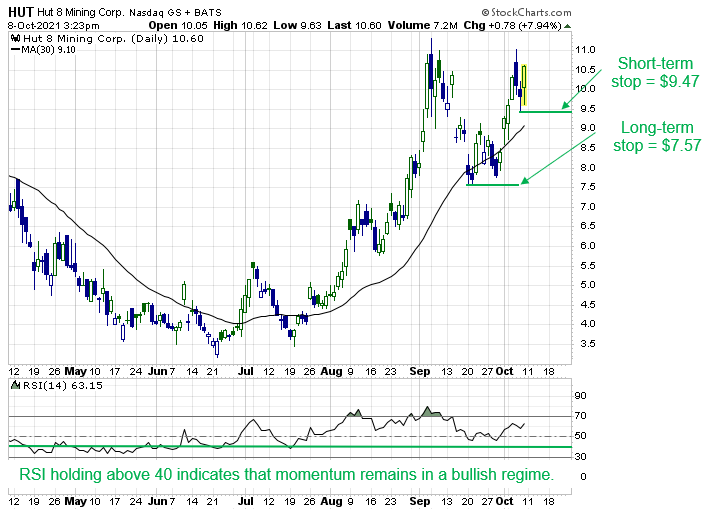 Figure 3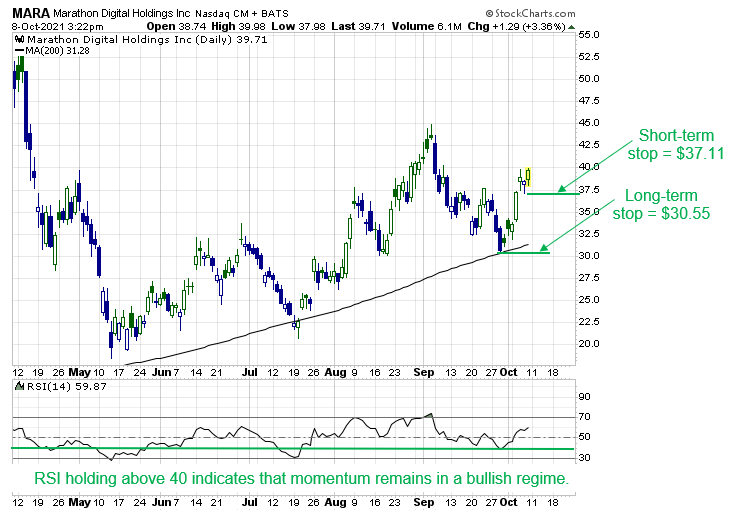 Technically, In both cases, the primary reason I like what I see here is the action in the RSI momentum indicator as these stocks were making their respective September lows.
Specifically, RSI is a trend strength indicator as much as it is an overbought/oversold indicator, and when RSI bottoms above the 40 level (the bottom of its bullish range) during a downside price correction it is a sign that the long-term trend strength is healthy.
While this can certainly change over the weeks ahead, trading is all about probabilities, and this RSI configuration increases the probability that the bull trend will remain intact.
How should a trader approach these setups?
In both cases, the tactics will be similar.
Specifically, short-term traders should look to position bullishly using this past Thursday's pivot lows as stops?
Why?
Because, if the thesis of this trading plan is to ride the short-term trend higher, shares can't fall back below these pivot lows (highlighted on Figures 2 and 3), as this would negate the newly developing uptrend, likely resulting in the start of a more complex correction.
Should the short-term trend break down as discussed above, it would then give longer-term position traders the opportunity to enter closer to each stock's September lows, also highlighted on Figures 2 and 3.